Rupert Grint Shares Touching Words About Robbie Coltrane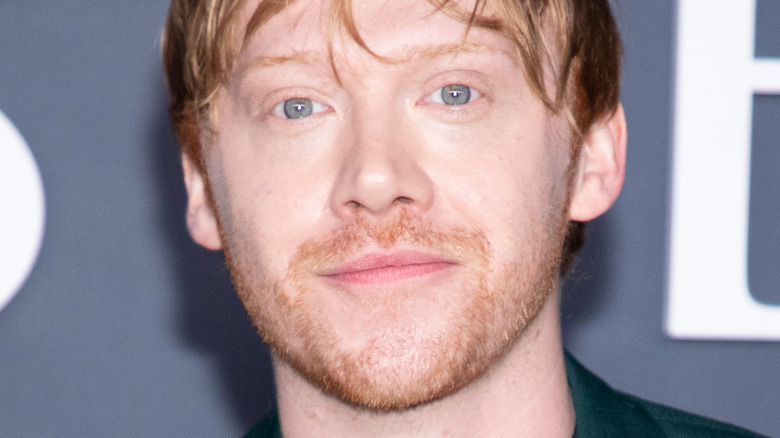 false/Shutterstock
As fans all over the world are now aware, actor Robbie Coltrane died Friday at the age of 72. Coltrane was best known for his role as the beloved half-giant Hagrid in the "Harry Potter" movies, a genial character who loved fantastic creatures, and acted as a father figure to the main character, Harry (Daniel Radcliffe), as well as his young allies Hermione (Emma Watson) and Ron (Rupert Grint). Coltrane was aware that Hagrid would forever be his most iconic performance: In the HBO Max special "Harry Potter 20th Anniversary: Return to Hogwarts" from 2021, Coltrane said, "The legacy of the movies is that my children's generation will show them to their children. So you could be watching it in 50 years time, easy. I'll not be here, sadly, but Hagrid will."
Since his death, tributes have been pouring in from those who have worked with him, including Bonnie Wright, who played Ginny Weasley; Tom Felton, who was Draco Malfoy; Matthew Lewis, who grew up being Neville Longbottom; and Oliver and James Phelps, the Weasley twins. Coltrane's most frequent on-screen companion in the "Harry Potter" films, Radcliffe, also shared touching memories of their time together, and Watson (in an Instagram story, via Entertainment Weekly), also weighed in. 
Now, Rupert Grint has posted some touching words about his former co-star.
Grint called Coltrane a giant-hearted man
Rupert Grint shared his thoughts on Instagram, in a post included an image of Hagrid sitting in front of his hut, with the caption: "Heartbroken to hear that Robbie is gone. I'll never forget the smell of cigars and beard glue — a wonderful combination. No one else on this planet could of played Hagrid, only Robbie. Just as Hagrid was in the books and films Robbie was in life — warm, compassionate and hilarious. A giant hearted man who was still looking out for us even decades later. Sending love to his family. See you on the other side Bobser." 
Coltrane's mentorship and continuing care was a theme in the tributes from the younger co-stars he worked so closely with. Watson's Instagram post described him as being like "the most fun uncle I've ever had," and praised how kindly and respectfully he had worked with his child co-stars. Radcliffe, meanwhile, spoke of a specific incident in which the actor helped keep the kids' spirits up during the filming of the third film, "Harry Potter and the Prisoner of Azkaban," when they were taking shelter from a rainstorm in Hagrid's hut for hours. Coltrane, before his death, spoke fondly of his relationship to the actors who played the young Hogwarts students in the "Harry Potter" films. In the 20th anniversary special, he said (via Sunnyside Sun) that he was surprised at how fearless the children were. "Watching them growing up was kind of like watching your own grow up, you know. Because you were protecting them," he said. 
In the same interview, Coltrane added, "I do have enormous happy memories of this, actually." Clearly, those who worked with him have happy memories, as well.