Harry Potter Star Daniel Radcliffe Shares Memories Of Working With Robbie Coltrane In A Touching Tribute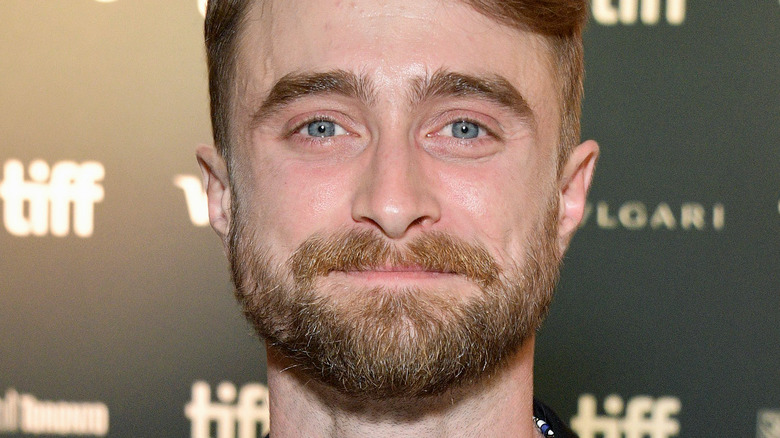 Araya Doheny/Getty Images
On October 14, 2022, the world lost an undeniable Hollywood icon. Prolific film and television actor and beloved comedian Robbie Coltrane died at the age of 72, though as of this writing, the cause of his death remains unknown to the public. "I shall remember him as an abidingly loyal client. As well as being a wonderful actor, he was forensically intelligent, brilliantly witty, and after 40 years of being proud to be called his Agent, I shall miss him," said his agent Belinda White following his passing (via Variety). 
While Coltrane rose to international fame through a range of creative endeavors, he's best known for his work in the "Harry Potter" franchise. In all eight films, he featured as the lovable Rubeus Hagrid: a half-giant wizard and the tenured gamekeeper of Hogwarts School of Witchcraft and Wizardry, where he studied for a time. Hagrid became a close friend of magic prodigy Harry Potter (Daniel Radcliffe), keeping an eye on him as he went from a mischievous young kid to a skilled and capable wizard.
Given Harry and Hagrid's close bond in the "Harry Potter" books, Daniel Radcliffe worked extensively with Robbie Coltrane throughout the cinematic adaptations. To honor his late friend, Radcliffe has released a statement recalling their shared experience in front of the camera.
Coltrane kept the Harry Potter set fun for Radcliffe and the other young stars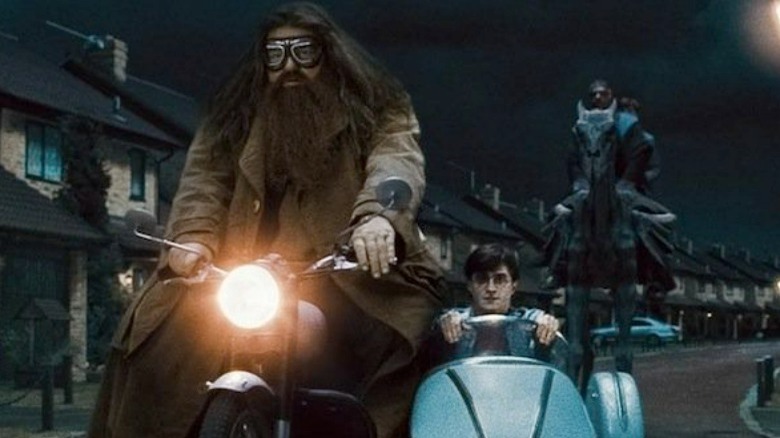 Warner Bros. Pictures
Not long after news of Robbie Coltrane's death came to light, Daniel Radcliffe came forward to pay tribute to his colleague and friend. One thing that stuck with Radcliffe after all these years was Coltrane's sense of humor, which made filming "Harry Potter and the Prisoner of Azkaban" particularly fun. "When we were all hiding from the torrential rain for hours in Hagrid's hut, and he was telling stories and cracking jokes to keep morale up," he shared, adding that he's forever grateful for the opportunity to work with him not only because he was a tremendous actor, but a genuine human being as well (via Variety).
Daniel Radcliffe and Robbie Coltrane played Harry Potter and Hagrid to perfection all those years ago, likely thanks to their natural chemistry behind the scenes. As a result of their stellar performances, the "Harry Potter" saga remains widely adored by longtime fans and new ones alike. Even as Coltrane himself famously mentioned as part of the "Harry Potter 20th Anniversary: Return to Hogwarts" HBO Max special, it will hold a special place in the hearts of many for decades to come. "I'll not be here, sadly. But Hagrid will," Coltrane said in one of the special's most tear-jerking quotes, confirming he'd finally achieved his dream of starring in a generational classic.
Alongside Daniel Radcliffe and the rest of the "Harry Potter" cast, Robbie Coltrane touched the hearts of countless fans around the world. He will be sorely missed.