She-Hulk: Attorney At Law Isn't The First Time Daredevil And Hulk Have Crossed Paths On The Small Screen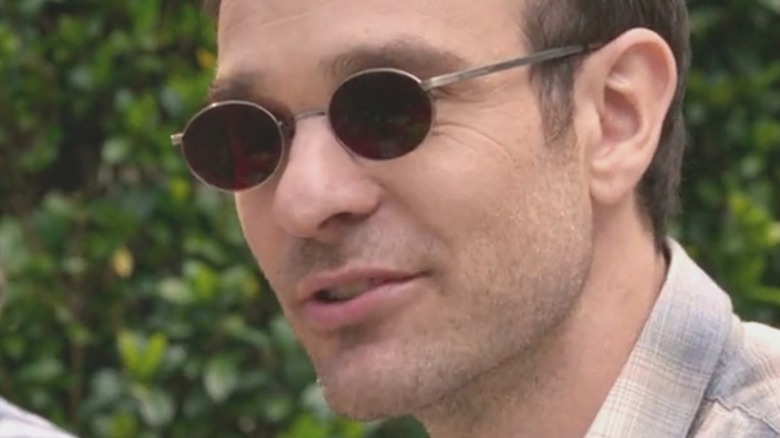 Disney+
Warning: contains spoilers for the Season 1 finale of "She-Hulk: Attorney at Law"
The "She-Hulk: Attorney at Law" Season 1 finale is a fourth-wall-breaking fiasco in all of the best possible ways. It features Jen (Tatiana Maslany) once again breaking through barriers — this time, it was the Disney+ user interface — in order to track down those responsible for her shark-jumping storyline and reclaim personal agency for herself. And it even ended with a touching backyard family BBQ where the show hinted that her friendship with Daredevil Matt Murdock (Charlie Cox) might be more than just the occasional tryst whenever they happen to be in the same city.
She-Hulk and Daredevil have been collaborating in the comics since 2014 (via Marvel) — which makes sense, with them both being lawyers and all. But did you know that The Incredible Hulk and Marvel's blind legal eagle have a past in the MCU as well? It was long ago, but fans of the old TV series and its spin-off made for TV movies may still have fond memories of the shenanigans.
They teamed up in the 1989 TV movie The Trial of the Incredible Hulk
The title of the movie is a bit of a misnomer. The Hulk (Lou Ferrigno) never actually ends up on trial anywhere other than in his own head. But he does happen to witness the assault of a young woman on a subway train and inadvertently hulks out in order to defend her. Little does he know that the henchmen who commit the assault are Wilson Fisk's henchmen, fresh off of a successful jewelry heist. The confrontation leads to Banner (Bill Bixby) getting arrested, hulking out in his sleep in his jail cell, breaking out of the jail, suffering no legal consequences whatsoever for any of these events, and then teaming up with Murdock (Rex Smith) to save both the girl and the day. At the end of the film, both men go their separate ways in order to pursue their own goals.
Overall, audiences have accepted the movie as okay at best. It has 5.8/10 stars on IMDb and only a 47% approval rating on Rotten Tomatoes. Interestingly, it was supposed to be a backdoor pilot for a Daredevil TV series back in the day, but although the TV ratings for the film were fairly high, the series itself was never picked up (via Hardcore Graveyard). There is one very special thing to note about this particular movie, though: it featured the very first live-action Stan Lee cameo from the comic book legend. If you look closely, you can spot him as the jury foreman during the Hulk's dream sequence in the film.