How Jennifer Coolidge Behaves On Set Of The Watcher, According To Naomi Watts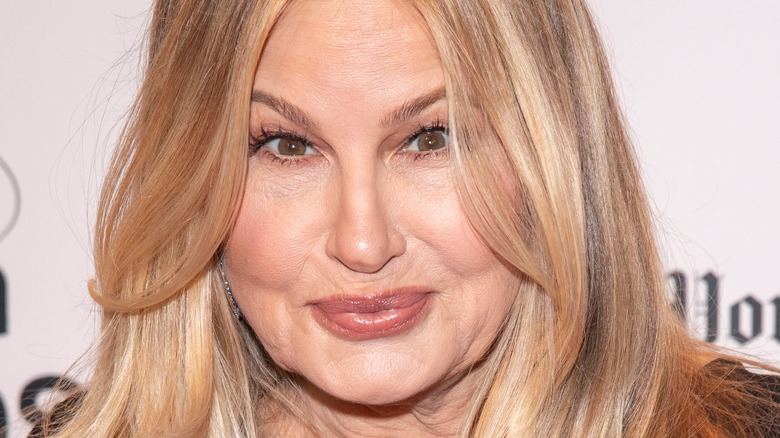 Ron Adar/Shutterstock
Actor Jennifer Coolidge has been in front of the camera for nearly three decades and has played primarily comedic roles, finding great success. She is arguably most known for playing Stifler's mom in the "American Pie" movies. However, most recently, she appeared on the hit 2021 HBO series "The White Lotus" as Tanya McQuoid, for which she earned critical acclaim and the Primetime Emmy Award for best supporting actress (via Variety).
Currently, Coolidge can be seen playing real estate agent Karen Calhoun in Netflix's "The Watcher," which is based on Derek and Maria Broaddus' real-life terrifying experience after purchasing a house at 657 Boulevard in Westfield, New Jersey. According to The Cut, upon starting renovations in June 2014, the couple began receiving threatening letters from someone named "The Watcher." The Broadduses understandably feared for the safety of their family and never moved in. Even now, the Watcher has never been identified. After years of declining mental health and financial losses, the Broadduses sold the house in 2019 for a sizable loss.
Per the Broadduses' request, their names could not be used in the series, so the show instead revolves around Dean Brannock (Bobby Cannavale) and Nora Brannock (Naomi Watts), who have to navigate a series of odd, unwelcoming neighbors who all raise suspicion following the receipt of the sinister correspondences. Coolidge's character is the real estate agent who sells them the house and is an old acquaintance of Nora's.
After decades of onscreen work, how does the TV and film vet act on the set, behind the scenes? Watts is itching to tell us about her experience working with the "Legally Blonde" actor.
According to Naomi Watts, Jennifer Coolidge is a delight on set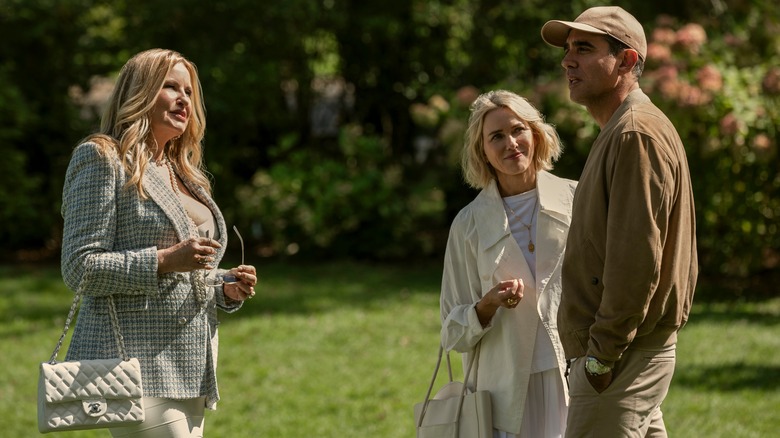 Eric Liebowitz/Netflix
In an interview with Stylist to promote "The Watcher," Naomi Watts sat down and raved about Jennifer Coolidge. After having recently indulged in "The White Lotus," she eventually learned of Coolidge's casting and was particularly delighted by the news.
While talking about Nora's relationship with Karen, she discussed her character's desire to relinquish her friend group and leave the city behind. After moving, she finds comfort in Karen's familiar face. However, it seems Karen doesn't seem to reciprocate. While Karen may be fairly cold behind her friendly facade, Watts only had great things to say about the actor who portrays her.
When the subject of Coolidge cropped up, Watts couldn't help but gush about Coolidge's presence on set. According to Watts, Coolidge expertly handles every scene like a pro and is also seemingly an absolute delight. "You know, she comes with surprise and delight every single time," Watts explained. "She's a true master of what she does. And some of the scenes we shot together ... When we're shooting scenes in a big restaurant, she's talking to people all the time and improvising. And no moment is lost. She just lights up a room."