The Watcher Fulfilled Jennifer Coolidge's Dream Of Starring In Something Creepy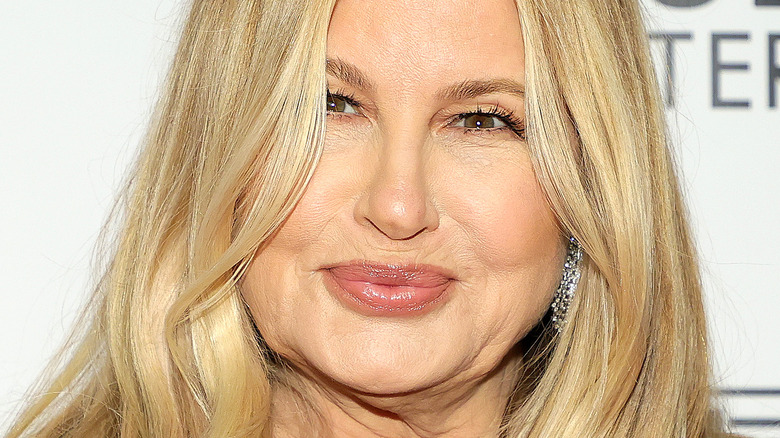 Dia Dipasupil/Getty Images
Jennifer Coolidge has become a well-known name among film and television fans since making her acting debut on the iconic sitcom "Seinfeld" in 1993. Minor roles in movies such as "A Night at the Roxbury" and "Austin Powers: The Spy Who Shagged Me" led her to the role of Jeanine, the mother of Stifler (Sean William Scott) in the "American Pie" films, as well as Elle Woods' hairdresser Paulette in "Legally Blonde."
While Coolidge has been known for her work in comedies on the big screen, she has frequently collaborated with TV titan Ryan Murphy on the small screen as well, appearing in recurring roles in "Nip/Tuck" and "Glee." Her latest collaboration with Murphy is in the Netflix series "The Watcher," which is co-created by the veteran writer. The show, which revolves around a couple who move into a home only to start receiving letters from an unknown stalker, sees Coolidge play Karen Calhoun, a realtor in the neighborhood the couple moves into.
In a recent interview, Coolidge spoke about how being in the show allowed her to fulfill a long-time dream of hers.
Coolidge had hoped to appear onscreen in American Horror Story
In an interview with Pride, Jennifer Coolidge spoke about how she wanted to be in a horror thriller for a long time.
She mentioned that when Ryan Murphy called her to star in "The Watcher," she was excited because it was the kind of role and project she hadn't been offered before. Furthermore, it was a project she was especially keen on, as she had been "dying" to do "something dark and creepy."
Coolidge elaborated that her desire to be in a horror thriller began from an unexpected connection to another Murphy-created TV show. She noted that her house in New Orleans was used for an episode of the series "American Horror Story" a decade ago, and she had hoped Murphy would extend an offer to her to be in the show since her house already was. "I thought for sure he would call me and say, 'Well, we're using your house, I'm gonna put you in a scene.'"
Coolidge added that she learned that Jessica Lange was in her house one day as part of the shoot, which only intensified her desire. She concluded by noting that it worked out in its own odd way, with Murphy finally being the one to give her a chance to try her hand at the genre.