Early Roles That Friends Actors Likely Want You To Forget About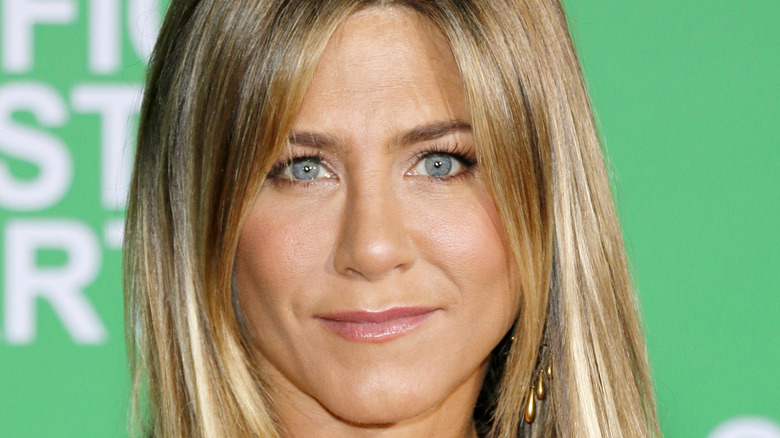 Tinseltown/Shutterstock
You'd have to be living under a rock not to know the cast of "Friends," the seminal '90s sitcom that became the face of television for  a decade. When "Friends" began airing in 1994, "Seinfeld" had already pioneered the "shows about nothing" genre that was quickly replacing traditionally premised situational comedies. "Seinfeld" targeted the over-30 crowd, so "Friends" was designed to appeal to a younger generation. "Friends" became an instant hit on NBC, and a half-dozen largely unknown, fresh-faced actors became overnight sensations. They continued their TV dominance for 10 spectacular seasons.
When the careers of David Schwimmer, Lisa Kudrow, Matt LeBlanc, Courteney Cox, and Jennifer Aniston were just starting to shoot through the stratosphere, these small-screen thespians were scrutinized like A-list movie stars. Fans from all over the globe began scouring video stores for older movies and TV shows they'd appeared in before "Friends." What they found wasn't always a pleasant surprise. In fact, there were a few that the actors themselves likely wished audiences hadn't rediscovered.
From its biggest main cast members to its most popular recurring guest stars, this is a list of movies from the cast of "Friends" that they probably want us all to forget about.
Ed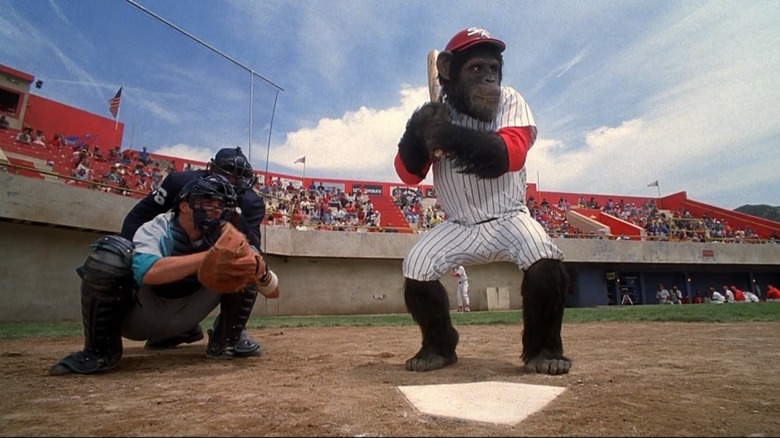 Universal Pictures
For years, stories have circulated about how actor Matt LeBlanc was nearly flat broke and performing his own dental work prior to finding superstardom on "Friends" as Joey Tribbiani (via Today). Considering these early struggles, it's understandable that he might have a part or two he now looks back on with regret, the most notable being "Ed," a baseball comedy for children.  
"Ed" was released in 1996 after "Friends" had already become a smash hit. Jae-Ha Kim of the Chicago Sun-Times revealed that the actor had actually signed up for the film before the popular sitcom hit the air, which makes his starring role as a baseball coach to a monkey a lot less perplexing. Given the slew of other mid-'90s wacky baseball films like "Rookie of the Year," "Angels in the Outfield," and "Little Big League," it's also easy to view it as part of a wider, popular trend. Still, it doesn't make the movie — which sits at a laughable 0% on Rotten Tomatoes to this day — any easier to sit through.
In the film, LeBlanc plays Jack, a young star pitcher who makes his way onto a baseball squad and befriends a baseball-playing chimp named Ed, who's also one of the team's best sluggers. A baffling film that ropes in a love story too, it would be entirely forgotten were it not for the presence of a "Friend."
Mac and Me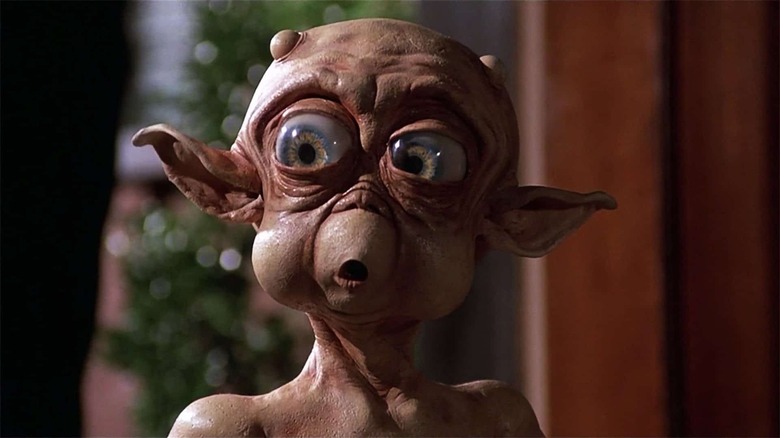 Orion Pictures
A film made famous ironically by "Friends" recurring guest star Paul Rudd, the 1988 sci-fi family flick "Mac and Me" is mostly known today for its use as an ongoing gag on Conan O'Brien's talk show. Before it became the butt of absurdist late-night jokes between superstar comics, "Mac and Me" was a famously awful film. The story of a sweet, diminutive alien who crashes on planet Earth and befriends a little boy, it's been understandably compared to a certain '80s Spielberg classic, but "E.T." this was not. "Mac and Me" offered a corny script, inexplicable plot beats, and an insane final act.
Why is it on this list? Jennifer Aniston appeared as an uncredited extra in one of the film's goofy dance numbers, which happens in the parking lot of a McDonald's (who had a facepalm-worthy product placement deal to appear prominently in the film). 
Though Aniston herself is tough to spot in the scene, her role — as uncredited as it may be — has continued to follow her, even showing up on career retrospectives over the years. Admittedly, this was her big screen debut, but given the film's infamy as one of the worst films ever made, we doubt it's one she looks back on with much pride. 
Dangerous Obsession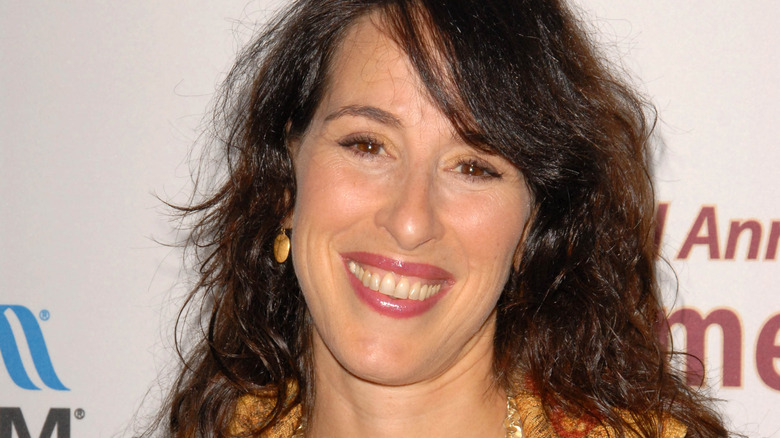 s_bukley/Shutterstock
Casual fans may only know the main cast of "Friends," but the show had plenty of memorable guest stars, too. One of the best early in the show's run was Maggie Wheeler as Chandler's on-again, off-again girlfriend Janice. If she's not ringing any bells — OH. MY. GOD. — are you really a fan of the series? Known for recurring spots on a number of '90s favorites including "Everybody Loves Raymond" and "Ellen," Wheeler can cite talent as much as luck for her signature role. 
Not everything in Wheeler's long career is a classic, and she may try to hide at least one cringe-worthy role: that of Marie in the 1989 erotic thriller "Mortal Sins," also known as "Dangerous Obsession" (it's never a good sign when a film is known by multiple titles). The film was produced by Troma, a company run by schlock auteur Lloyd Kaufman and known for its deliberately low-grade output, but who also employed talented filmmakers early in their careers, like James Gunn.
Alas, this one does not feature the work of anyone else who would become noteworthy, and what we get is an overly complicated would-be neo-noir crime drama designed for those who like stories with sex, lies, and murder. While it delivers all three, one thing it doesn't provide is quality entertainment. It's likely a source of embarrassment for Wheeler. 
Dance With Death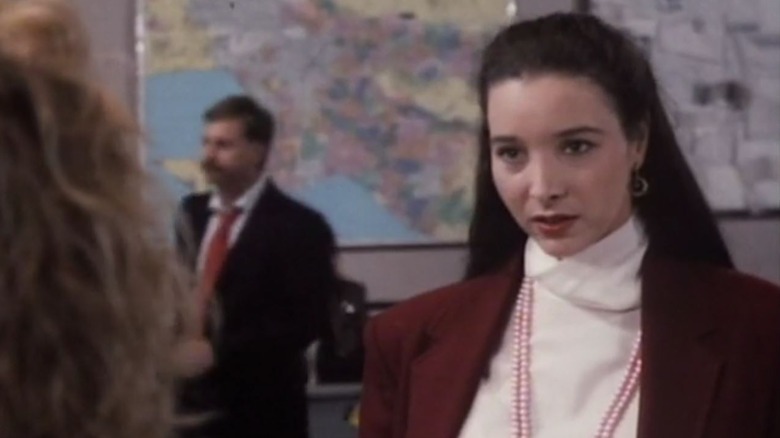 Today, "Friends" star Lisa Kudrow may still be known for her flighty performance as Phoebe, but it's certainly not the only role she's had. Of course, there's at least one she likely wants us all to erase from our memories, but unfortunately for her, we're not so accommodating. It's our duty to introduce you to the 1992 thriller "Dance with Death," produced by B-movie legend Roger Corman.
In the film, Kudrow may not play one of the leads, but she doesn't get off as easily as Aniston in "Mac and Me," as she has a speaking part in a minor role as a young woman named Millie. In the film, a female reporter must go undercover as a stripper at a local hot spot as part of a sting to catch a serial killer who's murdering dancers. If this sounds like a tawdry mess, you're not wrong, as writer Katt Shea revealed in 2021 that the script was actually repurposed from a D-grade sexploitation flick: "Basically my script from 'Stripped to Kill' was re-worked and re-used by Roger Corman and a very bad movie was the result of that." 
Shea would eventually demand that her name be removed from the script. We're guessing in hindsight Kudrow might have wished she'd asked for the same.
Meet Market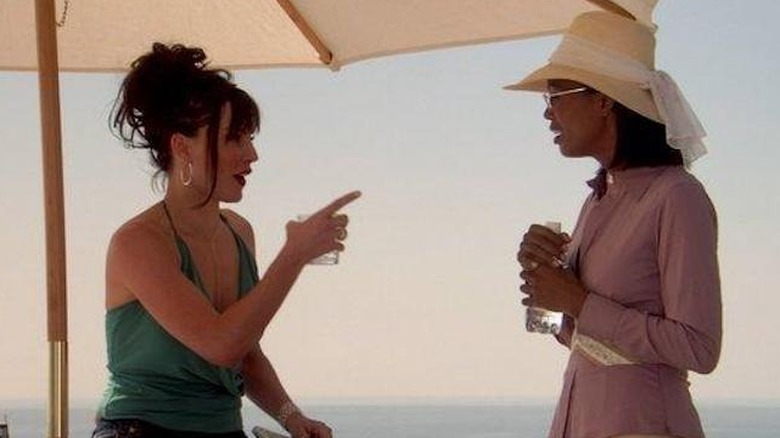 Seedsman Group
"Friends" lacked diversity in its cast (via InStyle). In 2003, they tried to remedy the issue by adding actress Aisha Tyler in the role of Charlie Wheeler. While Tyler was a newcomer, she'd go on to prominence in later years with roles on "The Ghost Whisperer" and "Criminal Minds." It wasn't an easy road to get there, and she had a couple of bumps along the way, including a dreadful rom-com she might now want us to forget.
In 2004, she appeared in "Meet Market," a film led by soap star Krista Allen, "Nip/Tuck" actor Julian McMahon, and "Saved by the Bell" alum Elizabeth Berkley. The movie centers on a group of hot lonely singles who oddly use the aisles of a local supermarket to meet potential mates. A cheap-looking film that's neither romantic nor comedic, a user review on LetterBoxd questions how it could even have gotten made.
While the likes of Alan Tudyk and Laurie Holden also appear in the film early in their careers — so she's not alone in lamenting it — it's still a movie that Tyler likely wishes she'd never been a part of. Thankfully she'd recover, even finding some success behind the camera, directing episodes of "Fear the Walking Dead" and "The Wonder Years," as well as music videos for the likes of Weird Al Yankovic. 
Daughters of Satan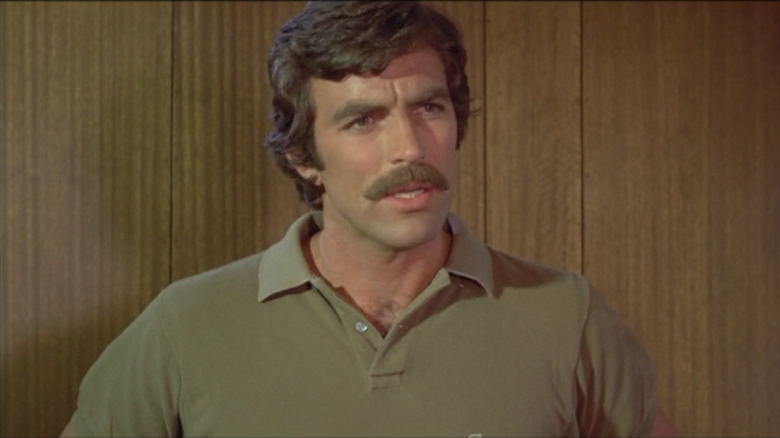 United Artists
One of its first big names to find a recurring guest role on "Friends" was TV leading man Tom Selleck. Joining the series in 1996, he played Dr. Richard Burke, who dated Courteney Cox's Monica Geller despite being 21 years her senior. Selleck of course was best known for his seminal '80s action show "Magnum P.I.," though at the time of his first appearance he was coming off a string of flops. While the 1994 disaster "Christopher Columbus: The Discovery" may be infamous, nothing can compare to what might be his most regrettable film, "Daughters of Satan."
No, your eyes aren't deceiving you, "Daughters of Satan" is an actual film starring "Blue Bloods" star Tom Selleck. In fact, it was his very first leading role in a film, and it was every bit as awful as the title would suggest. Released in 1972, it introduces Selleck as James Robertson, an antique dealer in search of new treasures. His discovery of a satanic painting draws the attention of a coven of witches who cast a diabolical curse on him. From there, it's nonstop cringe while blood is spilled and actors embarrass themselves.
While the film could potentially qualify as a "so-bad-it's-good" movie, Selleck — if he has a sense of humor about his career — can only look back and laugh. Whether he feels shame or not, Selleck is unlikely to ever put "Daughters of Satan" on his demo reel.
She's Out of Control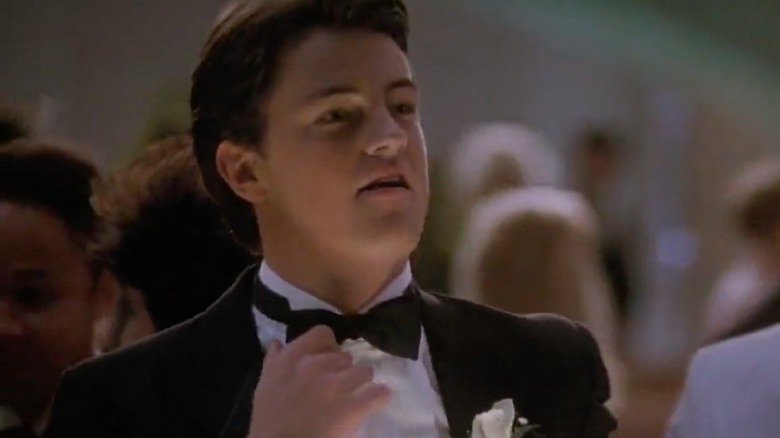 Columbia Pictures
The king of razor-sharp '90s sarcasm, Matthew Perry will forever be Chandler Bing, no matter what success he might have anywhere else. Perry actually did have a few small roles in some prime-time hits well before "Friends," but none of them stuck the way the iconic '90s sitcom did. He even appeared in a big-screen comedy — and it wasn't a good one. In fact, it might even be a film he looks back on with some regret: the 1989 comedy "She's Out of Control."
The movie was designed as a showcase for a different sitcom star, Tony Danza of "Who's the Boss" fame. The film centers on Doug, an overly protective father of a teenage girl named Katie (Ami Dolenz). While her dad is out of town, Katie gets a makeover from her stepmom (Catherine Hicks of "7th Heaven" fame) and becomes an overnight man magnet. 
Perry plays one of the many boys who vie for her attention. The film is pretty bad in all the ordinary ways, but what makes the film especially regrettable is its sexualization of a 15-year-old Katie, which is played for laughs.  
The Size of Watermelons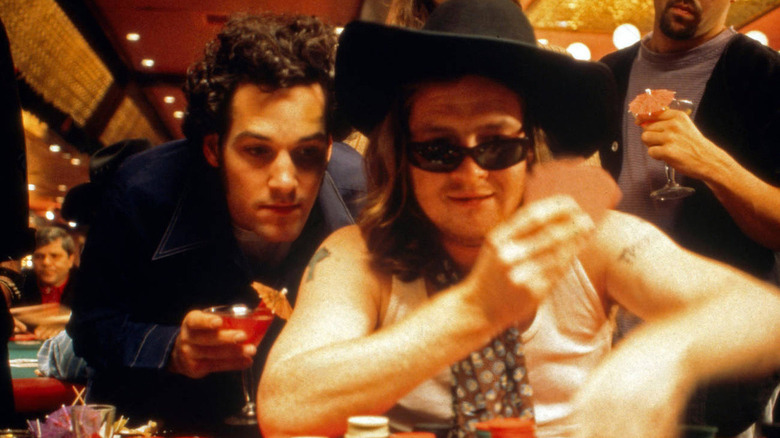 Magna Pacific Pty Ltd.
It would be pretty big news today if Paul Rudd were to take a recurring role on a network sitcom, as the actor is one of the biggest stars in Hollywood with his own superhero franchise, "Ant-Man." Even back in 2002 when Rudd snagged a recurring role in "Friends," it was a major get, as he was then a popular star with hits like "Clueless," "Wet Hot American Summer," and "The Cider House Rules." Within a couple of years, he hit even bigger with "Anchorman." Don't let these successes fool you into thinking Rudd doesn't have a dud in his past.
In this case, the movie the actor might want us to forget is the 1996 comedy "The Size of Watermelons," a goofy title for a goofy movie starring Donal Logue, Ione Skye, and Batman himself, Adam West. Rudd stars as Alex, a typical Gen X slacker who has no idea what he wants out of life when he impulsively decides to produce a documentary about his oddball friend named Gnome (Logue). The eccentric Gnome is a comic book store owner, gambler, and activist on a mission to free Hawaii from American rule. But when Gnome vanishes, Alex is forced to find a new career.
A film that is as meandering as Rudd's character, it goes nowhere and isn't fun or funny while getting there. In the end, "The Size of Watermelons" is bizarre in all the wrong ways, and is terrible in all the rest.
Masters of the Universe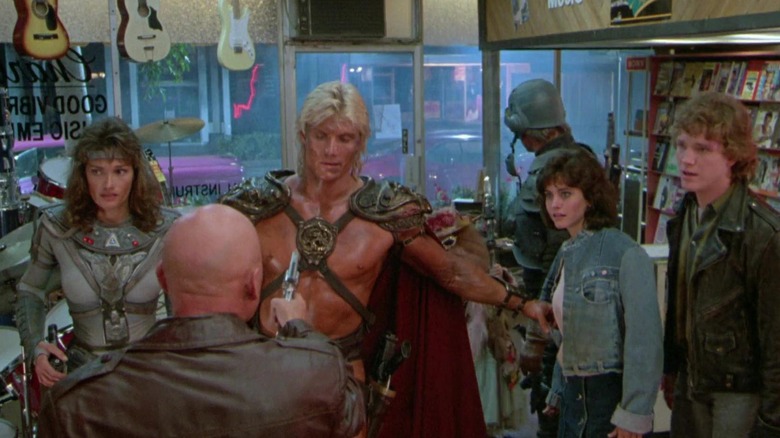 Cannon
When viewers first tuned in to "Friends", they may have recognized at least one familiar face in actress Courteney Cox. Cox was fairly well-known at the time for playing Michael J. Fox's girlfriend Lauren on the hit '80s sitcom "Family Ties," even appearing on the cover of TV Guide. Still, her career up to "Friends" wasn't all winners, and there's one high-profile project she starred in that has since become notorious for its putridness: "Masters of the Universe," the live-action adaption of the wildly popular toy line and animated series "He-Man and the Masters of the Universe."
A well-chronicled disaster, "The Masters of the Universe" was nothing like what fans of the cartoon were expecting, as budgetary constraints meant most of the film was set on modern-day Earth instead of the fantasy realm of Eternia. Though it wasn't cheap to make, it certainly didn't look great, with costumes and props that seemed straight out of a B-movie instead of the big-budget extravaganza it was aspired to be. Cox was a major star of the film, playing ordinary high school girl Julie, while future "Star Trek: Voyager" actor Robert Duncan McNeill played her boyfriend Kevin, both of whom get mixed up with He-Man himself (Dolph Lundgren).
It's certainly possible that Cox has no regrets, as everything worked out for her in the end, but considering how "Masters" became famous for flopping, she's probably not recommending this to fans.
Motel Blue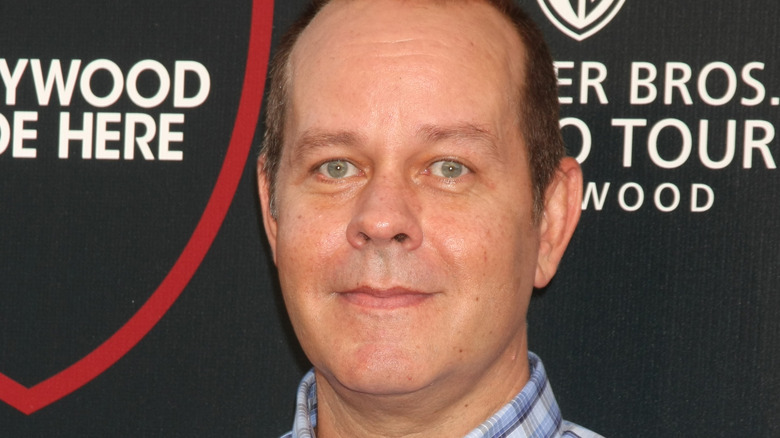 Kathy Hutchins/Shutterstock
If there's an honorary friend on "Friends," it's Gunther, manager of local hot spot and coffee house Central Perk. The gang spends parts of just about every episode there, and actor James Michael Tyler wound up appearing as Gunther in more than 150 episodes of the series. He even gets some key moments throughout the show. While Tyler — who passed away in 2021 – may be immortal thanks to his part as Gunther, he'd probably be thrilled that most people have forgotten his role in the erotic thriller "Motel Blue."
A disastrous movie that doesn't work on any level, "Motel Blue" sees a government agent Kyle Rivers (Soleil Moon Frye) assigned to look into the background of a scientific researcher to review her for additional security clearance. Becoming a bit more of a peeping Tom than an investigator, Rivers discovers that the scientist is involved in all kinds of underhanded dealings — not to mention sexy shenanigans.
In AV Club's 2002 review of the film, Nathan Rabin noted the perks of watching direct-to-video films include "seeing past-their-prime pop-culture icons reduced to acting in embarrassing, lecherous erotic thrillers." Rabin actually wasn't referring to James Michael Tyler, but to former "Punky Brewster" star Soleil Moon Frye; still, we think the sentence is apt for Tyler, too. Tyler however was probably happier hanging out with his other sitcom "Friends."
The Investigator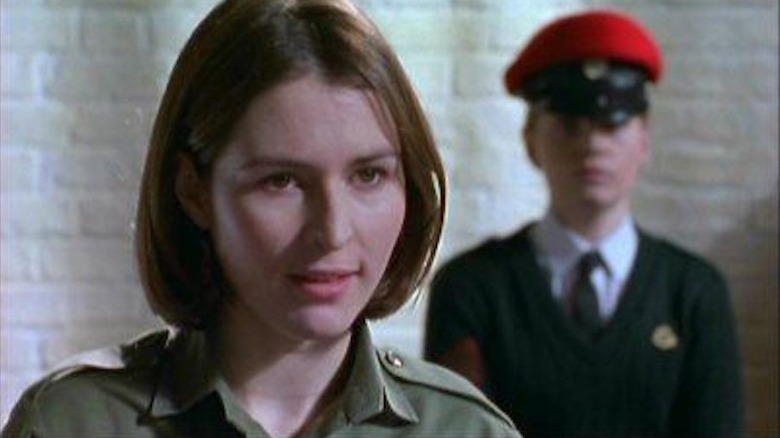 Acorn Media
One of the most controversial stories in the history of the decade-spanning "Friends" was the relationship between Ross (David Schwimmer) and Emily, played by actress Helen Baxendale. Perhaps controversial may be the wrong word, but there's no denying it brought up some passionate feelings among fans who desperately wanted Ross and Rachel together. Appearing in a total of 19 episodes, "Friends" helped bring attention to the little-known British actress, whose career had been spotty to that point. That career included at least one film role she likely wants us to erase from our memories, the 1997 television movie "The Investigator."
A controversial story itself, it stars Baxendale as Sgt. Caroline Meagher, a military police officer assigned to track down and remove lesbians from the British armed services. At the time, homosexuality in the armed forces was illegal (via Sky News), making the film timely when the issue was gaining attention in the late '90s. The movie's treatment of the sensitive topic at hand — particularly in hindsight — is atrociously done. 
What makes it worse is that Meagher, a lesbian herself who happily takes her assignment because she sees it as a means to a promotion, makes the story potentially compelling — but there's no follow-through, and the film never examines the complexities of the issue. Instead, it cheaply sensationalizes the story and capitalizes on the taboo nature of the subject matter.
Monty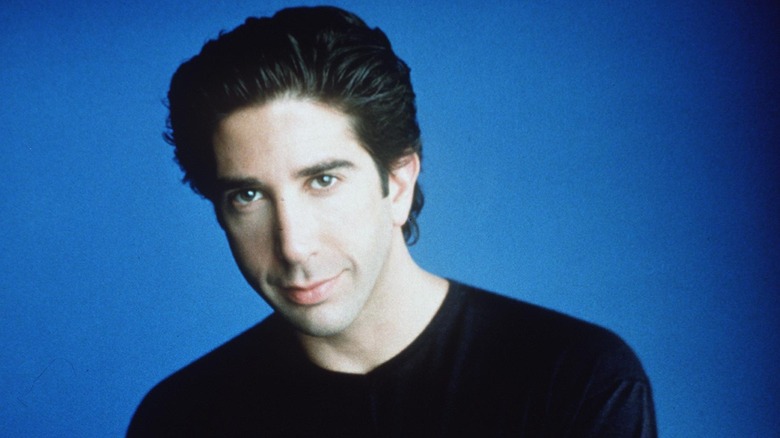 Getty Images/Getty Images
Actor David Schwimmer has always been at his best at playing endearing quirky characters, which made him perfect for the socially awkward Ross on "Friends." Though the show brought the actor international acclaim, Schwimmer has struggled to parlay his small-screen success into a meaningful movie career. It's not his handful of clunkers over the years, like "The Pallbearer" and "Kissing a Fool," that we think he'd want us to forget. Instead, it's his role in the short-lived TV sitcom "Monty."
Airing just months before the premiere of "Friends" in 1994, "Monty" was developed as a vehicle for Henry Winkler — who'd played TV icon The Fonz for more than a decade — in his long-awaited return to television. Ten years since he'd starred in "Happy Days," though, Winkler was now playing a middle-aged father, far from the cool, swaggering greaser the Fonz. Even worse, Winkler's character Monty Richardson is a blustery, right-wing conservative talk show host. In short, he's the polar opposite of everything the Fonz stood for. 
Schwimmer starred as Monty's adult son, who angers his father in the premiere episode by planning to marry a liberal. Painfully unfunny, Schwimmer is dopey in the part and shows none of the earnest charm he did as Ross. An embarrassing outing for everyone involved, "Monty" was canceled after five episodes, leaving seven more unaired. It has never made its way to home video, and we couldn't even track down any images of the actor from the series, something Schwimmer may well be thankful for.