Paul Rudd And Conan O'Brien's Mac And Me Running Gag Explained
Longtime late night television host, comedian, and now podcaster Conan O'Brien has a long history of fantastic interviews with some of his favorite guests in the entertainment industry. Videos and clips from O'Brien's shows from years past still prove popular on YouTube, whether it's the comedian's travel videos or gut-busting interviews with comedians like Bill Burr or Norm Macdonald. O'Brien is one of the funniest performers to ever grace a late-night television desk ... but one of his all-time best recurring bits doesn't actually stem from O'Brien or his writing staff at all.
Paul Rudd, a friend of O'Brien's and frequent guest on his shows, has made an ongoing joke of his own over the years by consistently showing O'Brien and his audiences a clip from an obscure 1988 film called "Mac and Me" while ostensibly promoting his own work. This has evolved from a strange one-off joke to a fan-favorite bit for Rudd and O'Brien fans alike, drawing renewed attention to the strange existence of "Mac and Me" itself over the years. 
However, what is "Mac and Me," and why does Paul Rudd keep joking about it?
Mac and Me is a failed 1988 attempt to replicate E.T. The Extra Terrestrial and promote McDonald's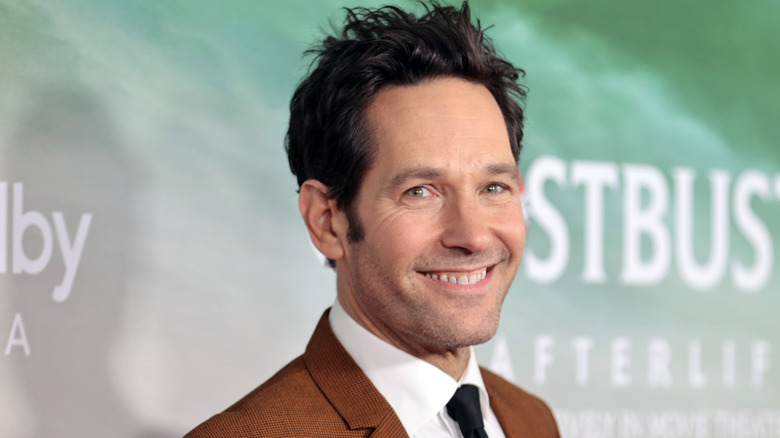 Mike Coppola/Getty Images
The "Mac and Me" recurring joke starts with film producer R.J. Lewis, who in the late-1980s wanted to replicate the success of Steven Spielberg's 1982 "E.T." (via Thrillist). Lewis created MAC, an alien whose name stands for Mysterious Alien Creature — and "coincidentally" matches the first syllable of the fast-food corporation McDonald's — for this project. Louis, who reportedly worked with McDonald's advertising campaigns early in his career, wanted to closely associate his new alien character with the McDonald's brand to ensure the movie's popularity. He went about securing exclusive rights to use the McDonald's branding, characters, and images in a major motion picture, and the film reportedly intended to donate a portion of its profits to Ronald McDonald Children's Charities via (AFI Catalogue). Writer-director Stewart Rafill was tasked with writing a script after Lewis had already hired a full crew to actually shoot the film.  
"Mac and Me" tells a strange tale of an alien and his family who befriend a boy who uses a wheelchair named Eric (Jade Calegory) and visit McDonald's. Even though it's a family film, Eric is killed in a shootout — yes, actually — and subsequently revived by MAC and his family, who are then granted American citizenship for saving the boy's life. 
According to Box Office Mojo, "Mac and Me" made just $6.42 million at the box office, failing to cover its $13 million budget (via AFI Catalogue). The film was widely dismissed as a product-placement-laden, poor imitation of Spielberg's family-friendly alien film (via Rotten Tomatoes). A bizarre flop like this could've easily been forgotten by pop culture, but Paul Rudd and Conan O'Brien have, in their own way, ensured the film's continuing relevance.
Paul Rudd has been presenting a silly clip from Mac and Me on Conan O'Briens shows since 2004
Paul Rudd first presented a clip from "Mac and Me" — showing Eric rolling off a cliff into a body of water — during a February 2004 appearance on NBC's "Late Night with Conan O'Brien." Rudd pretended he was going to share a clip from the then-incoming series finale of "Friends," only to show the bizarre scene from a movie that had faded into obscurity some 16 years before (via YouTube). The actor went on to surprise O'Brien and his audiences with same "Mac and Me" clip at least nine more times over the rest of the host's late-night career (via Newsweek). Rudd, for the record, isn't a fan of the film. While he has called it "the greatest thing I've ever seen," per The Hollywood Reporter, he means that ironically. The basis of his joke is just how crass and pointless the movie is.
Rudd has initiated this bit even while promoting some of his most popular movies. His July 2015 appearance for Marvel Studios' "Ant-Man" involved superimposing his superhero character into the "Mac and Me" clip for some level of variety (via YouTube), and a 2019 appearance involved Rudd showing the clip, promising he would play a real clip, and then showing the "Mac and Me" clip again with a second alien added. 
Although Conan's late night television days ended with "CONAN," Rudd took the bit to Conan's podcast "Conan O'Brien Needs a Friend" in March 2022, pretending he would share a tidbit of a fake narrative podcast before launching into "Mac and Me" for the 10th time (via YouTube).
"You can't do that on a podcast," O'Brien said, laughing when Rudd played the clip again. "It's a visual joke."