Why Mo From Netflix's The Watcher Looks So Familiar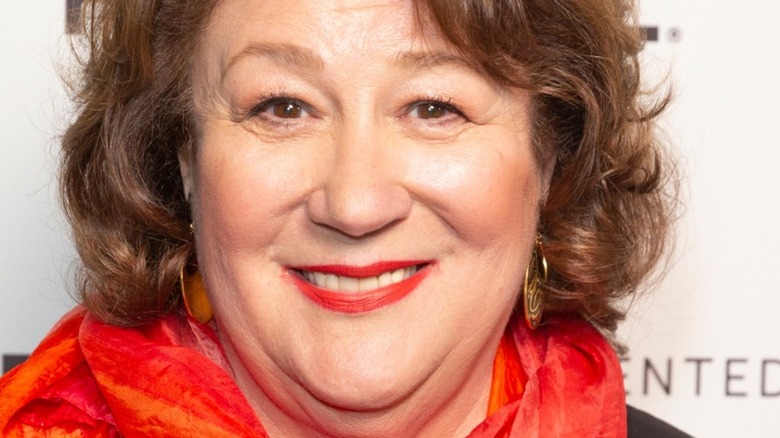 lev radin/Shutterstock
Ryan Murphy is one of the most successful TV auteurs and producers of our time. From "Glee" to "American Horror Story" to "9-1-1" to "Feud" to "Pose" to "Nip/Tuck" to "Scream Queens," it seems like every new concoction from the House of Murphy makes a splash. And, although Murphy made his name in the realm of "traditional" broadcast television, since 2019 he has also been bringing his Midas touch to Netflix. As the co-creator of ongoing series like "The Politician" and "Ratched" and miniseries like "Hollywood," he's proven that he also has his finger on the pulse of the streaming era — and the enormous success of "Dahmer – Monster: The Jeffrey Dahmer Story," created by Ryan Murphy and Ian Brennan, has only further driven that home.
Now, just a few weeks after the release of "Dahmer," Murphy and Brennan's next big Netflix bet is already out. Based on a 2018 The Cut article by Reeves Wiedeman, "The Watcher" is another intense crime thriller series based on a true story. It follows a married couple, Nora (Naomi Watts) and Dean Brannock (Bobby Cannavale), as they deal with a stalker who begins sending them letters after they move into their dream home in Westfield, New Jersey. Although Watts and Cannavale are the stars, the show boasts plenty of scene-stealing supporting players, including the beloved character actress who plays the Brannocks' nosy new neighbor Mo. Here are a few places where you might have seen the actress in question before.
Margo Martindale established herself as a prolific character actress in the 1990s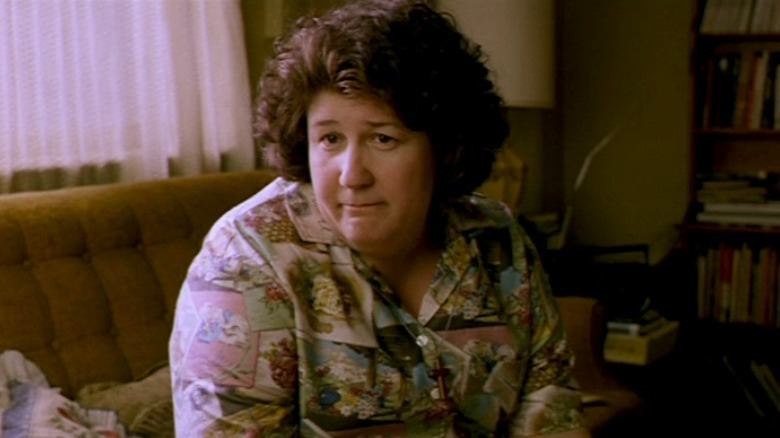 Gramercy Pictures
The Brannocks' snoopy neighbor Mo is played by Margo Martindale, an actress anyone who's been following film and TV for the past two decades has almost certainly seen and fallen in love with at one point or another.
Born in Jacksonville, Texas, Martindale has been acting professionally since the late 1980s. Her first major sources of exposure came during the 1990s, when she began to land a series of supporting roles in some of the decade's most popular and beloved dramatic films. In 1992, she had a small but memorable part opposite Susan Sarandon in "Lorenzo's Oil," playing Wendy Gimble, a fellow activist mother who shares a bond of solidarity with Michaela Odone (Sarandon). Three years later, she once again shared the screen with Sarandon in a fact-based film. This time, the film in question was "Dead Man Walking" (pictured above), in which Martindale played Sister Colleen, a colleague and confidante of protagonist Sister Helen Prejean (Sarandon).
She continued to be seen frequently throughout the '90s, playing characters like Dr. Charlotte Samit in "Marvin's Room" and Linda Bennett in "Practical Magic." Then, in 2004, her profile got a boost thanks to her performance as the rage-filled mother of Mary Margaret "Maggie" Fitzgerald (Hilary Swank) in "Million Dollar Baby." Although the character herself was controversial and accused by some critics of being a "welfare queen" stereotype, there was no denying the raw power of Martindale's fearlessly abrasive performance.
She played Grandma Ruby in Hannah Montana: The Movie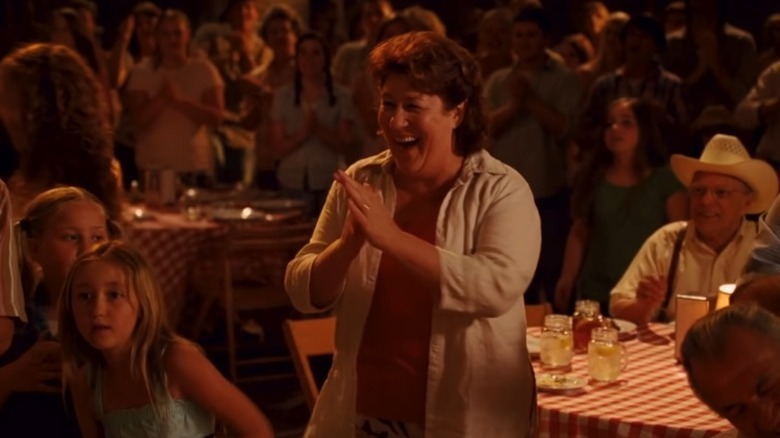 Walt Disney Studios Motion Pictures
Margo Martindale was already an established name going into the late 2000s, as exemplified by the increasing number of prominent "mother figure"-type roles she played after "Million Dollar Baby." Two of those roles were Ma Cox, Dewey's (John C. Reilly) mother, in the cult classic 2007 music biopic spoof "Walk Hard: The Dewey Cox Story," and Camilla Figg, longtime friend to Dexter Morgan (Michael C. Hall) and his family, in a short but memorable arc on Showtime's "Dexter." But the best-remembered of Martindale's roles in that period may be the role of Ruby, none other than Miley Stewart's (Miley Cyrus) maternal grandma, in "Hannah Montana: The Movie."
In "Hannah Montana: The Movie," released in 2009, Miley's father Robby Ray (Billy Ray Cyrus) finds that her life as Hannah Montana is causing her to become alienated from her roots and her family, so he takes her to her (fictional) hometown of Crowley Corners, Tennessee, for a two-week vacation on the occasion of her grandmother Ruby's birthday. Although a Disney Channel kids' movie is not the first thing many would associate with an actress of Martindale's caliber, she still looks back fondly on the project; in a 2020 interview with The A.V. Club, Martindale revealed that not only could she still sing the film's centerpiece song "Hoedown Throwdown" by memory, but she even remembered the dance moves to it. "It would take me about an hour to really recreate it," the actress said.
She became television royalty on Justified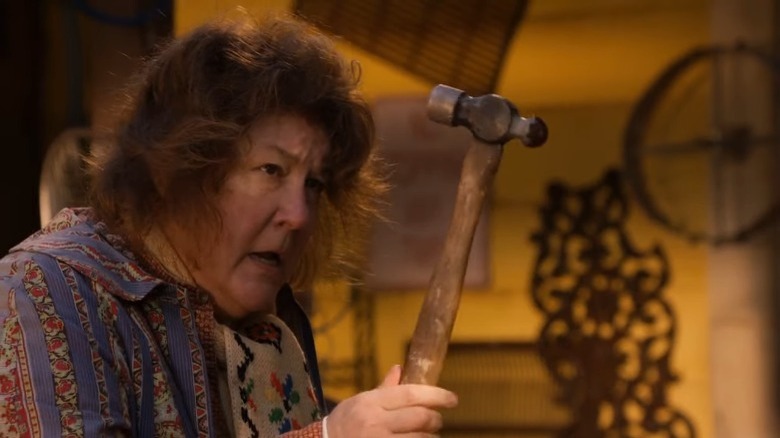 FX
By the time she joined "Justified," anyone who'd been paying attention to any of Margo Martindale's roles already knew her for the incredible, once-in-a-generation thespian she is. But what she did on the second season of the FX neo-Western series catapulted her to a whole new level of recognition and acclaim.
Season 2 of "Justified" followed the showdown between Raylan Givens (Timothy Olyphant) and the mighty Bennett crime family, led by the implacable matriarch Mags Bennett. Played by Martindale with a stunning degree of ferocity, intelligence, and villainous charisma, Mags went down in "Justified" history as the show's most memorable seasonal antagonist and also proved to be the biggest screen showcase yet for her performer's talent.
When Martindale nabbed an unexpected Primetime Emmy nomination for outstanding supporting actress in a drama series, she was over the moon enough, telling CNN, "I've been nominated for a Tony and I thought that was as good as it can get ... So let's just say the audience is a lot bigger for this!" But, even if the reasons for Mags' broad popular appeal were plain to see — in Martindale's own words, "People really identify with this character and I think it's because it is a character that is powerful and older and extremely mean!" — not even the most optimistic "Justified" fan could have foreseen that Martindale would actually win the award. In the end, it was one of the sweetest and most deserving upsets in Primetime Emmy history.
She was quietly the best part of August: Osage County's star-studded ensemble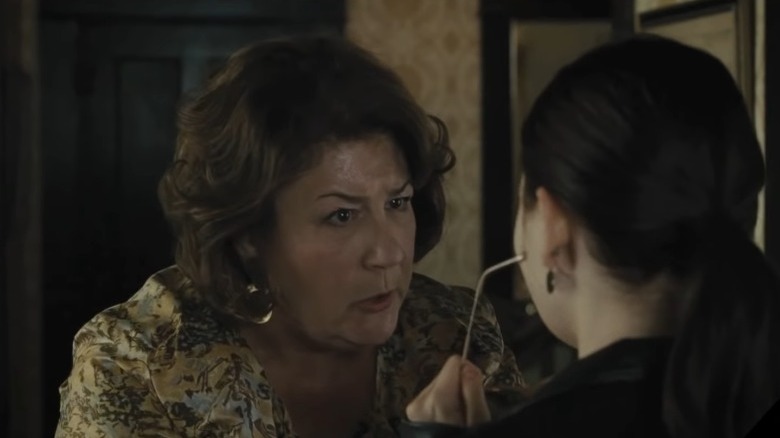 The Weinstein Company
Tracy Letts' "August: Osage County" became one of the most successful and acclaimed stage plays of the 2000s when it had its Broadway debut in 2007, so it was a given that an eventual stage adaptation would have to be just as much of a capital-E Event. "August: Osage County," the film, rose to that level of loftiness by enlisting one of the most ridiculously stacked casts that American cinema has seen so far in the 21st century: Meryl Streep, Sam Shepard, Julia Roberts, Ewan McGregor, Abigail Breslin, Julianne Nicholson, Juliette Lewis, Dermot Mulroney, Chris Cooper, Benedict Cumberbatch, Misty Upham ... and, of course, Margo Martindale.
The film, a tragicomic family story about the reunion of a dysfunctional Oklahoma bunch following the disappearance of their patriarch Beverly Weston (Shepard), became notorious for the sheer volume and intensity of its actors' performances. This prompted several critics to single out Margo Martindale, in a relatively subtle and unshowy role as Violet Weston's (Streep) younger sister Mattie Fae Aiken, as an ensemble highlight. TheWrap's Alonso Duralde even worded his praise for Martindale as a humorous allusion to the Meryl Streep of it all, writing, "Director John Wells ... turns the piece's dark, lurid humor up to 11, and it's up to this generation's greatest screen actress to find the honesty and the power amongst all the showboating: I'm referring, of course, to Margo Martindale, who nails her scenes as Mattie Fae."
She earned some of the best reviews of her career for Blow the Man Down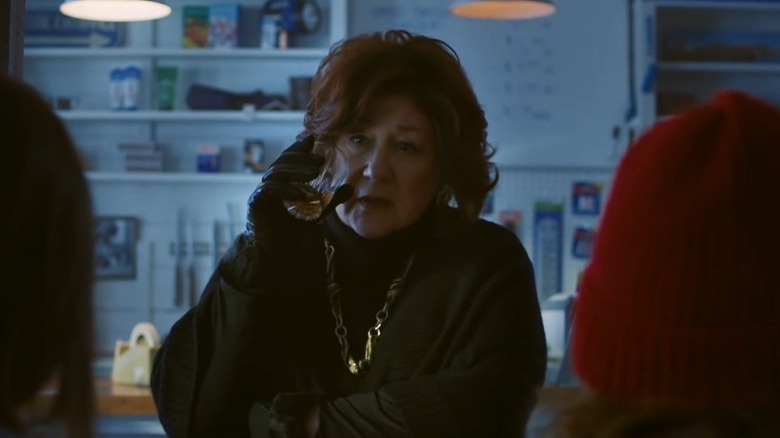 Amazon Studios
The 2010s were a plentiful decade for Margo Martindale. In addition to leading films like "The Hollars" and television series like "The Millers," she became a first-rate guest and recurring star on multiple shows, from "New Girl" to "The Good Wife" to "The Americans," with the latter role, as the Jennings' methodical KGB handler Claudia, earning Martindale her second and third career Primetime Emmys (via IMDb). Her newfound status as TV royalty was reflected in her substantial supporting roles on Prime Video's "Sneaky Pete," playing Audrey Bernhardt, and FX on Hulu's "Mrs. America," playing Bella Abzug — as well as her unforgettable appearances as an exaggerated version of herself, Character Actress Margo Martindale, on Netflix's adult animated show "BoJack Horseman."
But her best, most acclaimed role in recent years has arguably been not on TV but in film. In 2019, she was part of the cast of Bridget Savage Cole and Danielle Krudy's singular black comedy thriller "Blow the Man Down." The film follows two sisters from a remote Maine fishing village who find themselves begrudgingly embroiled in a dangerous criminal plot, and Martindale plays local brothel owner Enid Nora Devlin, whose fate intertwines with the protagonists'. It's a role seemingly tailor-made for the actress' trademark grip on eccentric folksy Americana, and Martindale makes a meal out of every single scene she's in, in a performance that earned enough acclaim to net her an Indiana Film Journalists Association award nomination for best supporting actress.