Ryan Murphy's Dahmer Series Hit A Major Milestone For Netflix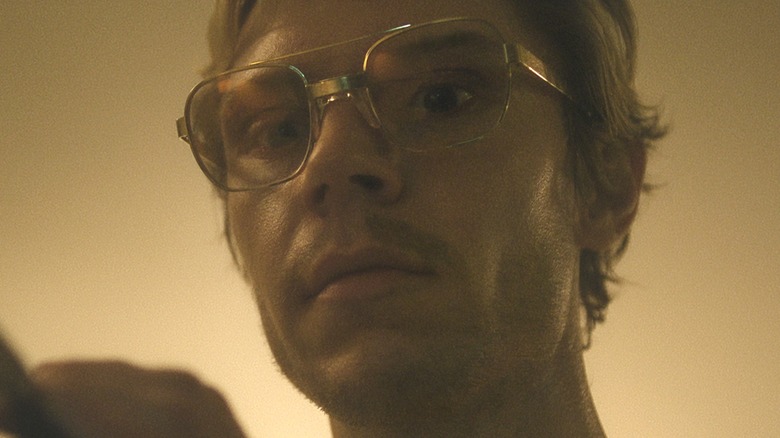 Netflix
Since debuting in September, Ryan Murphy's "Monster: The Jeffrey Dahmer Story" has been devouring Netflix records with ease — smashing the streaming giant's previous Week 1 milestone set by "Squid Game" and now, as of October 4, another incredible record has been taken.
According to IndieWire, "The Jeffrey Dahmer Story" managed to rake in a reported 196.2 million viewing hours during its premiere week, which only consisted of five days. In total, there have been just ten other instances where a Netflix show was able to outperform Murphy's twisted biopic, with four of them coming during Season 1 of "Squid Game." However, the South Korean survival series didn't have as big of a debut, nor did any other shows.
On October 4, it was reported by several media outlets that "The Jeffrey Dahmer Story" had beaten yet another Netflix record, which now puts it in the category of not just the biggest debut ever, but one of Netflix's most-watched shows of all time.
Dahmer surpasses 300M hours viewed, making it the second most watched English-language series ever
Netflix
According to Deadline, Ryan Murphy's "Monster: The Jeffrey Dahmer Story" has managed to bring in an estimated 300 million viewing hours during its second week on Netflix. This means the show is now the second most watched English-language series on the app in a week, with it being second only to "Stranger Things 4."
In total, "The Jeffrey Dahmer Story" currently sits at No. 9 on Netflix's overall streaming hours list after just nine days of availability, per Deadline. It's recorded more than 496 million viewing hours so far, meaning it's surpassed "Ozark" Season 4 and a number of other shows. People online have been baffled by the biopic's popularity, given its gruesome and disturbing subject matter and controversial depiction of Dahmer's real-life victims. 
"My thesis is that it juggles the fetishizing of Serial Killers & Tackles Survivors & BIPOC pov (which is never attempted) in the genre better than anyone has," hypothesized Twitter user @JasonAvalos. "Still wish they got Victims Families approval tho," the user said. @teroterotero tweeted: "What's weird about the biggest Netflix successes like Squid Game and Dahmer is how extremely dark they are. Dying broadcast channels like NBC and CBS keep pouring hundreds of millions into syrupy uplift shows as audiences gravitate towards the grimmest possible shows."