Atlanta Writer Had Doubts About Season 4 Episode 6's Violent Storylines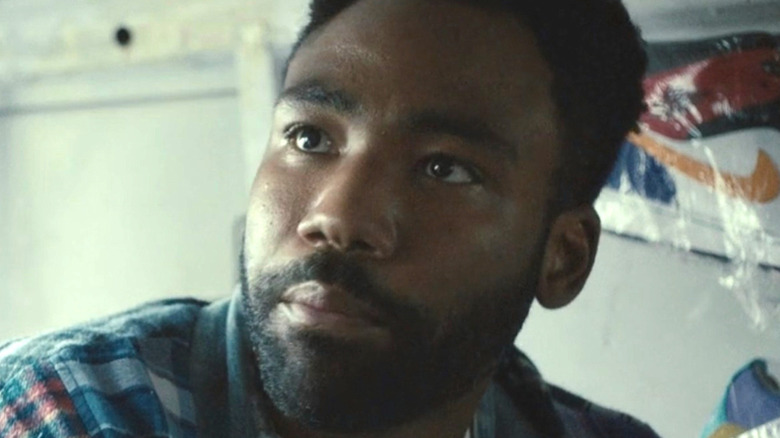 Hulu/FX
Warning: Spoilers for "Atlanta" Season 4, Episode 6
The latest entry in the final season of "Atlanta" covers topics ranging from sneaker obsession to Soulja Boy's 2007 "Crank Dat" dance trend. But one moment in the episode stands out as particularly wild. To avoid a serial killer targeting people who made "Crank Dat" videos, Alfred (Brian Tyree Henry), aka Paper Boi, heads to the local mall. But the episode's titular Crank Dat Killer never ends up coming for Alfred, after all. Instead, the situation turns deadly when one of Alfred's enemies from high school (Mark Anthony Brooks) shows up at the shopping center and starts shooting at him. In response, other shoppers produce weapons of their own, trying to put down the original shooter. Before long, multiple people are engaged in a firefight inside the shopping center, transforming it into a veritable warzone.
However, in the confusion, it seems no one can identify who the actual shooter is. Instead, the mall becomes a killing field. The surrealism of the horror on screen is hard to put into words — a man selling shoes out of his van to Earn (Donald Glover) and Darius (LaKeith Stanfield) is killed by a stray bullet — but it effectively communicates the way that gun violence in America too often transforms ordinary places into high-casualty battlefields in the span of a few moments.
While the over-the-top violence is poignant, Stephen Glover, "Atlanta" writer and brother of the show's star, Donald Glover, explained why he had serious qualms about putting it to screen, how his concerns were allayed, and why the show ended up going for it.
Stephen Glover worried the mall shootout in Crank Dat Killer went too far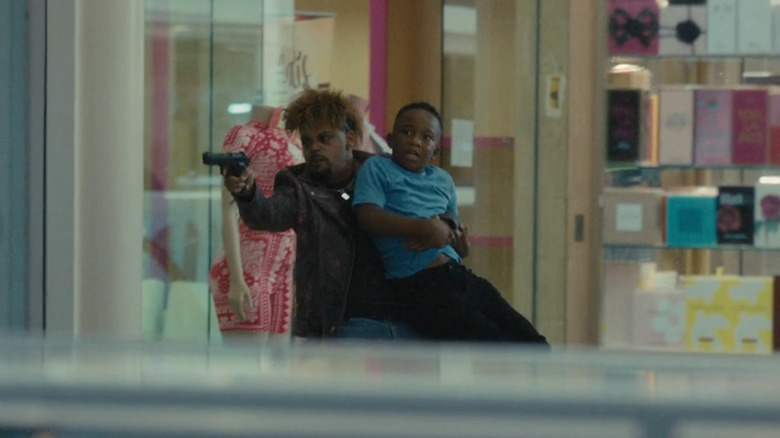 Hulu/FX
Speaking to Variety, writer Stephen Glover recounted coming to director Hiro Murai with his concerns regarding the climactic violence of "Crank Dat Killer." Though Glover was worried the shopping mall shooting was too much, he recalls Murai responding, "Nah, it's great." Glover noted, "In Atlanta right now, there's so many guns. There's been several shootouts at malls in particular in Atlanta, and lax gun laws." Indeed, as reported by the Atlanta Journal-Constitution, shopping centers in metro Atlanta have been beset by gun violence in recent years.
Glover says he also wanted to poke fun at the notion that carrying a gun can defuse situations involving guns. "I thought it was funny, this idea people have that guns are going to make situations better, but here's a shootout in the mall and it just turns into chaos." This, too, has an element of real-world truth to it. A recent report from Time Magazine drew attention to the plethora of available evidence indicating that the presence of "good guys with guns" during a shooting consistently fails to stop an active gunman and often inflames the situation further.
Additionally, "Atlanta" has often portrayed Alfred as a character destined for an early grave, a fate all too common for so-called "street rappers" whose artistic pursuits weren't enough to save them from a troubled past. "Alfred having these near-death experiences goes back to how a lot of rappers end up dying in their hometown or killed in some sort of altercation," Glover explained. "So, the specter of death is always following Alfred. That helps get people into the mindset of what it's like to be a rapper and be in your home city, and how easy it is for something bad to happen to you."