Robbie Coltrane's Talks With J.K. Rowling Changed His Perspective On Harry Potter Characters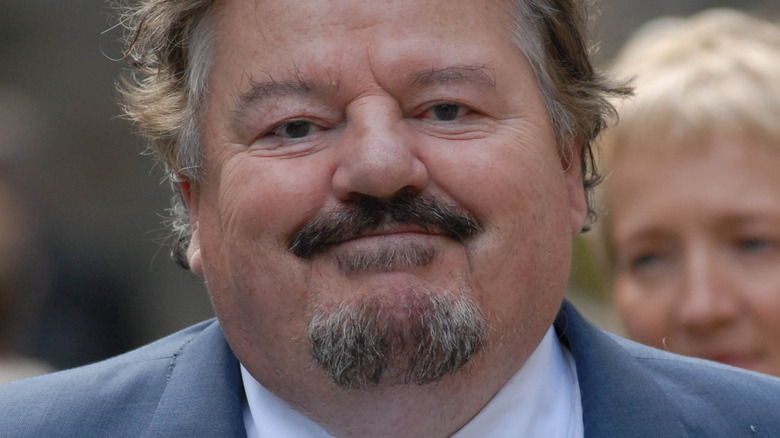 Martin Grimes/Getty Images
Actor Robbie Coltrane passed away on October 14, 2022. He was 72, though he leaves behind a rich cinematic legacy that audiences will continue to obsess over for decades to come. The actor is best known for his appearance as Hagrid in the "Harry Potter" films that dominated the 2000s and early 2010s.
"Harry Potter" author J.K. Rowling praised Coltrane's performance endlessly shortly after "The Philosopher's Stone" was released (via The Telegraph), revealing that the Scottish actor was at the top of her dream cast list alongside Maggie Smith, who went on to play Professor McGonagall. "Robbie is just perfect for Hagrid because Hagrid is a very loveable character, quite likable, quite comic ... but he had to have — you really do have to sense — a certain toughness underneath ... and I think Robbie does that perfectly," the author said over two decades ago.
With Coltrane now gone, a devastating hole has been created in the hearts of staunch Potterheads. The actor tirelessly committed to the role of Hagrid for over a decade, bringing one of the most unique "Harry Potter" characters to life. While his reverence for the Wizarding World always existed, it wasn't until his chats with Rowling that he began to believe the characters were real.
Robbie Coltrane believed the Harry Potter characters were real
During the press junket for "Harry Potter and the Philosopher's Stone" in 2001, Robbie Coltrane was asked to discuss his first meeting with J.K. Rowling (via YouTube). The actor revealed he didn't meet Rowling until the table read, though he confirmed that the two had engaged in phone calls prior. "I had several phone conversations, and [we] talked a lot about Hagrid, obviously," the actor said. "Because she knows so much about all the characters, it's really quite extraordinary... after you've talked to her for half an hour, you think they're real. You think you were talking about real people."
The "Harry Potter" franchise's ever-lasting popularity, both on the page and silver screen, is primarily attributed to Rowling's rich characters, which she spent six years developing (via Bustle). The adaptation of "The Philosopher's Stone" managed to reach the same critical and commercial heights as the book it was based on — it currently holds a positive 82% on Rotten Tomatoes with a global cume of over $1 billion (via Box Office Mojo). 
What largely made the debut film so successful was its adherence to the source material, a quality that Coltrane greatly admired. In the aforementioned press interview, the actor praised the scene where Hogwarts is revealed for the first time, as the children arrive via boats. "It's exactly as I always imagined it," Coltrane said about the scene. Following his appearances in the eight "Harry Potter" films, Coltrane reprised his role as Hagrid one final time for Universal Parks and Resorts' themed ride "Hagrid's Magical Creatures Motorbike Adventure."