Robbie Coltrane's Last Performance As Hagrid Was Actually For The Harry Potter Theme Park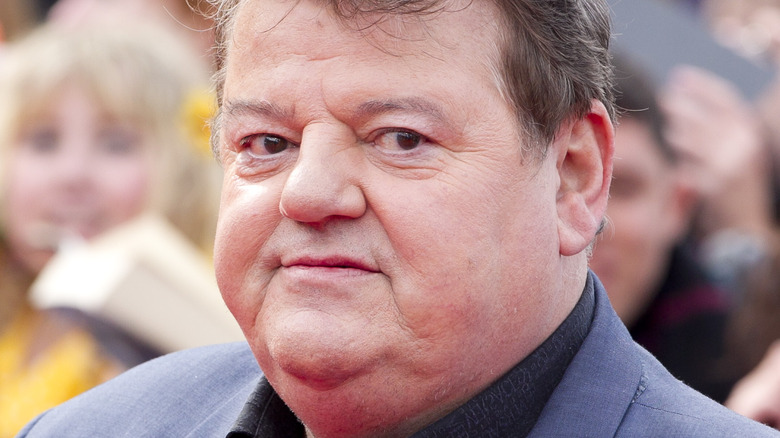 John Phillips/Getty Images
Although Robbie Coltrane has appeared in many movies like "GoldenEye," "Great Expectations," and "Brave," he is probably best known for his reoccurring role of Rubeus Hagrid in the "Harry Potter" franchise. As Hogwarts' gamekeeper, Hagrid holds the official title of Keeper of Keys and Grounds at Hogwarts. Acting as one of the ersatz father figures for Harry Potter (Daniel Radcliffe), Hagrid's warm demeanor acts as a constant in Potter and his friends' lives. Empathetic and heartfelt, Hagrid is easily one of the more popular characters of the franchise. Having appeared in every "Harry Potter" movie, fans of the series have recently been devastated by the news of Coltrane's passing on October 14, 2022.
As reported by the Daily Record, Coltrane spoke about Hagrid's legacy during the "Harry Potter: Return to Hogwarts" special, and he said, "It's the end of an era. Ten years of my life. My children have grown up during it." He added, "The legacy of the movies is that my children's generation will show them to their children. So you could be watching it in 50 years time, easily. I'll not be here, sadly...but Hagrid will, yes." However, Coltrane reprised the role of Hagrid outside of the movie franchise, and it marks the last time he played the character — or performed any dramatic role.
Coltrane recorded his voice for Hagrid's Magical Creatures Motorbike Adventure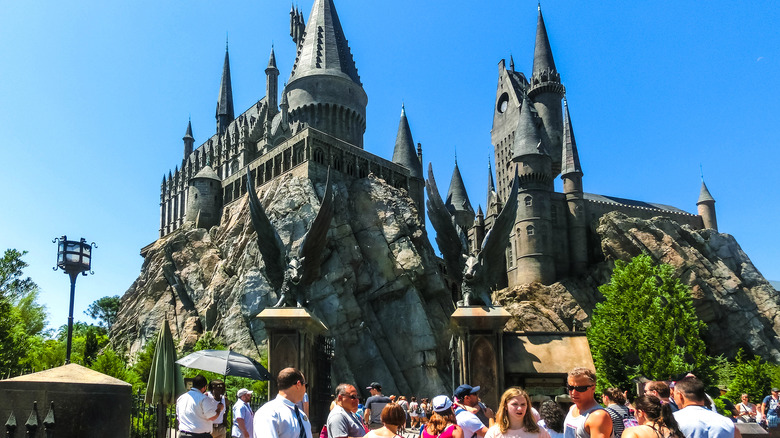 Solarisys/Shutterstock
It turns out that the place to catch Hagrid's final performance is at The Wizarding World of Harry Potter at Universal Parks and Resorts in Orlando, Florida. The Wizarding World is an entire amusement park inspired by the "Harry Potter" franchise, and as such, there are plenty of featured characters and themed rides. As noted by IMDb, Robbie Coltrane lent his voice and likeness to the "Hagrid's Magical Creatures Motorbike Adventure" ride, which emulates what it's like to ride in Hagrid's famous magical motorcycle as it zips around the Hogwarts grounds. Checking out the ride on YouTube, one can see that the ride features plenty of Hagrid voiceover, magical creatures, and an animatronic version of Hogwarts' beloved gamekeeper.
According to Wizarding World, the "Hagrid's Magical Creatures Motorbike Adventure" ride faithfully recreates Hagrid's visage without a live actor. The robotic version of Hagrid is exceptionally life-like and is capable of 24 different body actions, as well as staying true to Hagrid's size from the movies — an impressive seven-foot, six inches. To further add to the realism of the animatronic Hagrid, several scans of Coltrane's face, eyebrows, and even hair were used in order to make sure that the character looks as close as possible to the version seen in the "Harry Potter" movies. For fans of all things Hagrid and Hogwarts, this ride definitely represents something that should be experienced at some point — and a wonderful legacy for the late Coltrane.