Molly's Game Producers To Tackle Aaron Hernandez Story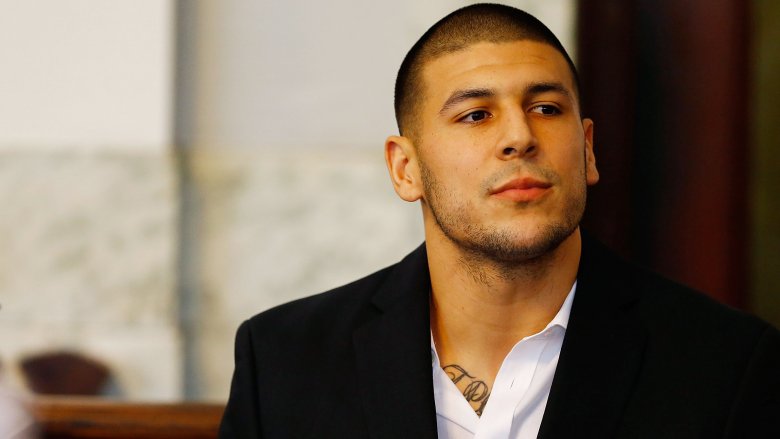 Getty Images
One of the saddest, strangest sagas in American sports history will get the feature film treatment, as Deadline reports that the Mark Gordon Company has acquired the film rights to an upcoming book about the life, crimes, and death of former New England Patriot Aaron Hernandez.
The book, All-American Murder: The Rise and Fall of Aaron Hernandez, the Superstar Whose Life Ended on Murderer's Row, was written by James Patterson and Alex Abramovich with Mike Harvkey. It is set to be released by Little, Brown and Company on January 22.
Patterson, who will also serve as an executive producer on the movie, is the bestselling author of the Women's Murder Club series, the Alex Cross series, and many, many other books. A new fiction thriller from Patterson co-authored with former president Bill Clinton, The President is Missing, is set for release in June, with the rights to that book already having been sold to Showtime for development as a TV series. 
Alex Abramovich is the author of Bullies: A Friendship, with writing that has been featured in the New Yorker, the London Review of Books, and the New York Times. Mike Harvkey, who researched and reported for All-American Murder, is the author of the novel In the Course of Human Events.
"The real, shocking events that led to Aaron Hernandez's harrowing fall from NFL stardom gripped America's attention and imprinted itself on today's cultural zeitgeist," Gordon said, in a statement regarding the film deal. "James is unmatched in his storytelling and reporting talents, and he chronicles this story with incredible insight and nuance. There is no other person with whom to collaborate to bring this timely film to life."
The Mark Gordon Company recently produced Molly's Game, the Jessica Chastain-starring true story of a secret, high-stakes gambling ring written and directed by Aaron Sorkin in his directorial debut. The company is also producing the fantasy movie The Nutcracker and the Four Realms, due out on November 2.