Early Roles That Hellraiser Actors Want You To Forget About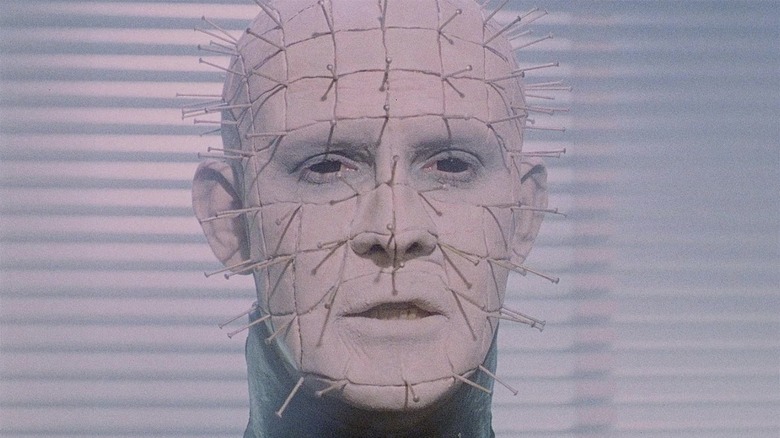 New World Pictures
Based on the novella "The Hellbound Heart" by horror legend Clive Barker, the 1987 classic "Hellraiser" is a spine-chilling journey into the macabre. The legend begins when Frank Cotton solves a mysterious puzzle box, opening a gateway to a hellish realm where demonic beings called Cenobites feast on pain and torment. An instant cult classic, "Hellraiser" was immediately followed by a series of sequels of varying quality, which continued well into the 2000s. 
After a failed attempt at a reboot with "Hellraiser: Revelations" in 2011, the franchise finally came back to prominence with 2022's reimagining, simply titled "Hellraiser." With its generally positive reception, it's safe to say that fans new and old might be inspired to dig back into the forgotten sequels. With each film being so distinctly different, many have entirely unique casts, with several featuring big names before they were stars. From Henry Cavill to Adam Scott, the "Hellraiser" franchise has had some incredible talent involved, even if not all of the films have been so highly rated.
But every actor has their own career low points. Some even have films they might want to take back. Well, that's why we're here, to open the puzzle box to a realm of bad B-movies and fatal flops. So don't despair, and prepare for your own journey to another realm, because we're headed to a dimension full of movies that "Hellraiser" actors might want you to forget about.
Ashley Laurence: Face the Edge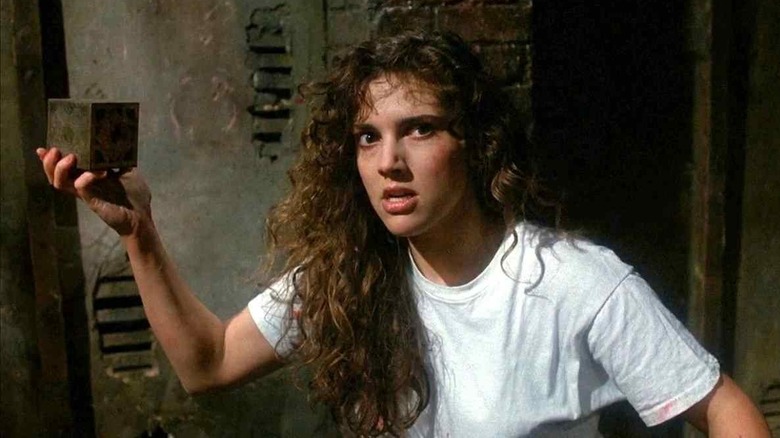 Entertainment Film Distributors
The protagonist of the very first "Hellraiser" film in 1987, young actress Ashley Laurence played Kirsty Cotton, niece of the bedeviled Frank Cotton. Frank is killed as the movie begins when he unwittingly summons the Cenobites by solving the dreaded puzzle box, and it's Kirsty who summons them a second time after Frank is resurrected, and she who makes a deal with their leader Pinhead to return her despicable uncle to them. Unfortunately, Laurence never really leveraged her starring role in the film into a major Hollywood career, and she wound up in a handful of films she might like to make a deal to have us all forget.
Among them is the 1990 film "Face the Edge" starring Laurence, Tracy Scoggins, Chuck Connors, and a bunch of actors you've never heard of. Ostensibly the story of three friends living very different lives, it sees Nick, Tom, and Joe all convening for a ski trip. Not only is the film badly produced and cheaply made, but as many have noted it barely even qualifies as a film, as it has almost no plot at all. In some ways, it's nearly a documentary, with most of its brisk 90-minute runtime comprised of ski footage that may or may not even feature the actors.
Despite being billed as an exciting extreme sports film, "Face the Edge" — aka "One Last Run" — offers up absolutely nothing we'd consider genuine entertainment.
Adam Scott: Last Days of Frankie the Fly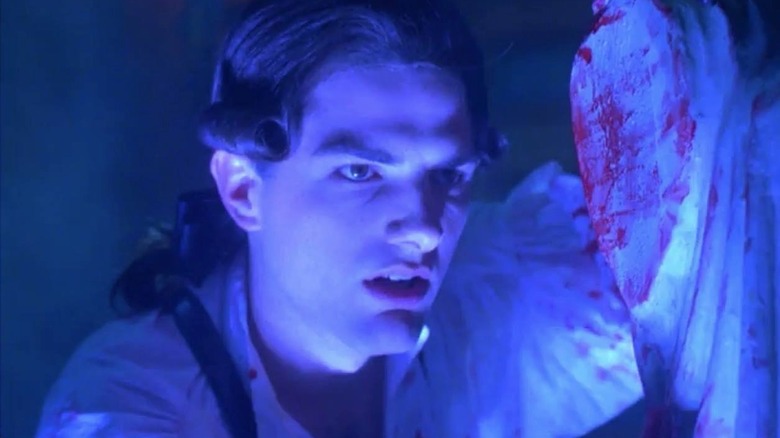 Miramax
You probably know actor Adam Scott for his role as Ben Wyatt on "Parks and Recreation" or the demon Trevor on "The Good Place." But unless you're an avid fan of the entire "Hellraiser" franchise, you may not have known that he also had a starring role in the fourth film, "Hellraiser: Bloodline." A blend of gothic horror and science fiction, the film sees Scott in his first major feature film playing Jacques, an assistant toymaker in the 18th century who helps construct the infamous puzzle box. But despite not getting the best reviews, "Bloodline" is far from his worst early film.
If Adam Scott were to be embarrassed by any film in his career, it would probably be "The Last Days of Frankie the Fly," his very next film after "Hellraiser: Bloodline." The film stars Dennis Hopper as Frankie, a mob man who falls for an adult film star (Daryl Hannah). But after he agrees to help out one of her friends by loaning him money he owes to his boss Sal (Michael Madsen), things goes predictably sideways.
One of a number of bad Tarentino-esque crime caper thrillers that popped up in the wake of "Pulp Fiction," "The Last Days of Frankie the Fly" fails like most of them. Taking a step back from his leading role in "Bloodline," Scott only played a minor supporting role in the film, but it'd be understandable if he looked back at it with hardy facepalm.
Terry Farrell: Red Sun Rising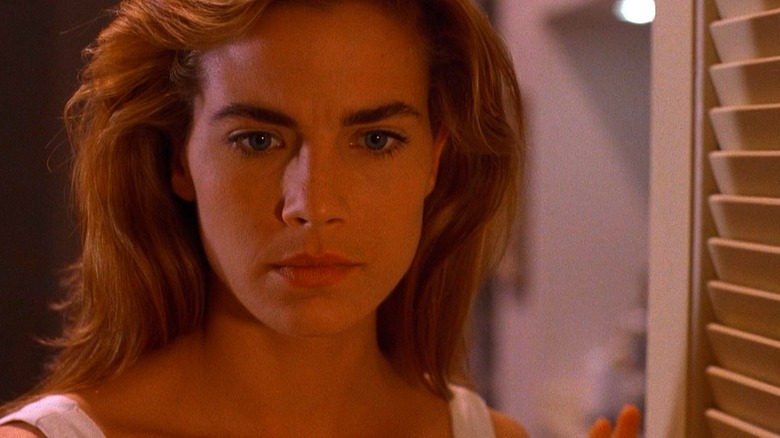 Miramax
When the "Hellraiser" series decided to go bigger for its third film, 1993's "Hell on Earth," in came a new cast, and that included Terry Farrell. A year later, of course, Farrell would join the cast of the "Star Trek" series "Deep Space Nine," where she'd ironically get to work with former "Hellraiser" star Andrew Robinson. But while she went on to become a major star on television, she had a few movie roles that she probably regrets, and one early one was in the 1994 crime drama "Red Sun Rising."
We're not sure if this one was meant to be a clone of the Sean Connery/Wesley Snipes thriller "Rising Sun" released the year before, but the film definitely has its similarities with the Philip Kaufman-directed action movie. What it doesn't share is any of its high quality, strong performances, or captivating story. Instead, it shares some of its basic plot elements as it centers on a detective up against the Japanese mafia. The movie stars Don "The Dragon" Wilson, who is more known for his martial arts career than his acting — while he does have more than 50 films to his credit, they're all of the B-movie variety.
Farrell stars as a fellow detective who teams up with Wilson for revenge after the death of his partner. But Wilson and Farrell are definitely not Connery and Snipes, and the movie is one low-grade thriller that Farrell probably wants us to forget about.
Craig Sheffer: Deep Core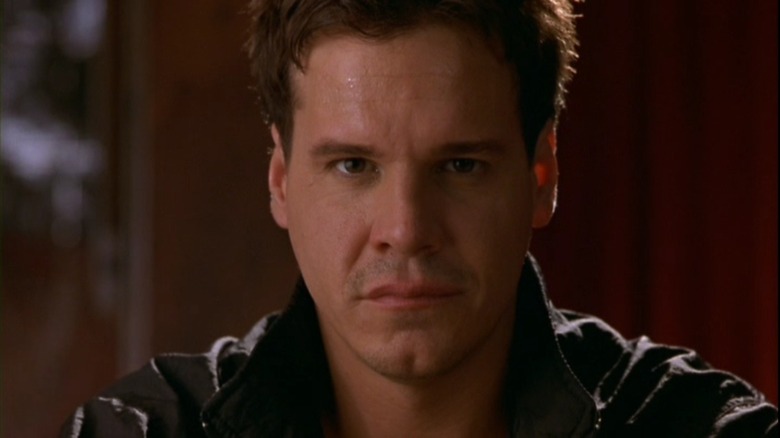 Dimension Home Video
The fifth film in the series, "Hellraiser: Inferno" is fairly underrated as a psychological horror film, disliked among fans because it doesn't feel much like a "Hellraiser" film. Helmed by "Doctor Strange" filmmaker Scott Derrickson in his directorial debut, the film stars Craig Scheffer as a tormented police detective who discovers the cursed puzzle box while hunting for a killer. While Scheffer was no stranger to low budget horror flicks, having already starred in the Clive Barker cult classic "Nightbreed," his most regrettable film before his days in the "Hellraiser" franchise is pretty easy to spot: the sci-fi flop "Deep Core."
The film actually gives us a double dip, as Scheffer stars opposite "Hellraiser III: Hell on Earth" star Terry Farrell, in a movie they both are unlikely to highlight on their career best lists. They star as a pair of scientists who are the only ones who can save the world after an ill-fated mining operation in the Earth's core causes a global cataclysm. A preposterous premise that seems like a made-for-TV movie with poor effects and unexciting action, "Deep Core" was a turn-of-the-millennium disaster movie that couldn't keep up with the likes of better fare like "Armageddon" and "Deep Impact."
In the end, the two "Hellraiser" actors are wasted on lifeless, boring characters, and the movie lacks all of the needed suspense. It's a is paint-by-numbers film with a paper-thin script — a bigger disaster than anything you'll see in its story.
Andrew Robinson: The Running Woman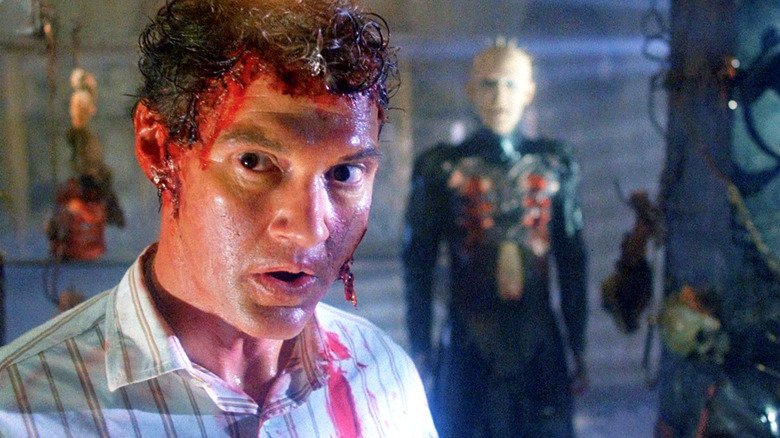 Entertainment Film Distributors
In many ways, actor Andrew Robinson was the heart of the first "Hellraiser" in the role of Larry Cotton, who inadvertently brings his brother Frank back from the dead. Beloved today for his role as the multi-faceted Cardassian spy Garak on "Star Trek: Deep Space Nine," Robinson isn't the type of actor to have many regrets in life, as evidenced by his appearance at conventions where he lovingly discusses even his duds like "Trancers III." But if one digs deep enough in his filmography, you'll find the 1998 movie "The Running Woman," a movie so bad that he isn't likely to be celebrating it at a public showing.
The movie stars Theresa Russell as a mother on a mission after her son is killed in a violent attack by men dressed as cops. Nobody believes her story, and she quickly becomes the prime suspect. Now she must go on the run and stay ahead of the law while trying to find the real killers herself.
Cast in the role of a racist police officer, Robinson might regret that he had to play such vileness for such a bad movie, but that's just one reason to cringe at this old role. The other is that it's just plain awful, with poorly executed chase sequences, a leading actress who's horribly miscast as an action hero, and an overly complicated story that has way too much going on for a throw-away made-for-TV thriller.
Kari Wuhrer: Fatal Conflict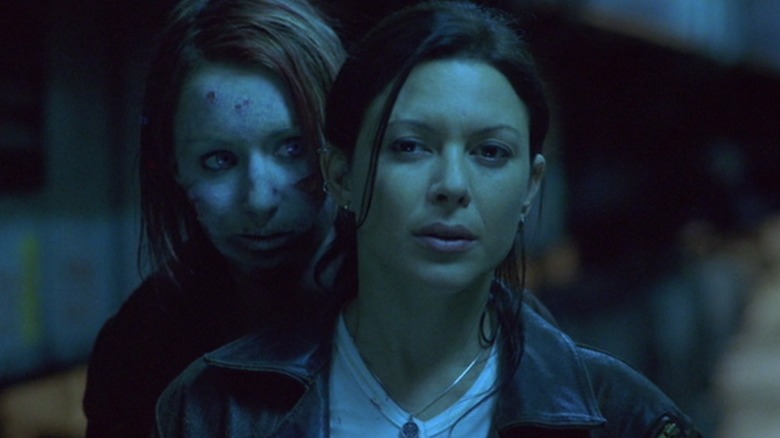 Miramax Films
Among the series' many direct-to-video sequels was the 2005 film "Hellraiser: Deader." Initially developed as an entirely unrelated movie but quickly rewritten to incorporate the Cenobites and the puzzle box (via Bloody Disgusting), "Deader" starred actress Kari Wuhrer ("Sliders"), who is certainly no stranger to bad movies. With a string of poorly rated films under her belt, we could pick any number that Wuhrer might wish could be wiped from existence, but the one that seems most appropriate is the 2000 sci-fi head-scratcher "Fatal Conflict."
In the film Wuhrer plays a warrior in a desolate future who is the last hope for civilization. After a deranged madman leads a revolt on a prison ship, he sets his sights on wreaking havoc on what's left of humanity. But its Sasha Burns (Wuhrer), another incarcerated criminal, who is then enlisted to get aboard the vessel and stop them before it's too late. 
Putting aside its title (which is groan-worthy enough), the film peddles in the worst clichés we've all seen dozens of times before. While pastiches can sometimes be fun with a clever twist, this one is decidedly not — it's a confusing mess of a story with action that's pedestrian at best. Wuhrer herself seems like she doesn't even want to be there, which is not at all surprising.
Henry Cavill: Red Riding Hood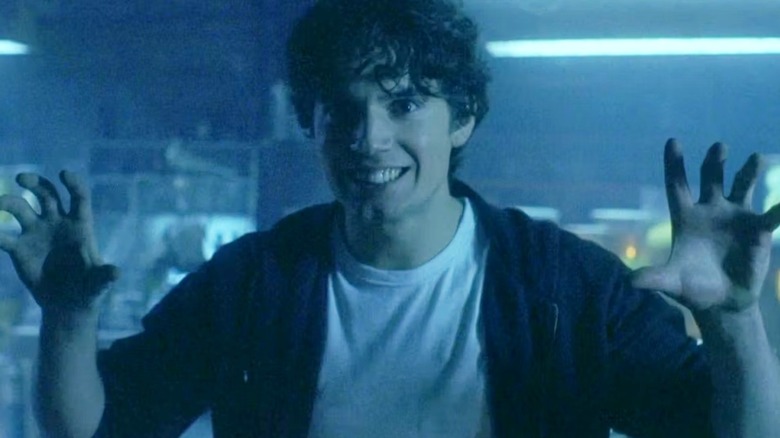 Dimension Home Video
Into the mid-2000s, the "Hellraiser" franchise just kept pumping out direct-to-video sequels, and two actually landed in 2005. In addition to "Deader" — which was actually filmed three years earlier but shelved (via Bloody Disgusting) — we also got "Hellraiser: Hellworld." Trying to go trendy and super-meta for the digital age, the film sees a group of online gamers summon the Cenobites after playing a video game based on the movie "Hellraiser." Believe it or not, the film's cast includes future "Man of Steel" star Henry Cavill. But despite its poor reviews, "Hellworld" isn't the worst movie he's ever starred in.
No, that honor goes to the 2006 film "Red Riding Hood," a reimagining of the classic fairy tale that boasts elements from a few other, more popular films like "The Princess Bride" and "Wizard of Oz" thrown in for good measure. As a little girl is read the story by her grandmother, she imagines herself and all of the people in her life as characters in the story. This includes the pizza delivery boy played by Cavill, who takes on the role of a dashing huntsman.
A cheaply made, low-budget family film, it somehow manages to make Cavill a laughingstock as a handsome, square-jawed warrior. We'll give him a pass, because he was far from the major star he is today, but "Red Riding Hood" is so horrifically awful that we're sure he hates that it's survived to make this list.
Katheryn Winnick: Biohazardous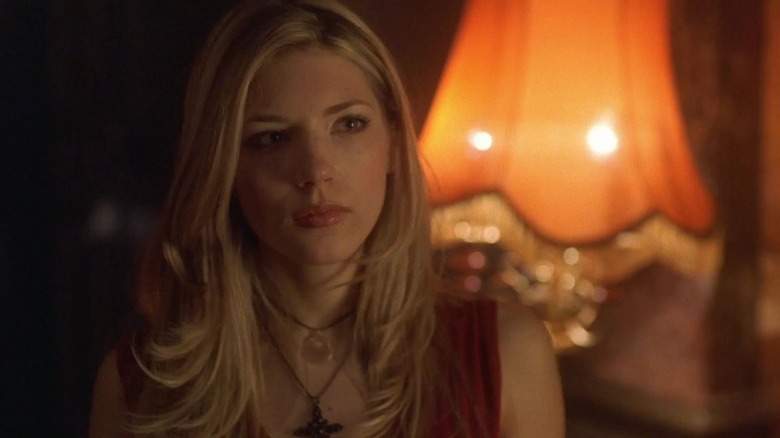 Dimension Home Video
While Henry Cavill may have appeared in "Hellraiser: Hellworld," it was actually Katheryn Winnick who was the star of the film. Known today for her roles in prestige shows like "Big Sky" and "Vikings," Winnick didn't have the hottest start to her career, appearing in a number of low budget horror movies, including "Hellworld." But while the fifth "Hellraiser" film had its share of bad reviews, it's at least a follow-up to a classic, and it can't compete with the atrocity that is the 2001 direct-to-video schlocker "Biohazardous."
You'll recognize Wynnick's film debut for the D-grade horror camp it is the moment you start reading its outright bizarre plot synopsis. Filmed in New Jersey on a shoestring budget (via The Record), it centers on a group of former Nazi scientists who've relocated to a rural community to conduct experiments in reanimation. That's right — this is a Nazi zombie movie, and not even one of the goofy fun ones with satisfying gore.
A movie that has Katheryn Winnick, zombies, and Nazis shouldn't be this slow or dull, but there's almost no reason to keep watching after the first half of the movie proves listless and boring. Even once the kills start it's still not even mildly entertaining, and comes off like a homemade school project. We can forgive Winnick for taking the gig, as it was indeed her first role, but it's easy to see why she doesn't mention it in any career retrospectives. 
Goran Visnjic: Elektra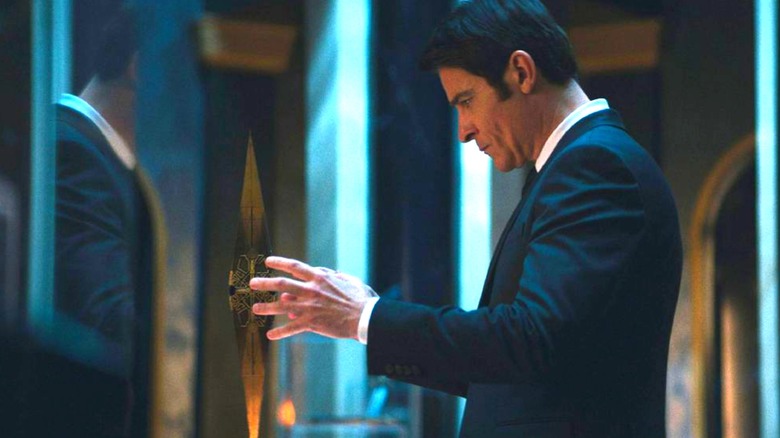 Hulu
Actor Goran Visnjic became a star on the medical drama "ER," and though he tried parlaying his small screen success into big budget movies, he never quite found the hit project he was looking for. Though it's hard to ever say why an actor's career doesn't take off, one possible explanation for Visnjic's struggle may be his leading role in what is generally regarded as one of the worst comic book movies ever made: the 2005 superhero stinker "Elektra."
Inexplicably produced despite the negative critical reception and lackluster box office performance of "Daredevil," the spin-off finds Visnjic starring opposite Jennifer Garner's the titular ninja hero, who is resurrected from the dead after her murder in the previous film. Back in the land of the living, she dons a sexy red leather corset and somehow is now gifted with clairvoyance and powers that allow her to bring the dead back to life. She falls in love with Mark Miller (Visnjic), who of course is actually the man she's hired to kill, all while the assassin cult The Hand wage war with a group called the Chaste.
There's no other way to sugarcoat this one: the plot simply makes no sense at all, and despite its lavish budget and strong cast, it's not worth sitting through, even for diehard fans of the characters. Alas, audiences didn't, and Visnjic went back to television, appearing in "Extant" and "The Santa Clarita Diet" before snagging his role in the 2022 reboot of "Hellraiser."
Dean Winters: Snipes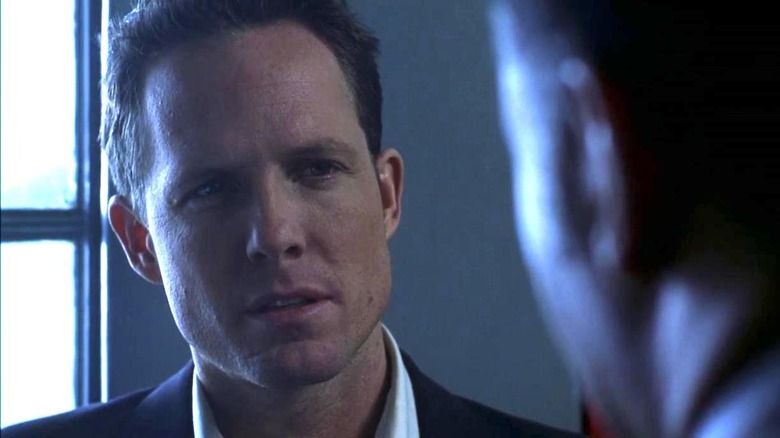 Dimension Home Video
"Hellraiser: Hellseeker" is the sixth film in the series, and sees the return of Ashley Laurence as Kirsty Cotton. But the movie actually centers on Kirsty's husband Trevor, a man tormented by Kirsty's apparent death who eventually learns that he himself has been killed and is living out a nightmare in limbo. Often typecast in slimeball roles like Dennis on "30 Rock," Winters just has that kind of likable but sleazy attitude that's so much fun to hate, and he often finds himself playing dirty cops or smarmy boyfriend types. Such was the case in the 2001 flop "Snipes."
Noteworthy for starring a very young Zoe Saldana, the movie centers on Erik (Sam Jones III), a wannabe rapper who works at a record label that's home to superstar Prolifik (Nelly). But when the star rapper is kidnapped and his newest album taken with him, the label's shady owner Bobby Starr (Winters) puts a target on Erik's back, thinking he's responsible. From there the film tries to sell itself as a gritty urban crime drama, but falls well short of being anything entertaining.
Ultimately, Starr is just one in a long line of lame roles for Winters, an over-the-top ridiculous character with dialogue that would be tough even for an Oscar-winner to sell. The review of the film in The Washington Post said it best: "Preposterous, contrived, ridiculous and pointless, 'Snipes' commits the ultimate crime of being incredibly, profoundly, jaw-droppingly boring."
Doug Bradley: Proteus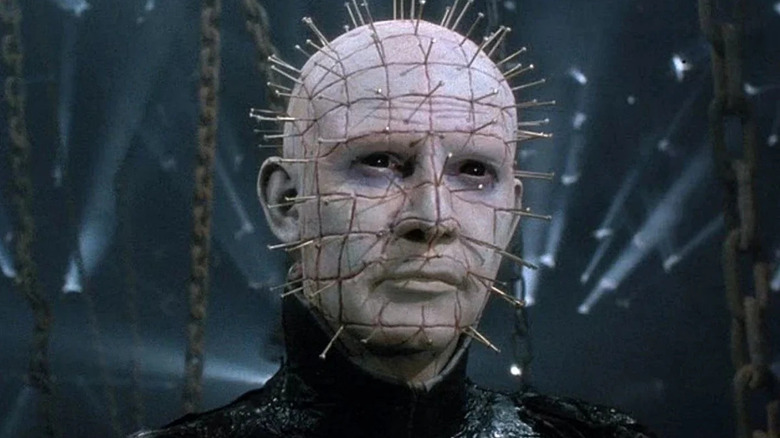 New World Pictures
The real star of the "Hellraiser" franchise as a whole is indisputably actor Doug Bradley, whose visage became instantly tied to the original 1987 classic. Playing the Cenobite leader the world would come to know as Pinhead, Bradley quickly became a horror movie icon, and returned to appear in every installment in the series up to 2011's "Revelations." In that time, Bradley has also featured in an endless string of bad horror movies, and while the actor has embraced his role as a B-movie character actor, his worst might be the 1995 sci-fi horror fusion "Proteus."
Set on an oil rig in the middle of the ocean, the movie introduces a group of drug smugglers who decide to hide out on what at first appears to be an abandoned oil rig. But their efforts to evade the law won't be so easy when they realize they're not alone: a vicious, bloodthirsty mutant experiment-gone-wrong named Charlie is out to get them. He can shape-shift through bad special effects, and he might just kill them all if you have the patience to sit through the movie, which we can't imagine anyone having.
An unapologetic rip-off of "The Thing" set at sea, "Proteus" makes absolutely no sense, and lacks the thrills, action, or gore that fans come to this kind of movie for. Say what you want about Bradley's other lesser horror movies, but they usually offer some cheap late night chills. This one is a load of tripe.
Jamie Clayton: Chain of Death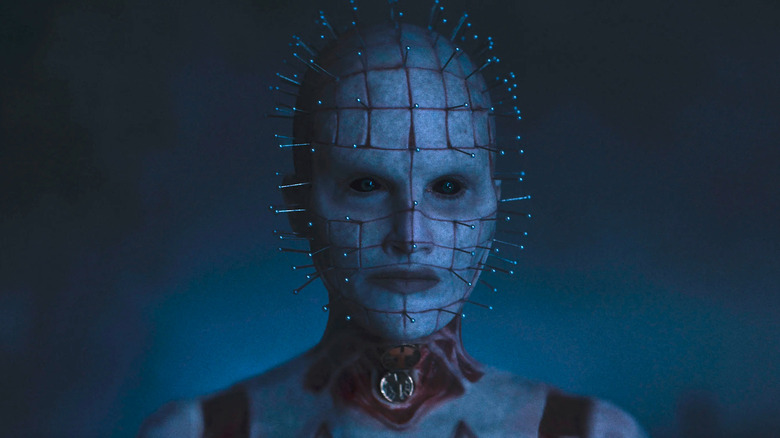 Hulu
When it came time to reboot the "Hellraiser" series for 2022, the filmmakers looked back to the original novella from creator Clive Barker, "The Hellbound Heart." In that original text, the lead Cenobite who on film had become known as Pinhead was described as more androgynous, and even feminine in some characteristics. To help set the film apart from the 1987 classic, producers made the bold decision to cast a woman in the role, and harken back to the character's written origin, with "Sense8" star Jamie Clayton filling the part. 
But despite her career only stretching back about a decade, even Clayton has a movie she might like us to forget: the 2019 disaster "Chain of Death." A grim, low budget story about Mike (John Patrick Amedori), a terminally ill man seeking the services of Dr. Ryan (Clayton), whose company will help assist him in ending his own life. But as part of their arrangement, Mike must murder someone first — a deal that might even appeal to Pinhead.
An atrociously awful bore, it had some known names alongside Clayton, including Adrienne Barbeau and Ray Wise. But critics weren't fooled, with The LA Times calling it "incompetently made" and writing, "It's laughably bad, leaving audiences to giggle while wondering if they're sharing in Mike's hallucinations or this crazy movie actually exists."