The Real-Life Legend Zoe Saldana Regrets Playing On Screen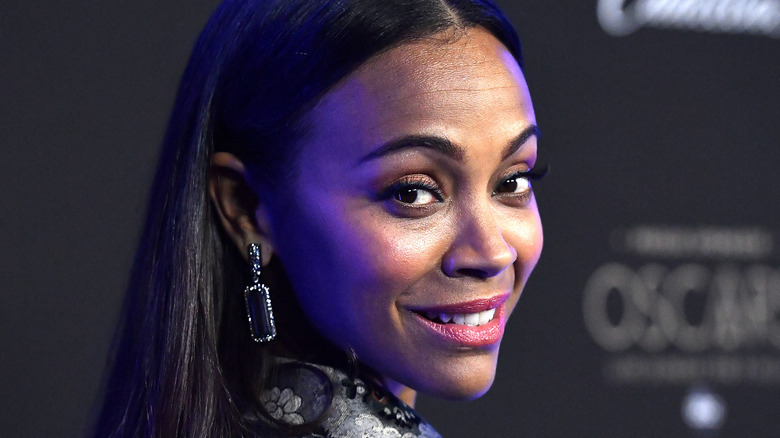 Frazer Harrison/Getty Images
At just 42 years old, actor Zoe Saldana has established herself as a box-office powerhouse. Beginning with small film and television roles, Saldana eventually featured in giant franchises, including "Star Trek," "Avatar," and transformed into Gamora from "Guardian of the Galaxy" for multiple installments of the Marvel Cinematic Universe. It would seem that she has a knack for selecting roles ideal for her skills. However, there is one role that the actor looks back on with considerable regret.
Playing real-life legends in cinematic biographies is often a road to Academy Award interest. Some famous Oscar-winning portrayals include Ben Kingsley as Gandhi, Nicole Kidman as Virginia Woolf, and Daniel Day-Lewis as Abraham Lincoln. And when it comes to biopics of musicians, audiences and critics have a strong affinity. Jamie Foxx won an Oscar for his take on Ray Charles; Reese Witherspoon also won a statuette for playing June Cash. Both Angela Bassett and Taron Egerton received much critical acclaim for their respective turns as Tina Turner and Elton John. Unfortunately for Saldana, playing the role of legendary singer Nina Simone in 2016's "Nina" did not equate to either critical or box-office success. Indeed, the Saldana was condemned for casting choice almost as soon as it was announced.
Zoe Saldana played the High Priestess of Soul in 2016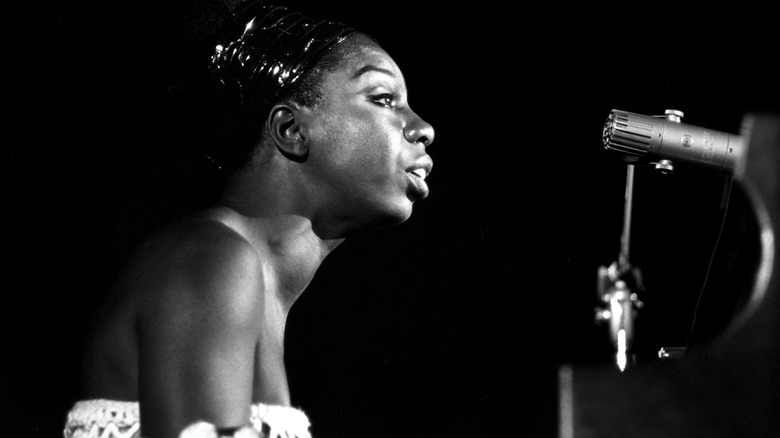 Icon And Image/Getty Images
Nina Simone, dubbed the "High Priestess of Soul," was an African-American singer and songwriter who first captured national attention in 1959 with her debut album "Little Girl Blue," which featured her now-famous cover of "I Loves You, Porgy." In addition to music, Simone was an active, and often controversial figure, in the civil rights movement. She combined both passions in the tracks "To Be Young, Gifted, and Black" and "Mississippi Goddam," which was her response to the murder of fellow civil rights activist Medgar Evers. Simone's activism, however, resulted in a radio boycott of her music in the American South as well as being blacklisted from music venues. In many ways, it was Simone's activism and struggles as a Black woman in a segregated United States that caused the uproar surrounding Zoe Saldana's involvement in "Nina."
Much of the controversy focused on Saldana's appearance. For many, Saldana — whose ethnic background includes Dominican and Puerto Rican ancestry — did not fit the image of Nina Simone. Additionally, the filmmakers outfitted Saldana with darkening makeup, a prosthetic nose, and fake teeth to more closely resemble the late singer. Upon the 2012 release of behind-the-scenes footage of the movie's filming, Grammy-winner India Arie sent an open letter to a fan site dedicated to Nina Simone. Speaking about the letter years later with The Hollywood Reporter, Arie criticized the use of the makeup and prosthetic nose to alter the actor's appearance. Arie called the cosmetic use "black(er) face," alluding to the old tradition of white actors wearing black makeup to ridicule Black people.
Zoe Saldana apologizes for playing Nina Simone
Then, in 2016, when the studio was promoting the film ahead of its release, Nina Simone's family issued a statement via Twitter condemning the actor. Replying to a tweet Zoe Saldana sent, quoting Simone, the family replied, "Cool story but please take Nina's name out your mouth. For the rest of your life." Nina Simone's daughter, Lisa Simone Kelly, told The New York Times, "My mother was raised at a time when she was told her nose was too wide, her skin was too dark. Appearance-wise this is not the best choice."
The view of some was that Saldana took the role from an actress with darker skin more akin to Simone's skin tone. Initially, Saldana defended her involvement in the project. Speaking to Allure in 2016, she said, "There's no one way to be black. I'm black the way I know how to be. You have no idea who I am. I am black. I'm raising black men. Don't you ever think you can look at me and address me with such disdain." Despite the pre-release condemnation, the movie eventually found its way to theaters, where critics lambasted everything from the music selected, the script, and Saldana's makeup. "Nina" currently holds a 2% score on Rotten Tomatoes.
Over the years, Saldana's defense has diminished. In 2020, the actor sat for an Instagram interview with Steven Canals, creator of "Pose," and expressed her regret for accepting the role of Simone. In the interview, Saldana apologized, admitted that she should have never taken the role, and instead should have "tried everything in my power to cast a Black woman to play an exceptionally perfect Black woman." She went on to say that a legend such as Nina Simone deserves the accuracy and detail that best reflects the singer's journey.