Robbie Coltrane's Memorable Role In GoldenEye Still Holds Up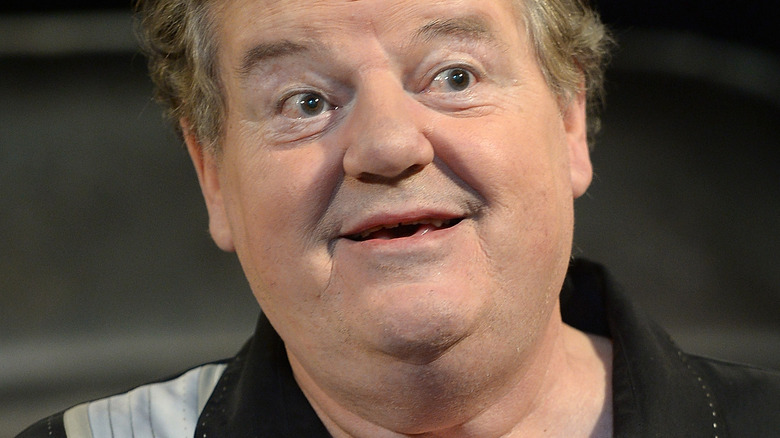 Gustavo Caballero/Getty Images
The death of Robbie Coltrane at 72 has plenty of "Harry Potter" devotees mourning the actor's warm performance as half-giant Rubeus Hagrid in the film series. But Coltrane had a long and active filmography even before he played Hagrid. The British actor racked up 114 credits over the years on IMDb, including roles in film, voice acting, and television.
Originally, Coltrane started out as a stand-up comic before transitioning to being an actor (via The Hollywood Reporter). Arguably, his best-known role outside of the "Harry Potter" films was as Dr. Edward "Fitz" Fitzgerald, a criminal psychologist whose talent for catching suspects is only matched by his excessive drinking and anti-social tendencies, on the 1993 hit British drama "Cracker."
The success of "Cracker" would lead to more roles for Coltrane over the years, including "Harry Potter" and supporting performances in "Van Helsing" and "Ocean's Twelve." But did you know Coltrane was also in not one but two James Bond films?
Robbie Coltrane played Zukovsky in Goldeneye and The World Is Not Enough
In the 1995 James Bond adventure "Goldeneye," Robbie Coltrane plays Valentin Zukovsky, a former KGB agent turned wealthy criminal. Zukovsky doesn't exactly remember James Bond (Pierce Brosnan), aka Agent 007, fondly, as his past run-in with the spy led to him receiving a bullet in the leg. But he still helps Bond find the mysterious figure "Janus" — in exchange for a healthy sum of money.
Coltrane then reprised his role a few years later for 1999's "The World Is Not Enough." This time, Zukovsky is revealed to be in league with secret villain Elektra King (Sophie Marceau), giving her a submarine in exchange for payoffs at his casino. Bond then discovers King plans to use the sub to launch a nuclear weapon. Zukovsky and his men turn on King, attacking her base, but she mortally wounds the gangster. Before he dies, however, Zukovsky helps set a captured Bond free. Despite their notorious history, he was working on the side of the angels after all.
Zukovsky only made it into two Bond movies, yet he's absolutely the kind of fun, complex character Coltrane excelled at playing over the years. It's a shame audiences won't get to see more of them.