Mary's New Hobby On Young Sheldon Gives Us Insight Into Her Big Bang Theory Feud With Beverly Hofstadter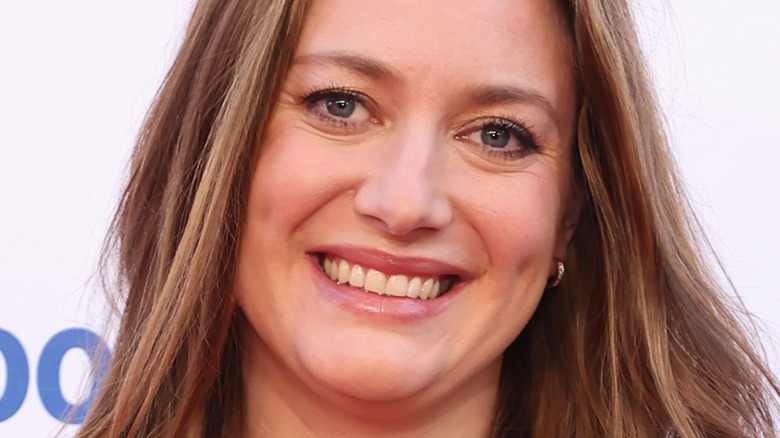 Amy Sussman/Getty Images
"Young Sheldon" Season 6 is already chock-full of delightful surprises from the foreshadowing of events from "The Big Bang Theory" to Sheldon's (Iain Armitage) imaginative invention of cryptocurrency. While the Cooper family adjusts to a dramatic amount of changes, including leaving their longtime church, many characters find themselves lost and in search of meaning and purpose. We've seen in previous episodes how George Sr. (Lance Barber) is choosing to spend his time while his wife Mary (Zoe Perry) is finding more creative outlets for self-expression and discovery. 
Mary's exploration of identity has already been a crucial storyline in Season 6 following her heartbreaking departure from her dear church. The matriarch of the Cooper household is an extremely devout Christian who also worked at the church, making her ostracisation by its members even crueler. In Episode 3, she finds an unexpected passion in writing erotica novels, no less, which is extremely surprising for the conservative mother. 
In "The Big Bang Theory," Mary is played by Perry's real-life mother and comedic legend Laurie Metcalf, who frequently squabbles with her opposite counterpart Beverly Hofstadter (Christine Baranski). Their chance encounter occurs when roommates Sheldon (Jim Parsons) and Leonard (Johnny Galecki) have their mothers over to visit. Aside from being a logic-driven atheist, Beverly is also a doctor in psychology with several published books under her elegant belt. This sets the foundation for their consistent battles, which may have an interesting undertone on Mary's part based on her newly discovered passion for storytelling. 
Mary's unfulfillment could be why she envies Beverly
Season 6, Episode 3 featured Mary living the majority of her time in her dream fantasy sequence while writing her steamy romance novel. She hides out in the back office of her new job at the bowling alley with her neighbor Brenda (Melissa Peterman), avoiding her depressing reality. This tactic of avoidance also shows itself in her spontaneous passionate moments with her husband George, who, more often than not, isn't the source of her arousal. 
Lately, Mary has been much more interested in the youthful Pastor Rob (Dan Byrd) at her former church, with whom she shared more than a few intimate conversations with. This quality is seen in her fictional handsome suitor depicting how Mary's true desire is for attentive communication and intimacy. She finds both of these in her work, which she probably doesn't stick with, as we later see in "The Big Bang Theory." This missed opportunity could easily turn her eyes green with envy when she learns about Beverly's towering achievements. 
Beverly is a confident multi-published author as well as a doctor in psychology, leaving Mary often feeling inadequate and inferior. It's becoming clearer that Mary's feelings of unfulfillment could be the root cause, especially seeing Beverly succeed where Mary couldn't. This also could remind Mary of her moments of hopelessness in the bowling alley that later contributed to her marital problems.