Producer Nate Moore Explains Why Marvel Never Considered Recasting T'Challa In Black Panther 2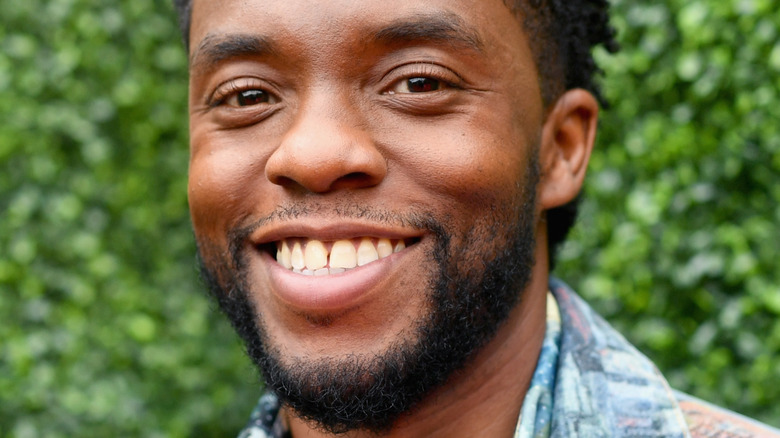 Emma Mcintyre/Getty Images
Chadwick Boseman's death from colon cancer in 2020 was a devastating blow, not only to Marvel fans but to moviegoers everywhere. Even President Joe Biden, then a presidential candidate, tweeted a moving tribute to the late actor. "The true power of @ChadwickBoseman was bigger than anything we saw on screen," Biden wrote. "From the Black Panther to Jackie Robinson, he inspired generations and showed them they can be anything they want — even super heroes."
In a statement from Boseman's publicist published in his obituary in The New York Times, it was revealed that some of the movies Boseman did late in his life, including "Da 5 Bloods" and "Ma Rainey's Black Bottom," were shot between surgeries and chemotherapy. According to the obituary, he even starred in "Black Panther" after his diagnosis was confirmed.
Fans shared their heartbreak on social media following the news of his death. "Don't know why but this one hits different," tweeted @Rickonia in response to The Hollywood Reporter's tweet about his death. "He had an infectious personality and it felt like his career had only just begun," responded @Nayps. Reddit users expressed similar sentiments such as u/SirUlrichVonLichten who wrote: "Probably one of the most shocking deaths for an actor since Heath Ledger. He was a phenomenal talent and seemed like a genuinely good person. 43 is too young to die. He must have been a really strong person to continue working and battling this in private."
Boseman's death led to a very unfortunate controversy, however, as the studio was forced to make a decision about what to do with the character of T'Challa/Black Panther in the Marvel Cinematic Universe.
They couldn't imagine replacing Boseman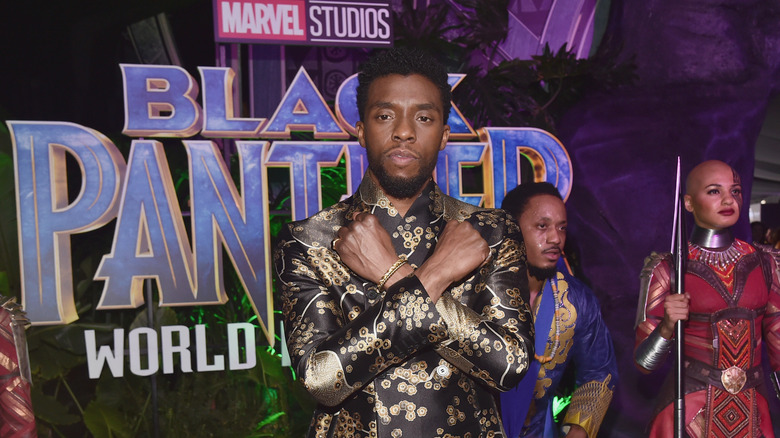 Alberto E. Rodriguez/Getty Images
In the latest issue of Total Film magazine, Nate Moore, VP of Production and Development at Marvel, acknowledged the fans who were disappointed that the role of T'Challa wasn't recast but explained why he simply couldn't imagine recasting the role after Chadwick Boseman's death. "I could not imagine turning to the best young actor in the world who wasn't Chadwick, and being like, 'OK, so you're T'Challa,'" Moore explained. "I could not, and cannot, imagine that. I really couldn't. Other people will have a different answer to that question. And we're very aware of the talkback, and how people feel. And I think all of that, to be quite honest, is fair. Everybody's going to have a different opinion. I can just say, after being in it, I couldn't do it. I couldn't get there" (via The Direct).
But fan opinion on the decision to recast T'Challa is pretty evenly split. On Twitter, the hashtag #RecastTChalla has been trending for quite some time now, with fans insisting it isn't an insult to Boseman's memory to recast the character. "​​Recasting doesn't erase anything or the contribution," tweeted @LordChickenHawk. "Recasting ensures the character and role lives on." Others, like Twitter user @lyssfunkyfresh, accused those in favor of recasting the role of just not wanting a female Black Panther. However, the aforementioned New York Times obituary mentioned that there was a fan campaign on Twitter shortly after Boseman's death asking Disney not to recast the role. Similarly, the hashtag #DontRecastTchalla has also been trending on Twitter, with users like @marvelzuko claiming that to recast would "be spitting in the face of the legacy he left behind" So it seems that, whatever decision Marvel ended up making, a lot of fans were going to disagree with it.