Jamie Lee Curtis Put Her Resignation From The Halloween Franchise In Writing On Jimmy Kimmel Live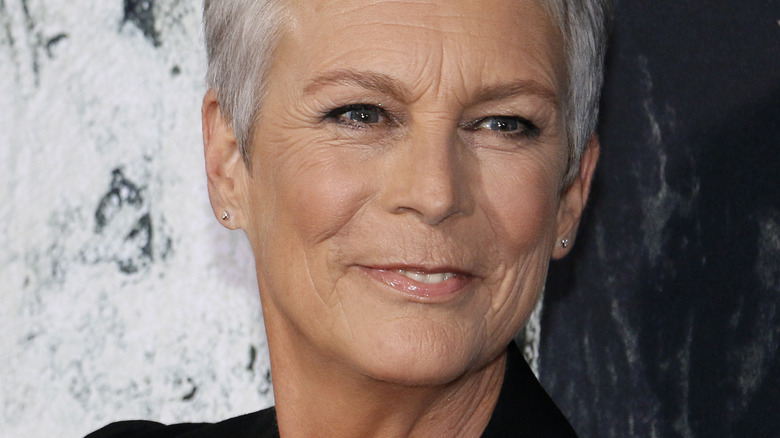 Tinseltown/Shutterstock
Jamie Lee Curtis not only helped introduce Michael Myers to the world in 1978's "Halloween," but the actress also headlined two comebacks for the franchise. After the initial two movies in the franchise, "Halloween" moved on without Curtis (though she does have a small voice role in "Halloween III: Season of the Witch"). Multiple sequels introduced a rather convoluted mythology around Myers, but producers went back to basics with 1998's "Halloween H20: 20 Years Later." 
The flick brought Curtis back to the role of Laurie Strode, and it became the biggest box office hit for the franchise at the time, per Box Office Mojo. Curtis made a brief appearance in 2002's "Halloween: Resurrection," but then the two parted ways once more, with Rob Zombie entering the picture with his own one-two-punch take on Myers. When Blumhouse decided to reboot the franchise once more, Curtis was back in action. She's now headlined the latest "Halloween" trilogy, which supposedly concludes with "Halloween Ends." 
Considering the number of times Curtis has anchored this franchise, though, it's understandable that some would have their doubts. While promoting the latest "Halloween" offering on "Jimmy Kimmel Live!" the actress tried to assure everyone that this is indeed her final appearance, even putting the pledge in writing. 
Jamie Lee Curtis swears this is her last Halloween movie
Jimmy Kimmel appears to be among those doubting Jamie Lee Curtis will actually walk away from the "Halloween" franchise. While discussing the matter with Curtis, the comedian actually pulled out a contract for the actress to sign. He appropriately played John Carpenter's legendary theme song while reading the details. 
"I, Jamie Lee Curtis, queen of scream, daughter of Janet Leigh and Tony Curtis, mother of Lindsay Lohan, hereby swear under penalty of perjury that 'Halloween Ends' will be the last 'Halloween' movie I will ever appear in. For all time, across all sequels and multiverses, enforceable by the Police Department of Haddonfield, Illinois," Kimmel read. 
Curtis responded by joking she should perhaps discuss things with her lawyer but did end up signing on the dotted line. She did also say in her sit down with Kimmel though that she is also not exactly elated to be stepping away from Laurie Strode, a role she started playing when she was only 19. 
"I care. I care too much. I'm a weepfest. I've been weeping for about a month now, trying to figure out how to say goodbye to all this," she said.