The Hilarious Special Footage The Big Bang Theory Had To Create Just For American Airlines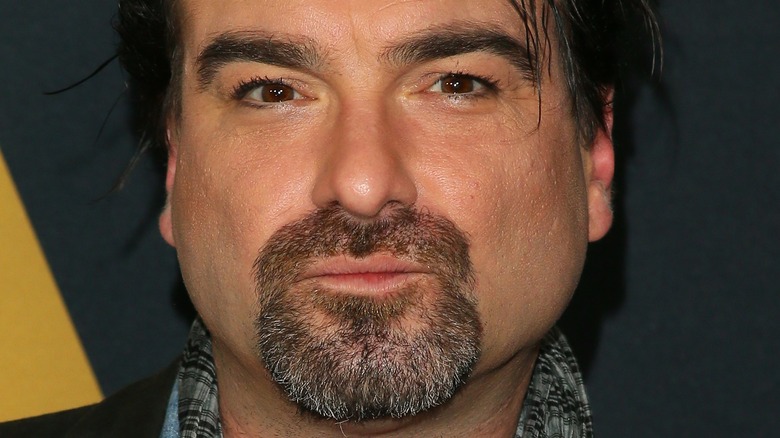 Jean Baptiste Lacroix/Getty Images
The pilot of "The Big Bang Theory" was very different from the rest of the series, mostly because of the opening scene at the sperm bank, where Leonard (Johnny Galecki) accuses Sheldon (Jim Parsons) of being a "semi-pro" at masturbation. But the pilot that aired was not as far off from the rest of the show as the original, unaired pilot, in which Sheldon is depicted as having an equal level of sexual desire as the rest of the guys on the show. The unaired pilot also featured a character reminiscent of Amy (Mayim Bialik) named Gilda (Iris Bahr) and an early version of Penny (Kaley Cuoco) named Katie (Amanda Walsh), whom test audiences hated (via Entertainment Weekly).
Co-creator Chuck Lorre blamed the writing. "CBS called after the first pilot and asked if we could do it again and recast the female lead... but my response to them was, 'No, I don't think it was a casting problem, I think it was a writing problem,'" he explained. "Our script didn't fully realize what our possibilities were." Walsh was invited back to play the reworked version of her character, now named Penny, but she was too identified with Katie for it to work, so Cuoco was brought on instead. But even in the reworked pilot, there was still one scene that was deemed unsuitable for in-flight viewing.
The sperm bank scene was cut for American Airlines
In the book "The Big Bang Theory: The Definitive, Inside Story of the Epic Hit Series" by Jessica Radloff, co-creator Bill Prady discussed how the sperm bank scene at the beginning of the show's pilot had to be cut for American Airlines flights. Instead, they filmed an introduction from Johnny Galecki and Jim Parsons in which Galecki explains, "We're not going to be able to show you the first scene, because it's a little grown-up and we don't know who's looking over your shoulder. We've had a discussion with American Airlines, and decided not to show it. But the story pretty much works without that scene, so we'll jump in starting with the second scene." To fill in the time, Parsons then suggests spending a few minutes explaining how planes fly, to which Galecki responds that nobody wants to hear that.
"The Big Bang Theory" continued to have a positive relationship with the airline. In 2011, Kaley Cuoco appeared in a series of public service announcements encouraging customers to donate their AAdvantage miles to the American Airlines Miles for Kids in Need program, which provides air travel for children involved with organizations such as the Cystic Fibrosis Foundation, the International Hospital for Children, and Miracle Flights.