Alan Rickman Had Issues With Dumbledore's Death Scene In Harry Potter And The Half-Blood Prince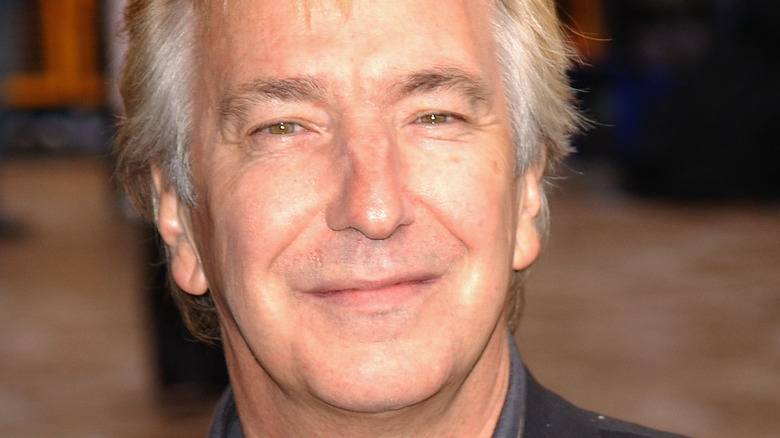 David Westing/Getty Images
In January 2016, theater and cinema mourned the loss of the great Alan Rickman, who died from pancreatic cancer (via The Independent). Though Rickman was known for many wonderful roles in his lifetime, such as his feature film debut as the villainous Hans Gruber in "Die Hard," most movie fans remember him best as the cold and calculating Severus Snape in the "Harry Potter" films.
Though his performance as the Potions Master was celebrated, Rickman nearly turned down the role, mostly because he didn't want his cinematic career to be defined as a villain, likely because of his roles as Hans Gruber and the Sheriff of Nottingham in "Robin Hood: Prince of Thieves" (via The A.V. Club). Furthermore, the late actor even attempted to quit the series.
Starting in 1992, Rickman kept a detailed diary of his day-to-day life as an actor, which was published as a book titled "Madly, Deeply: The Alan Rickman Diaries." As noted in diary excerpts provided by The Guardian, before filming even began on "Harry Potter and the Prisoner of Azkaban," the third entry in the series, the BAFTA award-winning actor tried to quit. By the fifth movie, "Order of the Phoenix," despite some reservations, he decided that he wanted to finish the series, intimating that "The argument that wins is the one that says: 'See it through. It's your story.'"
Though it seems that Rickman decided to continue the role to completion, it would not be without its difficulties. In diary entries written during the filming of "Harry Potter and the Half-Blood Prince," the beloved thespian was vocal about his disapproval of the sixth film's climax.
Alan Rickman was very critical of Dumbledore's death scene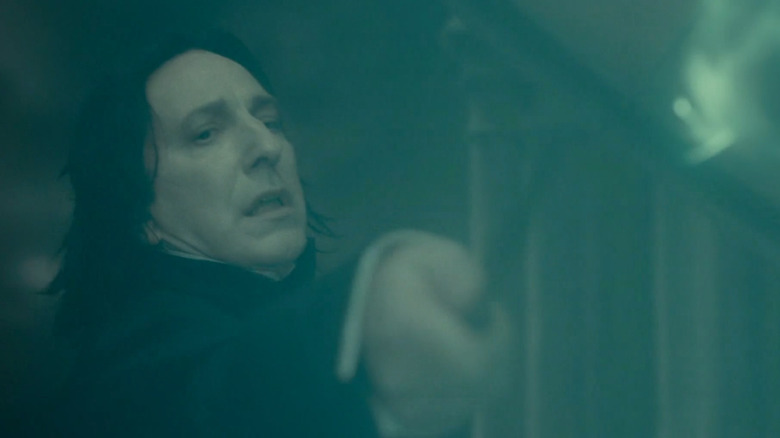 Warner Bros.
In the scene, Draco Malfoy (Tom Felton) confronts Dumbledore (Michael Gambon). Terrified, Malfoy tearfully confesses that he must murder Dumbledore or else he will die. Hiding below, Harry Potter (Daniel Radcliffe) looks through the cracks, searching for a moment to launch a curse. With Malfoy unable to commit, Snape announces his arrival with an authoritative "No." Snape struggles internally, while Dumbledore quietly pleads with him. Finally, Snape utters the incantation and kills the Hogwarts headmaster.
Regarding Dumbledore's demise, Alan Rickman was critical, believing that as a result of book-to-script translation, it didn't have gravitas, writing, "The scene seems oddly lacking in drama – on the page – but that is absolute cause and effect of screenplays that have to conflate (deflate) the narrative." In addition, Rickman took issue with how the characters' motivations weren't properly conveyed, believing audiences simply couldn't recall any of it and as result, it wouldn't matter to them.
Throughout the scene, Snape is powerfully silent, however, it seems the script had one additional line for the character, which Rickman found to be bewildering and fought to remove it. Thankfully, the request was granted, as Rickman recalled, "To wit, I argue (successfully, today) that a line of Snape's, 'I gave my word. I made a vow,' was confusing and diluting."
In the end, while Rickman may have had his issues with the movies, he was ultimately satisfied with Snape's arc (via Variety). "I have finished reading the last 'Harry Potter' book. Snape dies heroically, Potter describes him to his children as one of the bravest men he ever knew and calls his son Albus Severus," he wrote in 2007. "This was a genuine rite of passage. One small piece of information from Jo Rowling seven years ago – Snape loved Lily – gave me a cliff edge to hang on to."