Why The Big Bang Theory's Producers Selected Mayim Bialik Over Kate Micucci To Play Amy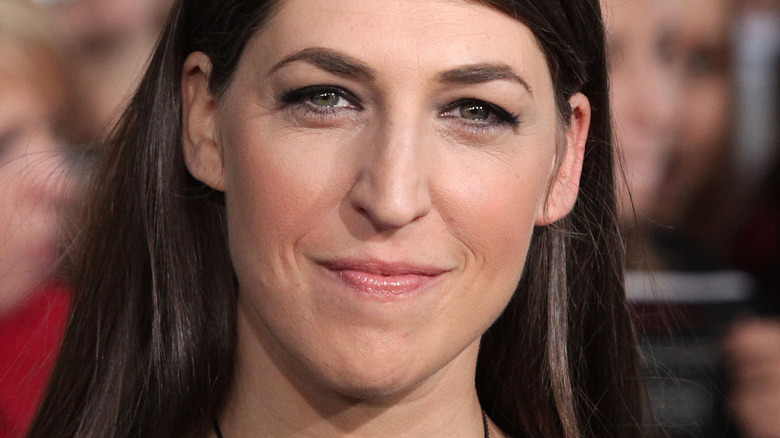 DFree/Shutterstock
While "The Big Bang Theory" began its life with a quintet of iconic characters leading the show, some of the series' most memorable ones didn't join the cast until later seasons. Case in point: neurobiologist Amy Farrah Fowler, played by Mayim Bialik. Although she would go on to become one of the most important characters of the whole series (and appear in over 200 episodes), Sheldon's awkward counterpart, love interest, and eventual wife wasn't introduced until the end of Season 3.
When she joined the cast, Bialik was no stranger to the world of sitcoms, having starred as the title character on "Blossom" from 1990 to 1995. Still, her road to "The Big Bang Theory" was unique. After taking a few years off from acting, Bialik returned in search of better health insurance. But even with her "Blossom" credentials, Bialik wasn't a walk-on. During the audition process, she went up against Kate Micucci. Here's why the show's producers ultimately went with Bialik to play Amy Farrah Fowler.
Bialik's background in neuroscience helped put her over the top
Not every child actor makes a smooth transition to adult rules. When Mayim Bialik decided to take a break from acting, she opted for the unorthodox route of pursuing a PhD in neuroscience. Luckily for Bialik, her science background would end up helping her acting career more than she could have expected.
In her book "The Big Bang Theory: The Definitive, Inside Story of the Epic Hit Series," Jessica Radloff reveals, through a series of exclusive interviews, how Bialik was able to nab the part of Amy Farrah Fowler over Kate Micucci, who ultimately ended up playing Raj's love interest, Lucy. "Chuck [Lorre] loved that she actually had a PhD in neuroscience," said "The Big Bang Theory" writer and producer Steve Molaro. "It could have gone either way between Mayim or Kate, but because Mayim could bring an authenticity to the science and to the intelligence of the character, Chuck was like, 'I think that's so cool. Let's go with her.'"
The producers also went with Bialik because of her ability to play opposite Jim Parsons' Sheldon. "Chuck said, 'You know, we're looking for a female version of Sheldon,' and Mayim goes, 'I got it,' recalled casting director Ken Miller. "She knew exactly what she was going to do with the character."