Here's Where You Can Stream Will Ferrell's Basketball Comedy Semi-Pro Online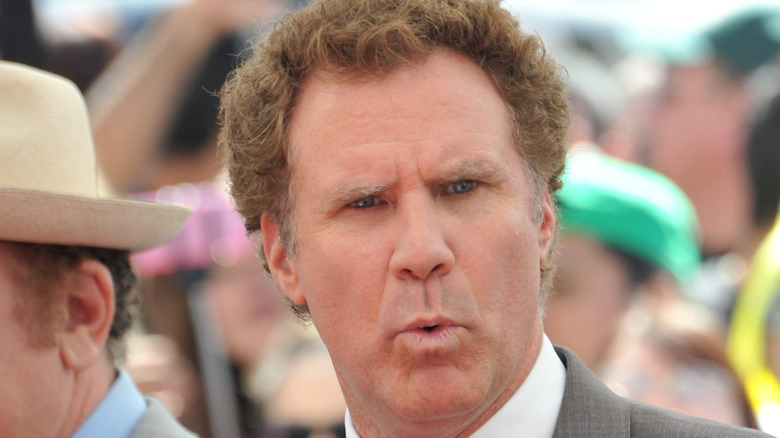 Jaguar PS/Shutterstock
It's that time of year again. The leaves are turning colors, the air is cooling down, and wannabe athletes everywhere are buying incredibly-overpriced sneakers. That's because basketball season is, once again, upon us. Pushing the new-ish Summer League aside, we have waited since June's NBA Finals to start hearing those squeaks and methodic thumps on the glossy hardwood again. Like all upcoming athletic seasons, it's always nice to get a bit primed by taking in popular movies related to that specific sport. For basketball fans, there are plenty to choose from, but there's one particular film that will not only inspire you to take it to the hoop, but laugh on the way there. That film is "Semi-Pro."
For those who have not yet seen this Will Ferrell flick, the story takes place in 1976 and follows his character, Jackie Moon, who is the owner/player of an old ABA team called the Flint Tropics. If you've never heard of the ABA before, it was a lesser-known professional basketball league that was in direct competition with the ever-growing NBA. And although the team that Moon owns and coaches is purely fictional, the portrayal of the league and its teams are close to how fans really experienced it back then. Well, the most entertaining way for you to experience this now-defunct league is to laugh while doing it. Will Ferrell's "Semi-Pro" provides just that, and there are multiple streaming options for you to choose from.
Check out Semi-Pro on HBOMax before it fouls out
Most comedy fans are familiar with the different Will Ferrell films that seemed to have a steady flow of releases throughout the 2000s. And if you want to check out 2009's "Semi-Pro," whether it be for the first time or as a revisit, the movie is now available for streaming on HBOMax. For those who haven't jumped on the HBOMax bandwagon, it's never too early to give it a shot, since it is always offering a solid list of classic comedies, like this one. The streaming channel is available as a monthly subscription for $9.99/month.
But, if you want to find out if Jackie Moon is able to save his beloved team from being absorbed by the NBA with a different streaming channel, there are also other options to check out "Semi-Pro." Another way to enjoy the film, which also stars Woody Harrelson, Will Arnett, and Andre 3000, is with subscriptions to the apps Hulu ($7.99/month) or Sling TV (multiple subscription plans). If you don't want to go with the subscription route, the movie is also available to rent for $2.99 via Google Play, Apple TV, or Amazon Prime Video.