Treat Williams' Hilarious Comment On Benny Severide's Fate On Chicago Fire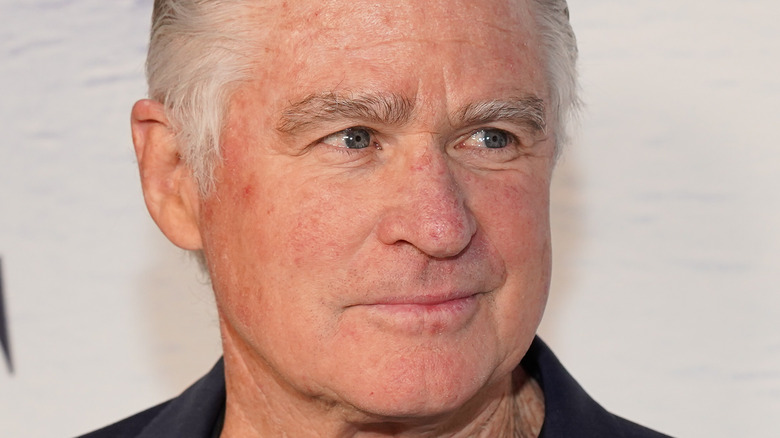 Rachel Luna/Getty Images
Fans of "Chicago Fire" know all too well that there is a risk involved when becoming a dedicated viewer of this NBC hit show. That dangerous risk viewers take (from their couch) is knowing that any one of their favorite characters, ones that they may have established an emotional bond with, could suddenly get killed off the show without notice. Of course, this is nothing compared to what real-life firefighters and their loved ones go through on a daily basis, but that doesn't cancel out the fact that devout fans may need significant stretches of time to fully get over the fact that one of their favorite characters is gone forever.
"Chicago Fire" enthusiasts were blindsided — definitely for not the last time — in Season 7, Episode 6 ("All the Proof") when they learned that Kelly Severide's (Taylor Kinney) father, Benny (Treat Williams), had suddenly passed away from a massive stroke. This jarring blow can be added to the list of crushing moments in "Chicago Fire" that it continuously provides, with no signs of stopping. And just like fans of the show, the actors portraying these characters, at some point, have to experience the reveal that the person they are playing is about to be killed off. For Williams, when explaining the moment he learned of his character's fate, he had a smart and hilarious reply.
Treat Williams wouldn't mind if Chicago Fire left the door open
Fans of "Chicago Fire" were shocked to learn that Benny Severide had suffered a stroke and passed away. In the episode, this was also a tough pill to swallow for Kelly, who arrived at the hospital just moments after Benny's passing, therefore not being able to say goodbye. And based on actor Treat Williams' response to the news his character was going to die, it seems as if he's actually not ready to fully sever ties. When producers informed him of Benny's demise, his response can be seen as a witty attempt to leave the door open.
When TV Insider commented on how fans will never get to see Benny again, Williams replied, "I told them when they told me they were going to kill me off, I said, 'Well, it's a good thing the guy's got a twin brother.'"
For those who don't realize, it has never been established that Williams' late character, Benny, actually has a twin brother. Williams was simply giving producers a clever way to get him back into the series at a later date. As witty as that response was, the concept of bringing back an actor into a TV series as a twin is actually not original. In fact, it seems as if this "backup twin" option is an old-school TV tactic to keep options open in case producers want a deceased character to return to a show. And you probably thought that was only possible in soap operas.