How The Conners Takes Ames McNamara Back In Time To His Acting Debut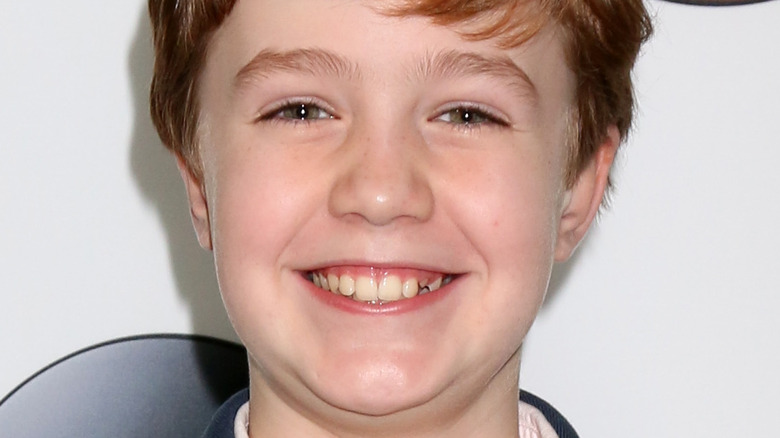 Kathy Hutchins/Shutterstock
When "The Conners" made its debut in 2018, fans weren't sure what to expect. They knew the Lanford clan would be without their matriarch — Roseanne Conner was killed off in the premiere episode in response to original star Roseanne Barr's firing for inappropriate social media behavior, per The New York Times. They also knew with Roseanne gone, there would be more time to focus on new characters that had been introduced in the one-season "Roseanne" reboot earlier that year. 
Indeed, Darlene Conner's (Sara Gilbert) kids, Harris (Emma Kenney) and Mark (Ames McNamara) were given more screen time and fans have watched them grow up over the past five seasons. Fans have been especially impressed by McNamara, who was just 11 years old when he debuted in the role of Mark Healy. According to his ABC bio, McNamara began acting in musical theater in New Jersey at age 5 and went professional at age 8. But before he landed his role on "Roseanne" and segued into "The Conners," the young actor's credited acting roles consisted of only a one-off spot on "At Home with Amy Sedaris," per IMDb.
With next to no television experience to his name, McNamara jumped into the role of Mark. When fans first met the character, he was experimenting with wearing girls' clothing (via Entertainment Weekly). The pressure of playing a complex character on a hit sitcom did not phase McNamara, especially when producers introduced a twist that took him back to his roots.
Ames McNamara revealed that he loved the live episodes of The Conners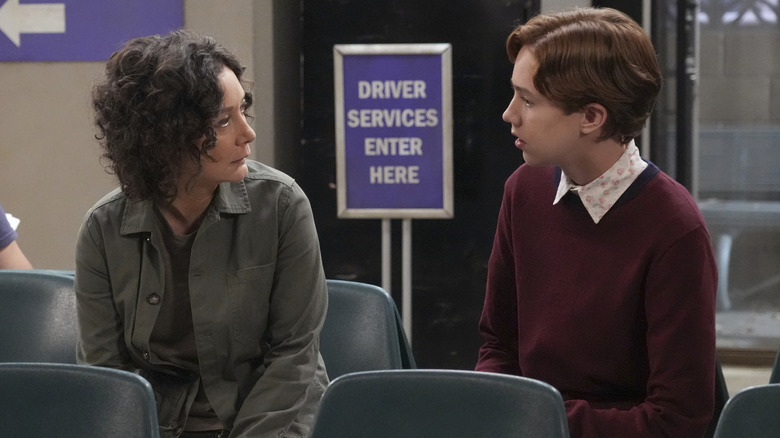 Eric McCandless/ABC
While "The Conners" films in front of a studio audience, in February 2020, producers pulled off a rare feat –- for scripted TV, anyway — with a live episode, titled "Live from Lanford." The episode featured Ames McNamara's Mark character watching the results of the presidential primary election, per Deadline, and real results were announced during the broadcast. In September 2021, "The Conners" Season 4 premiere was also live, per Variety. The episode, titled "Trucking Live in Front of a Fully Vaccinated Studio Audience," was also a Mark-heavy script as the character worked on a genetics project for school and interacted live with viewers.
In a 2021 interview with Young Ent Magazine, McNamara revealed that the live episodes were some of his favorites because they took him back to his roots as a theater actor. "The first acting thing I ever did was a play and I really loved theater and musical theater and stuff," he said. "The fact that we ... filmed in front of a live audience, that felt like a play to me. And then of course the live episode takes that ... further because just like a play you only get one shot ... and the energy you get from the audience is always so exciting."