Halloween Reboot Begins Production, Adds New Cast Members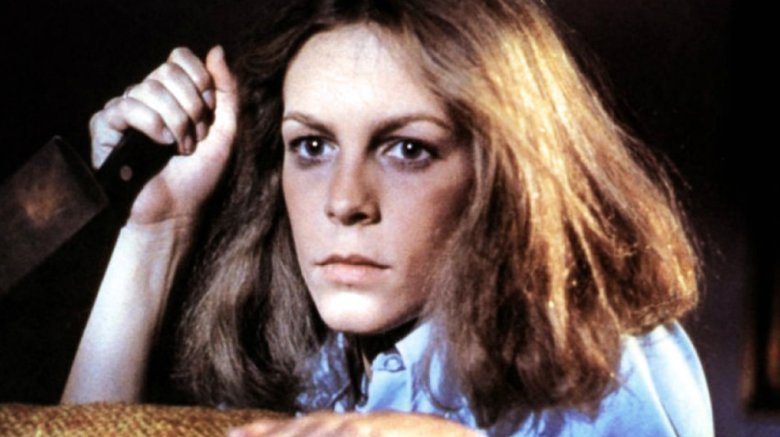 Compass International
Halloween festivities have started early this year. 
As announced by Bloody Disgusting, production has officially begun on the upcoming Halloween reboot from writer-director David Gordon Green and co-writer Danny McBride. Studios Trancas International Films, Blumhouse Productions, and Miramax got things going on Saturday (January 13), a little over nine months ahead of the Universal Pictures-distributed film's October 19 release date. 
In addition to the thrilling development news about the chilling movie, the outlet also confirmed that a handful of fresh faces have joined the cast. All young actors, the new batch of stars include Virginia "Ginny" Gardner (Project Almanac, Marvel's Runaways), Dylan Arnold (Mudbound, Laggies, When We Rise), Miles Robbins (Mozart in the Jungle, My Friend Dahmer), and Drew Scheid (Stranger Things, The War with Grandpa). The four stars will all portray friends of Andi Matichak's character Allyson, the daughter of Judy Greer's Karen Strode (who's the daughter of Jamie Lee Curtis' iconic Halloween character Laurie Strode). 
Nick Castle is set to reprise his role as Michael Myers, Laurie's killer brother, with James Jude Courtney joining him for stunts and additional scene work. Christopher Nelson–the Academy Award-winning make-up and visual effects artist who's worked on films like Deadpool, Sin City, Suicide Squad, and Kill Bill Vol. 1–is also attached to the forthcoming refresh. John Carpenter, who directed the first Halloween, plays a vital part in the film's development process, funneling his energy into roles as an executive producer and a creative consultant. 
When the Halloween reboot was first announced in 2017, Carpenter had nothing but love for Green and McBride, applauding them for their vision and expressing how blown away he was by their ideas. "David and Danny both came to my office recently with Jason Blum [of Blumhouse] and shared their vision for the new movie and, wow," the filmmaker wrote in a post on Facebook. "They get it. I think you're gonna dig it. They blew me away. I might even do the music. Maybe. It could be kind of cool."
"What exactly was it that knocked Carpenter's socks off?" you ask? Well, the fact that the reboot will bring back the "creep factor" of the 1978 original might have something to do with it. As McBride previously stated, "The original is all about tension. Laurie Strode doesn't even know that Michael Myers exists until the last minutes of the movie. So much of it you're in anticipation of what's going to happen and the dread that Carpenter spins so effortlessly in that film... I think we were really trying to get it back to that. We're trying to mine that dread. Mine that tension and not just go for gore and ultra-violence that you see some horror movies lean on."
The film will also ignore every Halloween sequel ever made, pick up right after the original, and include a more realistic version of Michael Myers that doesn't have any of those weird supernatural powers he mysteriously gained in later installments. "I think we're just trying to strip it down and just take it back to what was so good about the original. It was just very simple and just achieved that level of horror that wasn't corny. And it wasn't turning Michael Myers into some supernatural being that couldn't be killed–that stuff, to me, isn't scary," McBride explained. "I want to be scared by something that I really think could happen. I think it's much more horrifying to be scared by someone standing in the shadows while you're taking the trash out as opposed to someone who can't be killed pursuing you."
Here's the short synopsis for the film: "Laurie Strode comes to her final confrontation with Michael Myers, the masked figure who has haunted her since she narrowly escaped his killing spree on Halloween night four decades ago."
Halloween will spook us all when it's released on October 19.