Daniel Radcliffe Addresses Johnny Depp's Fantastic Beasts Casting Controversy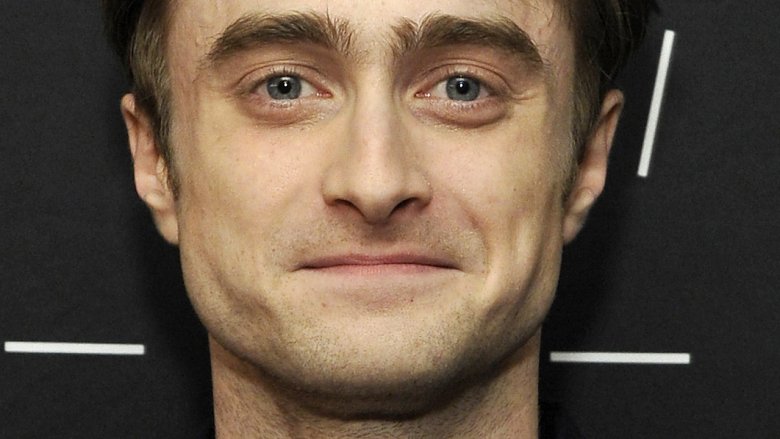 Getty Images
The boy who lived has finally broken his silence. 
When word got out that Johnny Depp would take on the role of the nefarious wizard Gellert Grindelwald in Warner Bros.' upcoming Harry Potter spinoff film Fantastic Beasts: The Crimes of Grindelwald–a character he briefly portrayed in the franchise's first pic, Fantastic Beasts and Where to Find Them–floodgates burst with outrage and confusion. Many fans were horrified to learn of Depp's involvement, given the abuse allegations the actor's ex-wife Amber Heard lodged against him in 2016. 
Now, the face of the Harry Potter cinematic universe has spoken out about the casting controversy, siding with those who are disappointed and somewhat hurt. 
Speaking in an interview with Entertainment Weekly, Daniel Radcliffe, who starred as the powerful young wizard in all eight HP movies, explained that the whole situation has been "a very hard thing" for him, and that he still wants to be supportive of the producers who "gave [him] a great start in life and an amazing job."
Radcliffe continued, touching on the responses Harry Potter series author and Fantastic Beasts: The Crimes of Grindelwald screenwriter J.K. Rowling and long-time Harry Potter movie director and Crimes of Grindelwald helmer David Yates have issued regarding Depp's casting. Both Rowling and Yates defended Depp,  expressed their support of the actor, and affirmed that keeping him on board for the sequel pic is the right choice. 
"Honestly, there's an issue at the moment where there's a lot of people being accused of things, they're being accused by multiple victims, and it's compelling and frightening," Yates said in November. "With Johnny, it seems to me there was one person who took a pop at him and claimed something. I can only tell you about the man I see every day: He's full of decency and kindness, and that's all I see. Whatever accusation was out there doesn't tally with the kind of human being I've been working with."
Rowling stated in part, "When Johnny Depp was cast as Grindelwald, I thought he'd be wonderful in the role. However, around the time of filming his cameo in the first movie, stories had appeared in the press that deeply concerned me and everyone most closely involved in the franchise. Harry Potter fans had legitimate questions and concerns about our choice to continue with Johnny Depp in the role... Based on our understanding of the circumstances, the filmmakers and I are not only comfortable sticking with our original casting, but genuinely happy to have Johnny playing a major character in the movies... I can't wait for fans to see The Crimes of Grindelwald. I accept that there will be those who are not satisfied with our choice of actor in the title role. However, conscience isn't governable by committee. Within the fictional world and outside it, we all have to do what we believe to be the right thing."
Radcliffe commented that he "can see why people are frustrated with the response that they were given from that," and went on to draw two poignant comparisons. "In the NFL, there are lots of players arrested for smoking weed and there [are] other people [whose] behavior... goes way beyond that and it's tolerated because they're very famous players," the actor said. "We did have a guy who was reprimanded for weed on the [original Potter] film, essentially, so obviously what Johnny has been accused of is much greater than that."
Here, Radcliffe refers to Jamie Waylett, the actor who portrayed bully Vincent Crabbe in six Harry Potter films before he was fired from the two-part film adaptation of Harry Potter and the Deathly Hallows following his arrest in 2009. Waylett was charged with drug possession after law enforcement found eight bags of marijuana in his car, and later discovered that he had been growing marijuana plants at his mother's house. The actor being dropped from the final HP installments is often referenced by those who oppose Depp's casting. 
In addition to Yates and Rowling's comments on the circumstances, studio Warner Bros. released a statement of its own: "We are of course aware of reports that surfaced around the end of Johnny Depp's marriage, and take seriously the complexity of the issues involved. This matter has been jointly addressed by both parties, in a statement in which they said 'there was never any intent of physical or emotional harm.' Based on the circumstances and the information available to us, we, along with the filmmakers, continue to support the decision to proceed with Johnny Depp in the role of Grindelwald in this and future films."
Fantastic Beasts: The Crimes of Grindelwald is on track for a November 16 release.