Tom Selleck Teases A Crowded And Dynamic Dinner Table In Blue Bloods Season 13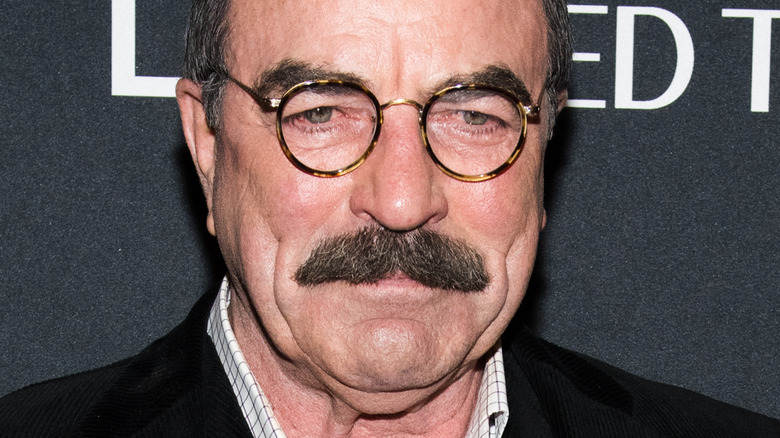 Noam Galai/Getty Images
CBS police drama "Blue Bloods" follows the Reagans, a family heavily involved in law enforcement. The show crosses generations and is centered around Commissioner Frank Reagan (Tom Selleck), whose own father is a retired commissioner and whose children are a detective, a sergeant, and a prosecutor, played respectively by Donnie Wahlberg, Will Estes, and Bridget Moynahan.
The show has performed reliably for CBS in its regular Friday night time slot. The Season 13 premiere matched its previous season's ratings and had the largest audience of the night with 6.1 million viewers (via TV Line).
One of the reasons why "Blue Bloods" has had such reliable staying power is the family dynamics at the heart of the show. Viewers tune in for the procedural elements, but it's the interpersonal relationships that elicit loyalty from the audience. Nothing encapsulates this better than the weekly Sunday dinners, where all members of the Reagan family get together for a meal and discuss various issues pertinent to the episode's plotlines. Everyone expresses a variety of viewpoints while eating copious amounts of food. In a feature with People about shooting the family dinner scenes, Selleck remarked, "They're the most fun to film because everyone is telling stories, laughing, sharing their points-of-view ... It's like a real family."
And naturally, we can expect many more dinner scenes to come in the now-airing Season 13.
Tom Selleck suggests we'll see some surprises at the weekly dinner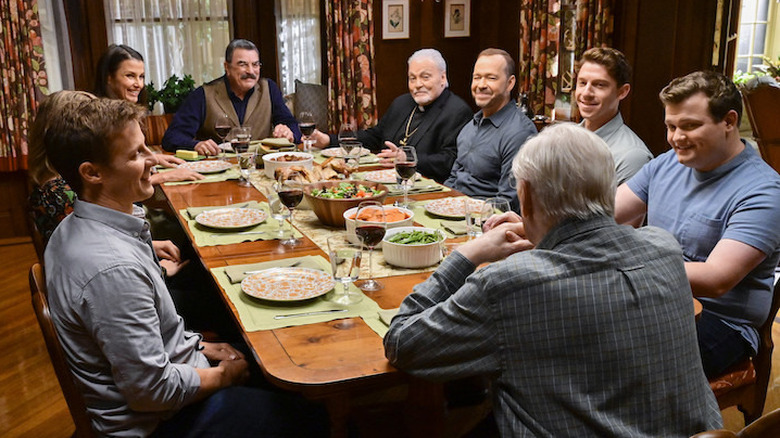 John Paul Filo/CBS
It's no surprise that many viewers will be interested in which returning and new characters are coming over for dinner in Season 13. In an interview with TV Insider, Tom Selleck teased what they're in store for. "I won't say who, but you'll be surprised how many people are at the table," he told the outlet. He also hinted at an ex that might make a return. "And Jack's been lurking," Selleck said, referring to daughter Erin's ex-husband (Peter Hermann), who isn't always so well-loved by the family.
Though they're fun to film, Selleck has also previously discussed the pros and cons of shooting the dinner scenes. "It's nice to spend time with the entire cast once an episode, but filming an eating scene is miserable...You have to eat the same foods over and over again to get all the shots. We'll probably spend eight hours shooting this scene," he told People.
As for more teases on Season 13, Selleck suggested to TV Insider that Frank will be conflicted over whether or not to endorse his daughter Erin for district attorney, and he'll also gain some understanding into why the NYPD is suffering from a loss of morale. Selleck is also enthusiastic about the prospect of more "Blue Bloods" after Season 13. "I've got a mortgage. I'm game!" he told the outlet.