How The Prophecy Of The Song Of Ice And Fire Will Tear Westeros Apart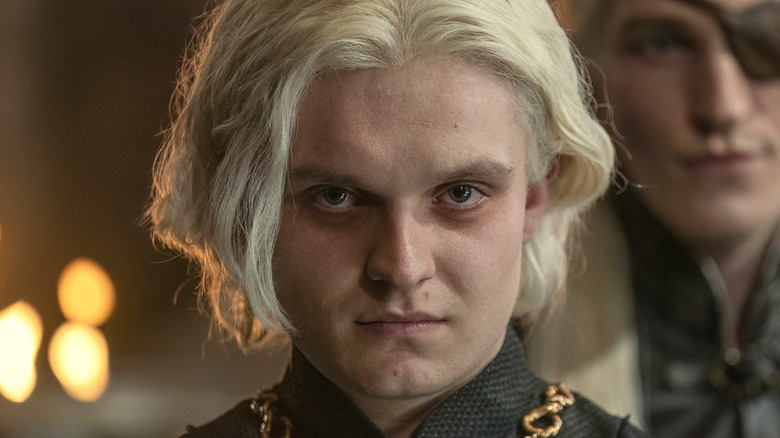 Ollie Upton/HBO
"House of the Dragon" is keeping the fire burning for fans of George R.R. Martin's dark fantasy world. HBO's "Game of Thrones" prequel series has already been renewed for a second season, and though its time-jumping storytelling style can be a bit of a challenge to adjust to each week, that hasn't stopped the series from growing increasingly popular as the first part of its story plays out (via Parrot Analytics).
Charting the tumultuous rule of the Targaryen dynasty in Westeros, "House of the Dragon" begins nearly 200 years before the events of "Game of Thrones." However, the events of its parent series still feel relevant to this story in a number of ways. While the seeds of the fall of House Targaryen are already being planted in the prequel, there is also talk about The Song of Ice and Fire, a prophecy that was central to "Game of Thrones."
Viserys spilled the prophecy to the wrong person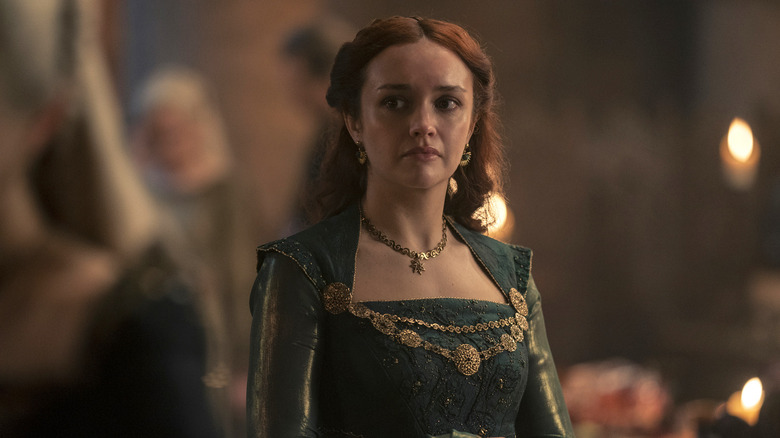 Ollie Upton/HBO
While King Viserys Targaryen (Paddy Considine) has already shared the prophecy with a young Rhaenyra Targaryen (Milly Alcock), it's taken over a decade for an older and wiser Rhaenyra (Emme D'Arcy) to finally realize the importance of the words her father spoke to her all those years ago.
Though an increasingly addled and tormented Viserys confirms to Rhaenyra that the prophecy is true and doubles down on its importance to the fate of Westeros, a major mix-up later in Season 1, Episode 8 ("The Lord of the Tides") sees a drugged Viserys mistake Alicent Hightower (Olivia Cooke) for Rhaenyra. He mumbles a bit of the prophecy to her before falling unconscious.
Though anyone who has seen "Game of Thrones" will know that the prophecy refers to Jon Snow (Kit Harington), who united the kingdoms of Westeros under one banner to stave off The Long Night and the armies of the undead, Alicent seems to interpret the chosen one as one of her children in "House of the Dragon."
While Viserys has repeatedly attempted to reconcile the various branches of his family into a similarly united front against their enemies, the ongoing war of succession among his children and their enemies continues to grow more fiery with each passing year. Now, with Alicent given yet another reason to rebel against Rhaenyra's place as her father's heir, things are about to get even dicier for the competing factions of the kingdom.