Early Roles That X-Men Actors Want You To Forget About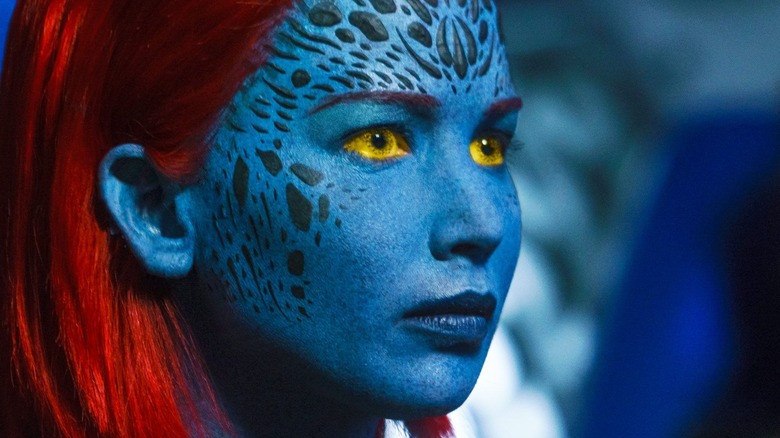 20th Century Studios
Sparking a sprawling franchise that lasted nearly 20 years, the 2000 action film "X-Men" adapted the Marvel comic for the big screen and featured a vast array of super-powered mutant characters. From beloved favorites like Wolverine, Cyclops, and Storm, to lesser-knowns like Blink and Quill, the mutant heroes and villains were played by an ensemble cast of actors who ranged from superstars to unknowns. 
We saw "Star Trek" veteran Patrick Stewart lead the squad as Professor X before James McAvoy took over the role in a franchise reboot. Star Halle Berry played the white-haired Storm, and later, superstar Jennifer Lawrence painted herself blue to play the shape-shifting Mystique. Everyone from sitcom stars, Hollywood legends, and journeyman actors to fresh-faced newcomers joined the team over the course of the series' many films.
But as the cast made names for themselves as superheroes, some even parlaying their parts in the series to greater careers, quite a few may look back and hope nobody notices their lowest point. Though they reached new heights as X-Men, many had career craters, films they hope you never find out about. Well, it's our job to make sure you do, so sharpen your claws and focus your mental powers, because this is a list of early movies in the careers of "X-Men" actors that they want you to forget about.
James Marsden told Campfire Tales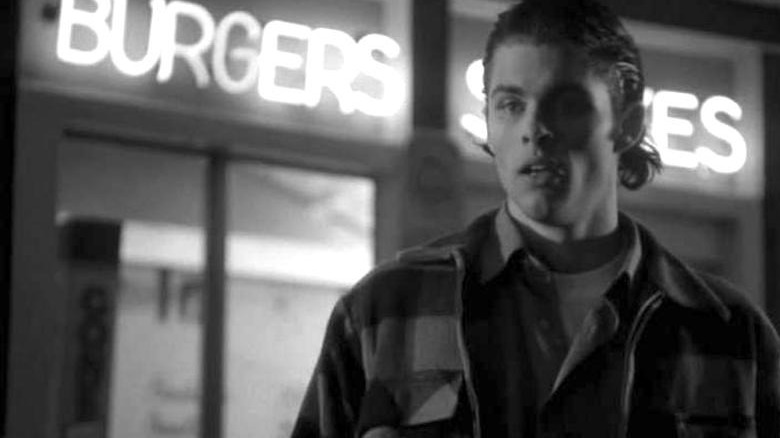 New Line Cinema
In the late 1990s, there was a rash of teen horror movies thanks to the success of "Scream." Before he was Cyclops in "X-Men," actor James Marsden even starred in one of the more memorable entries of this trendy sub-genre, "Disturbing Behavior" in 1998. But a year earlier, he appeared in another that few people saw, let alone remember: a cheesy, low-rent horror anthology called "Campfire Tales."
Comprised of five segments, the movie begins with a group of teens crashing their car and taking shelter in an abandoned church. To kill time, they tell horror stories that play out as mini-movies within the movie. Marsden appears in the opening, a story bookending the film. Dramatizing the cliched tale of a murderous psychopath with a hook for a hand who attacks a young couple in their car, it was filmed entirely in black and white to match its 1950s setting. 
While plenty of movies were hoping to be the next "Scream" by being risqué horror aimed at teens, "Campfire Tales" inexplicably went for an old-school b-movie feel. It's possible that could have been interesting, but it's not scary or edgy, it's just a movie that the cast — including Marsden, Amy Smart, "Real World" star Jacinda Barrett, "Malcolm in the Middle" star Christopher Masterson, and "Office Space" actor Ron Livingston — probably wish never happened.
Rebecca Romijn should have neglected Rollerball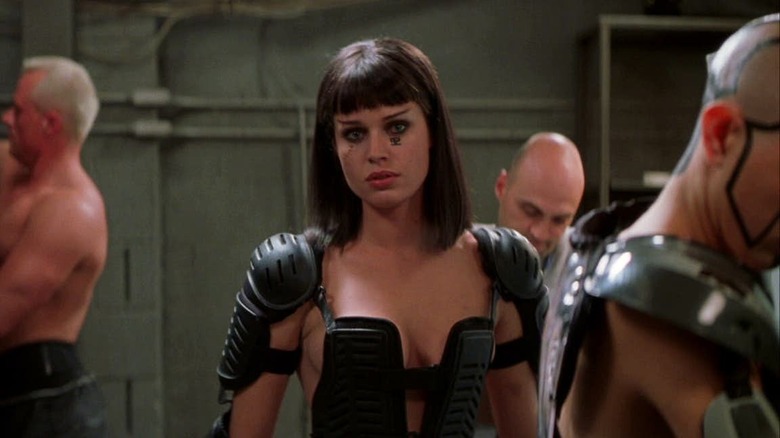 MGM
After Rebecca Romijn's career-altering performance as the shape-shifting mutant Mystique, the actress became a sudden star. Unfortunately, the films she'd choose to follow her Marvel Comics classic were anything but iconic, including the 2002 sci-fi action dud "Rollerball." Released within months of the Brian De Palma erotic thriller "Femme Fatale" — another film she might cringe at today — it paired her with "American Pie" star Chris Klein and '90s rapper LL Cool J, an odd roster of stars to say the least.
A remake of a fine, but modest 1975 sci-fi film that nobody was clamoring to be rebooted, the film was set in a dystopian near-future where a dangerous sport called Rollerball rules the airwaves. Played by daredevil athletes who are essentially owned by the team, it's an exciting but deadly sport that enthralls the masses. Klein, Cool J, and Romijn star as three elite players who attempt to flee the game when the sport's founder decides he needs more violence for better ratings.
Discarding much of the original movie's political commentary for fast-paced action, the movie's lame stunts, weak cast, and bad special effects made the film a groaner all around. But the most embarrassing thing about it is that it's the movie that got director John McTiernan a stretch behind bars after being convicted of wiretapping his own producer in an effort to win a behind-the-scenes power struggle. Thankfully, Romijn's only crime was choosing "Rollerball" as a follow-up to her comic book classic.
Ian McKellan hides The Keep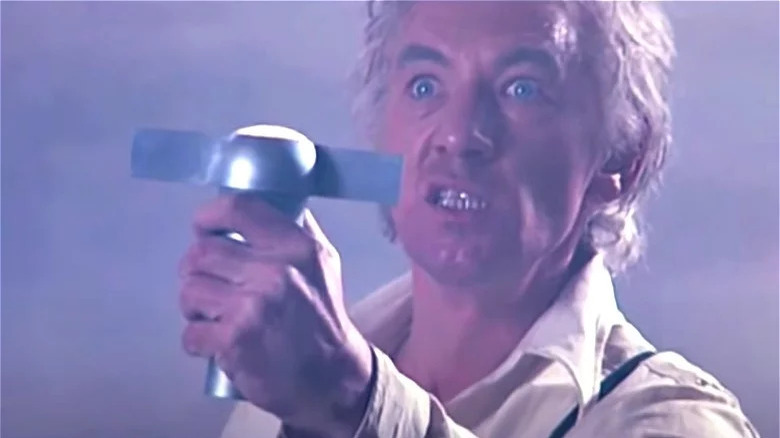 Paramount/Youtube
Today, British star Ian McKellan is known for his roles in "The Lord of the Rings" and the "X-Men" films, not to mention dramas like "Apt Pupil" and "Gods and Monsters." But before he became linked to such famous roles as Gandalf and Magneto, McKellan's filmography was littered with lesser-known and less-than-memorable movies. Still, few were the kind of awkward failures that McKellan would regret in the way he might wish we'd all dis-remember "The Keep."
A downright awful early '80s horror movie that awkwardly mixed the atrocities of World War II with monsters and demons, "The Keep" also starred Gabriel Byrne and Scott Glenn (Netflix's "Daredevil"). The year is 1941, and World War II is raging when a squad of German soldiers takes control of a Romanian citadel, but unwittingly disturbs an ancient evil that lurks within. As the Germans are slaughtered by the demonic being, their only hope rests with Professor Cuza, a Jewish occultist who instead decides to help the creature in its escape from imprisonment in the keep.
Directed by Michael Mann ("Heat"), "The Keep" may have held some promise as an exciting film, but it goes entirely unfulfilled. Gutted of any thrills, spills, or genuine horror, the movie is said to have originally clocked in at more than 3.5 hours and was so cut down that it becomes a sloppy jumbled mess of schlock (via Nerdist)
Elliot Page downloaded a ghost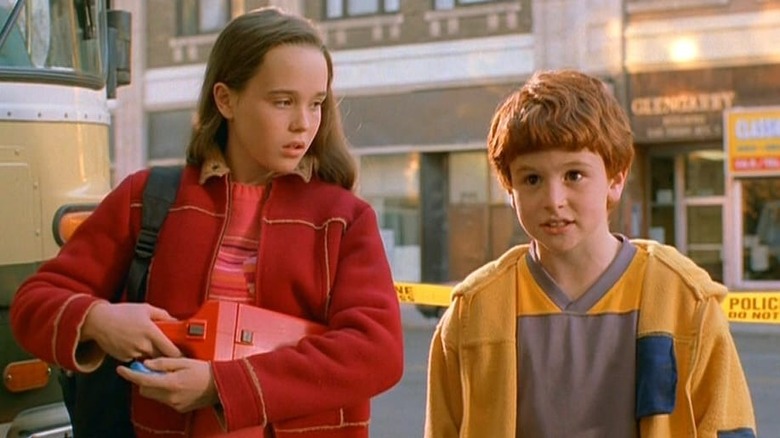 Porchlight Entertainment
"X-Men 3: The Last Stand" in 2006 finally saw young phasing mutant Kitty Pryde take the spotlight, played by young actor Elliot Page. Parlaying the success in the "X-Men" threequel into a long-lived Hollywood career, Page has gone on to star in hits like "Juno," "Inception," and more recently Netflix's "Umbrella Academy." But Page's career hasn't been all winners, and there's a least one he'd want us all to forget if we could: the 2002 television movie "I Downloaded a Ghost," which is every bit as ridiculous as its title suggests.
In the early days of the web, a famous commercial once warned us all about the dangers of digital downloading. Young Stella Blackstone (Page) however never expected that a trip across the information superhighway would end up with downloading the spirit of a dead comedian. The annoying, obnoxious ghost of Winston Pritchett actually helps Stella and friend Albert thwart some criminals and assist them in a Halloween project. In return, they also help Pritchett make amends to those he wronged and earn his way out of digital limbo.
A truly bizarre cross between "Home Alone," "Ghost Dad," and "Tron," the movie seems to have no aspirations of being a high-quality film but still barely rises to the level of watchable. While the actor's career has been a success at nearly every level since, "I Downloaded a Ghost" isn't just a movie Page wishes we'd forget — it's one we wish could forget too.
Patrick Stewart flew the coop in Wild Geese II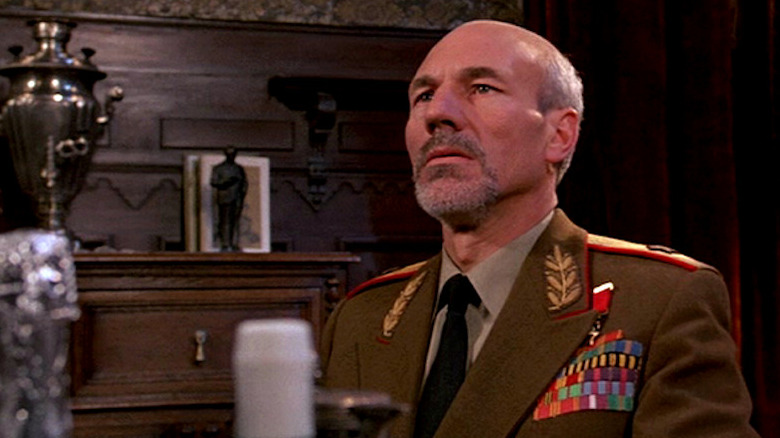 Thorn EMI
Patrick Stewart came to superstardom thanks to his role as Captain Jean-Luc Picard in "Star Trek: The Next Generation," before inhabiting the role of Professor X in the "X-Men" films. But before he was a big name, Stewart had any number of regrettable roles, so much so that it's hard to even pick which one to put on this list. The one that stands out the most however is "Wild Geese II."
"Wild Geese II" is the follow-up to the forgotten 1978 adventure "Wild Geese," a film that starred Richard Burton, Richard Harris, and Roger Moore as mercenaries sent to save the president of an African nation. The sequel brings back none of the first film's star-studded cast, instead starring Scott Glenn and a bunch of unknowns as a new team of mercenaries. Here, they're hired by a news network to spring real-life convicted Nazi war criminal Rudolf Hess from Spandau prison where he's been held since the infamous Nuremberg Trials (don't ask why, because it doesn't matter).
With a head-scratching story with low budget action, this is one film we can confirm the actor wants us to forget. Acknowledging that he only took the role to pay for some home repairs, Stewart himself mentioned his part as a Russian military official in the film as his most embarrassing role during a convention appearance in 2010. Knowing his fans might now seek out the film for a laugh, he reminded the audience, "just remember it paid to replace my bay window."
Anna Paquin hid in the Darkness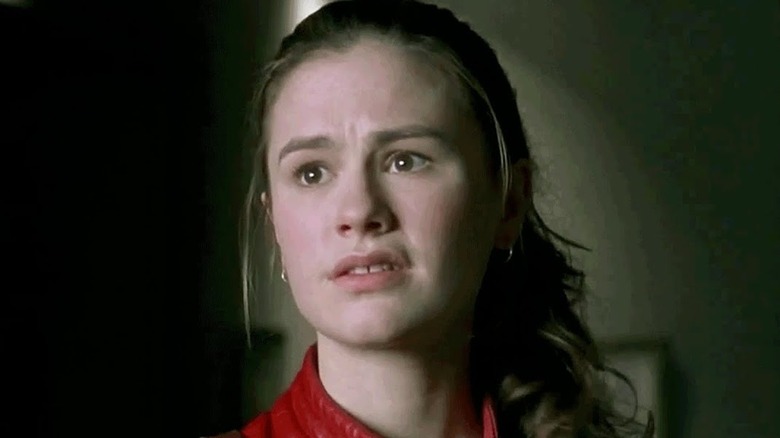 Dimension Films
Many of the young actors in the first "X-Men" film were relatively unknown with few roles under their belts before they joined the mutant world. Anna Paquin was an exception, however, as she already had a few major films to her name, including the 1993 drama "The Piano" that netted the then-teen star an Academy Award. You might think that such a bright young talent with an Oscar would have better luck in picking her projects, but that definitely wasn't the case, as not long after appearing in "X-Men," she'd make arguably the worst film in her career.
The 2002 horror film "Darkness" starred Paquin as Regina, a young teen whose family moves into a new home only to find it haunted. As it happens, the home is the site of a decades-old satanic ritual where a number of children once mysteriously disappeared. Now Regina, her brother, and their parents deal with increasingly violent attacks from the netherworld by the spirits of the children who reside there.
Though the film is a generic enough haunting story that it could have gone in any direction, "Darkness" becomes a lackluster snooze-fest hampered by its PG-13 rating. Paquin's immense talent is wasted on eye-roll-inducing schlock, as she putters around the frame aimlessly almost as if she doesn't want to be there. Given the overall quality of the story and its production, we can't say we blame her.
Hally Berry had B.A.P.S.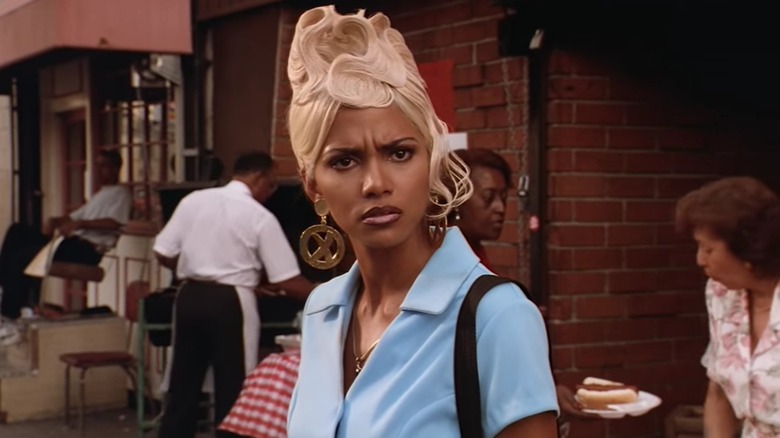 New Line Cinema
Playing Storm in "X-Men" was Halle Berry, who'd win an Oscar for her performance in "Monster's Ball" a year before returning for the sequel "X2: X-Men United." As she's a major Hollywood star, one might think Berry's most lamentable role is in one of the worst comic book films ever made, 2004's "Catwoman." But despite its notorious failure, Berry has never been ashamed of it, even appearing in person to collect her Razzie Award for Worst Actress. If there is a movie she'd want us to forget, it could be the 1997 Robert Townsend flop "B*A*P*S."
The film stars Berry and Natalie Desselle Reid as a pair of midwestern waitresses who set out for Los Angeles in hopes of winning a music video contest. When they arrive, they're cajoled into acting out a scam to trick an aging millionaire (Academy Award-winner Martin Landau) into thinking they're long-lost relatives. But despite the deception, the two girls soon grow a genuine fondness for the old man.
A hideously unfunny affair, "B*A*P*S" has been trashed for decades with well-earned bad reviews. Roger Ebert famously gave it zero stars and called it "jaw-droppingly bad, a movie so misconceived I wonder why anyone involved wanted to make it." But some have noted its cultural importance for its use of a Black cast, a Black director (Robert Townsend), and a Black screenwriter (Troy Byer). For that alone, we doubt Berry is too regretful, but that doesn't mean she wants us to watch the film either.
Famke Janssen was a Model by Day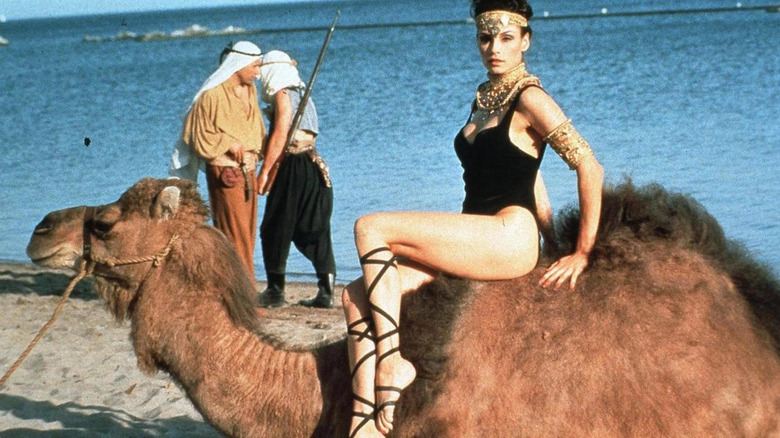 Academy Entertainment
Actress Famke Janssen, who played telekinetic hero Jean Grey in "X-Men" and its sequels, gained notoriety from her role as Xenia Onatopp in "Die Another Day," making her one of two "X-Men" actresses — including Halle Berry — to star as a Bond girl opposite Pierce Brosnan. Before that, though, Janssen had only a handful of screen credits, with one of them an episode of "Star Trek: The Next Generation" where she ironically played a self-described mutant with telepathic abilities of a sort. Though she certainly shouldn't regret that role, one early part she likely does is the 1994 television movie, "Model by Day."
Just her fourth on-screen part, Janssen plays another superhero in this low-budget junker. She stars as Lex, a hot-bodied supermodel who struts her curves on the runway by day. But after falling victim to street crime, Lex decides to don a mask and a costume to fight evil-doers when the sun goes down. Surprisingly, despite its head-scratching concept, this one is actually based on a real comic book. With such a story this goofy, though, we're not sure a bigger budget and a better script really would have made a difference. In the end, it's just one of those movies that have you screaming at your television, "What were they thinking?"
James McAvoy was dunked in The Swimming Pool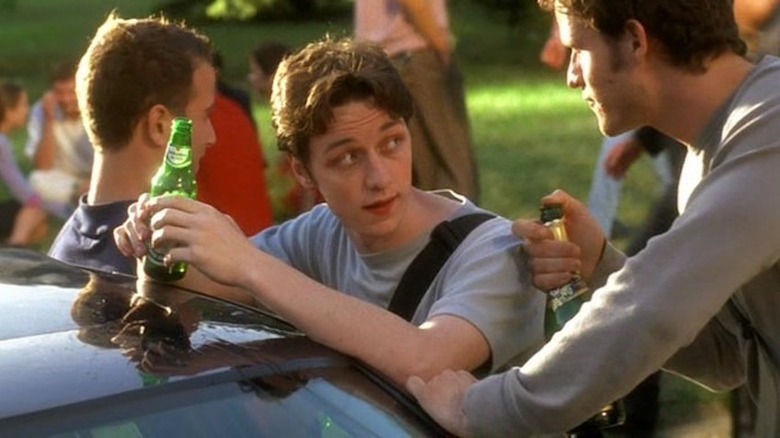 UGC Films
When the "X-Men" franchise had grown tired following a string of lackluster sequels like "X-Men Origins: Wolverine" and "X-Men 3: The Last Stand," the studio realized they had to reinvigorate the franchise. The result was "X-Men: First Class," a relaunch that ditched the entire cast for all-new, younger actors. This included bringing in British star James McAvoy as a young Professor X, who still had all his hair back in the 1960s. Though he'd impressed in a number of films earlier in his career, McAvoy — like fellow X-actor James Marsden — once starred in a turn-of-the-millennium teen horror movie that he probably hopes we don't discuss. Alas, James, this is what we're meant to do.
Released in 2001, "The Swimming Pool" was a German-produced slasher also starring Isla Fisher and John Hopkins. Centered on a group of young friends who sneak into a water park after hours for a little mischievous fun, they find themselves stalked by a stereotypical masked killer who picks them off one by one, killing them in increasingly gruesome ways.
So full of trite, overused ideas as to make it boring, the script is sloppy and the acting — despite its fine cast — drags it down further with performances that make one want to call the lifeguard for help. They may have been trying to make a spooky slasher, but "The Swimming Pool" sank straight to the bottom.  
Jennifer Lawrence got lost in The Garden Party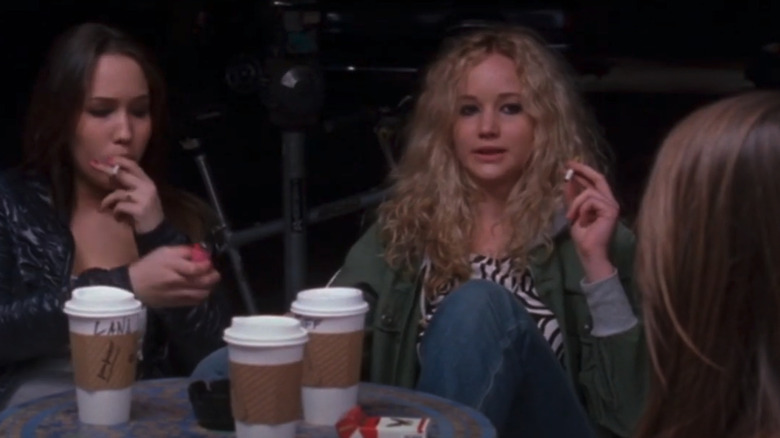 Roadside Attractions
With Fox rebooting the "X-Men" series in 2011, they needed younger, hipper stars to take over in fan-favorite roles, so in stepped Jennifer Lawrence to take over the role of Mystique from Rebecca Romijn. Hot off an Oscar nomination for "Winter's Bone," the X-Men reboot would be Lawrence's big studio breakout before "The Hunger Games" made her a true household name. But despite the accolades she's received before and since her career hasn't always been full of flawless films. Early on, Lawrence didn't have the luxury of being picky, and the first movie she took on is one she likely hopes we can ignore, a shoe-string budgeted indie teen drama called "Garden Party."
Lawrence's film debut, the movie doesn't center on her character, but on April (Willa Holland), a confused 15-year-old who finds herself struggling to get by in Los Angeles. Though she tries not to be drawn into the city's seedier side, she still gets caught up in other problems. Along the way, she links up with a few other teens in similar situations. Trying to be controversial and envelope-pushing, the movie winds up a dull, spiritless would-be drama with nothing going for it but Lawrence's small role which is the only real reason anyone remembers it exists.
Today, Lawrence may look back at "Garden Party" and sneer not just because of the movie is uncomfortable and cringe-worthy, but because of how silly she looks awkwardly trying to smoke a cigarette when she's clearly never held one in her life. 
Kevin Bacon got fired up in Pyrates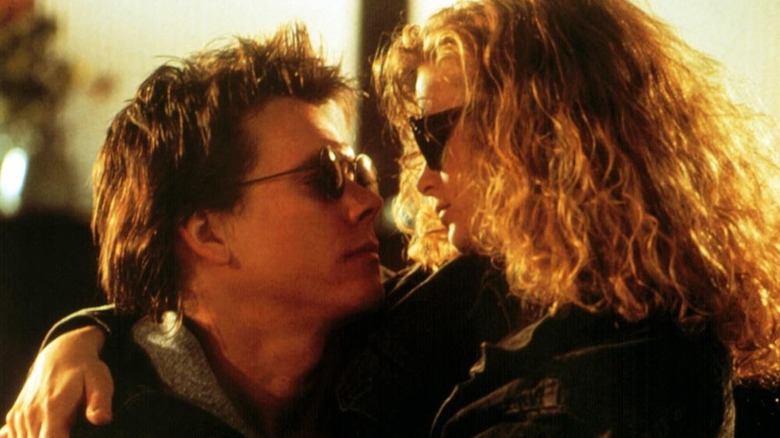 Act III Communications Vestron Video
After the first "X-Men" trilogy had cast the likes of Ian McKellan and Brian Cox as their main villains, "X-Men: First Class" needed a suitable stand-in who could hold their own against the mutant super-team. It would be star Kevin Bacon who'd fill the role of the baddie, playing Sebastian Shaw; and not the actor Sebastian Shaw who played Darth Vader, but the fictional leader of the cabal of diabolical mutants known as the Hellfire Club. Of the many actors who starred in the "X-Men" franchise, Bacon may have the longest filmography, having starred in dozens of films before appearing as Shaw, including classics like "Footloose" and "Apollo 13."
But flash back some 20 years before "First Class" and you'll find "Pyrates," a movie where he also played a mutant of sorts, oddly enough. A goofball sex comedy from 1991 — well after the sub-genre of tawdry teen comedies had seen their best days — it starred Kevin Bacon and Kyra Sedgwick as a pair of passionate lovers who discover they can gain the power of pyrokinesis — the ability to control fire — after having sex. Yes, you read that correctly.
Casting real-life husband and wife Bacon and Sedgwick gives the couple some decent chemistry, but their performances are undermined by bad direction, a script that almost seems deliberately terrible, and of course, its impossibly silly premise.
Peter Dinklage went Western in The Last Rites of Ransom Pride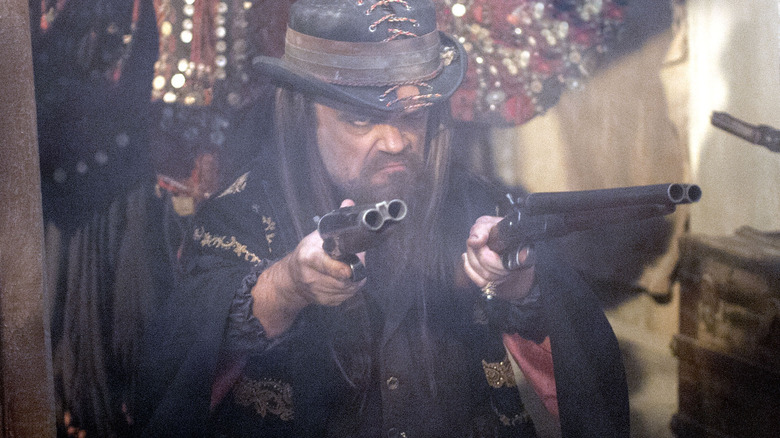 Screen Media Films
The "X-Men" franchise has always found top-notch actors to play their lead villains, and that trend continued in the 2014 sequel "X-Men: Days of Future Past." The movie's big bad was a classic X-villain from the comics named Bolivar Trask, and to play him, the casting department dipped into the talent pool of "Game of Thrones" and plucked out Peter Dinklage. The actor has had a long and varied career, and he has a few losers in the bunch, but none as curious as "The Last Rights of Ransom Pride."
A Western adventure starring Lizzy Caplan, it follows the exploits of Juliette Flowers, a gunslinging outlaw. In the last days of the Wild West in 1912, Flowers gets word that her lover has been killed by a witch who wants a heavy toll to return his body: the life of his brother Champ (Jon Foster). Absconding with Champ, Juliette goes to meet the witch and encounters a number of odd characters, including a pair of bounty hunters sent by Champ's father and a gun-toting dwarf (Dinklage) from a wayward circus troupe. Did you think this would be any other kind of movie?
Though films like "Django Unchained" have successfully mixed slick, modern action with Western adventure, "The Last Rites of Ransom Pride" fails spectacularly with a cornball script and cheap production values. While Den of Geek did have some kind of things to say about Dinklage himself, they also called the film a certain pile of something we can't repeat here. You get the idea.