David Bruckner Addresses The Possibility Of His Return To The Friday The 13th Franchise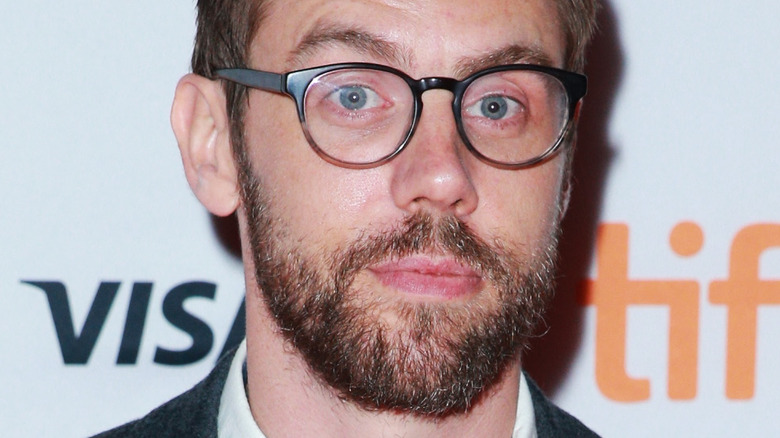 Rich Fury/Getty Images
David Bruckner has slowly but surely become one of the definitive voices of the horror genre over the last several years. With films like "The Ritual" and "The Night House," he has introduced audiences to an ominous and haunting style. That said, he has also delved into numerous horror franchises as well. In fact, he is not only a key figure behind the "V/H/S" horror anthology series (serving as a producer for the series as a whole, as well as director of the iconic "Amateur Night" short), but he also directed the "Hellraiser" reboot, which debuted on Hulu on October 7, 2022.
Besides those two powerhouse horror franchises, Bruckner also briefly worked on one of the most iconic slasher series in the genre: "Friday the 13th." Set at Camp Crystal Lake, the series primarily follows hockey mask-clad Jason Voorhees as he butchers his way through horny camp counselors. Bruckner was briefly attached to a potential reboot of the series in the 2010s before ultimately departing the project in 2015 (via The Wrap). This was one of several attempts to reboot "Friday the 13th" since the most recent entry in the series debuted in 2009, but is there any chance that Bruckner could return to "Friday the 13th" following his recent success in other horror franchises? The director recently addressed this possibility and opened up about whether or not he thinks he could find his way back behind the camera for another massacre at Camp Crystal Lake.
David Bruckner thinks he is unlikely to return to the Friday the 13th series
While doing interviews to promote the release of "Hellraiser" on Hulu, David Bruckner was questioned about whether or not he would ever find his way back to "Friday the 13th" following his departure from his iteration of the series. Despite the fact that many fans would likely want to see him come back and take a crack at the series, the director confirmed (via Comicbook.com) that he has moved on from the work he did for that project. Likening the process to an actor working on an audition, Bruckner explained, "I think for me, personally, it would be hard to find my way back into that now just because it's like the actor's approach to an audition, you have to just walk away at a certain point and put it behind you."
As for whether or not he may have a change of heart, at this time, it seems unlikely that he will work with Jason Voorhees again. In his remarks, Bruckner explained that while he was interested in the ideas that his "Friday the 13th" would've explored, they do not intrigue him as much as his current projects. Bruckner continued, "Also, I spent a lot of time there. I worked with some wonderful writers, I think, and I've changed. Those ideas aren't interesting to me quite the same way they were with the work we did in particular, but I'm a fan of the franchise."
Despite not returning, he is excited for where the Friday the 13th series will go next
While David Bruckner has seemingly moved on from "Friday the 13th" and shows no sign of returning to that particular franchise as a director anytime soon, he clearly continues to have a strong affinity for the world of Jason. In fact, elsewhere in his remarks about leaving the project, he made sure to note that he will see the next iteration of the franchise as soon as it comes to theaters. Bruckner said, "they will figure it out, the IP is too valuable. The fans want it too much. So no, I'll be the first person in theater to figure out what they did. Of course, I'll think a lot about what we had, but no, and it goes the same for any of the stuff that we work on; I'm game, as long as I get to keep making stuff that I'm passionate about, I'll be as grateful as I can be."
As a franchise, "Friday the 13th" has remained mired in legal disputes over the rights for the last several years. However, recent developments seem to indicate that progress has been made towards settling those disputes and inching the series closer to renewed life, with original director Sean S. Cunningham potentially teasing a fresh installment. Nothing has been confirmed at this time, but if things progress, it seems reasonable to assume that Bruckner will be in the audience to check it out.