This Look At Keke Palmer As X-Men's Rogue Is Turning Heads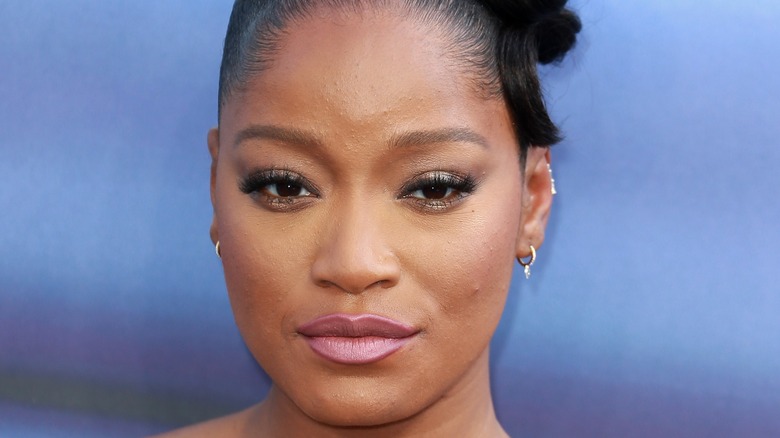 Fred Duval/Shutterstock
2022 has been a big year for Keke Palmer. It seems like the 29-year-old actress has been popping up in almost every corner of the entertainment world and we can't get enough of it. From portraying the lead character in the crime thriller "Alice" to hosting alongside Jimmy Fallon on the game show "Password " to voicing the spunky Izzy Hawthorne in Pixar's "Lightyear" to performing perfect "Akira" motorcycle stunts in Jordan Peele's "Nope," it seems that no stone has been left unturned by Palmer this year. With each appearance, her range as a charismatic performer and entertainer continues to shine through, which many audiences are just now seeing. Those who have followed Palmer since her days in films such as "Akeelah and the Bee" or shows such as "True Jackson, VP" were always keen on her rip-roaring abilities, and it's been gratifying to see her finally getting the recognition she deserves. 
With Palmer's recent roles becoming more high profile, it feels like it's only a matter of time (plus a gift to us Keke stans) before she snags a mega blockbuster role. And what bigger blockbusters are out there than superhero movies? More specifically, those from the Marvel Cinematic Universe. But if Palmer were to land a power-packed superhero part, what would be the best fit for her? As it turns out, fans believe she would be the perfect fit for a particular X-Men character, with a piece of fan art cementing this idea. 
Keke fulfills fans' dreams with this vibrant look
A piece of fan art from artist Rahal Nejraoui on Instagram visualizes Keke Palmer as Rogue from the X-Men franchise. The look, inspired by a costume from cosplayer Anastasia Galuzina, sees Palmer sporting a classic comic book-esque yellow and green jumpsuit with bold white and brown curly hair. The look seems to take much of its inspiration from Rogue's look in the 1992 hit show "X-Men: The Animated Series" rather than the more grounded approach given to Anna Paquin's portrayal of the iconic X-Men character in the live-action film series by Fox. The bolder, brighter appearance seems to be more in-line with Palmer as an actress — her boundless energy and quick wit make her feel like she's jumped straight out of a comic book at times, in the very best way possible. 
The fan art is no spontaneous piece of fan casting. Fans have lately been hoping to see Palmer as Rogue since Tik Toker jacobfordridgway suggested it as the best fit for the actress. Since then, even Palmer herself has expressed interest in playing the comic book character. With Disney having acquired Fox in 2019, including its line-up of Marvel characters such as the X-Men and the Fantastic Four (via The Hollywood Reporter), it's only a matter of time until we see a fresh new version of the X-Men in the MCU, and with Palmer's fame rising, hopefully she can be a part of that team.