The Walking Dead Season 8 Photos Preview Character's Tragic Demise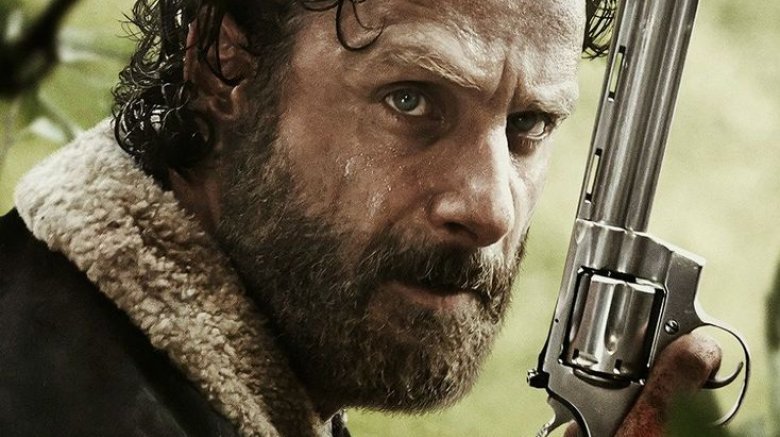 Warning: This article contains spoilers for The Walking Dead season eight. 
The end is nigh for one Carl Grimes. 
When The Walking Dead fans last saw Rick Grimes' (Andrew Lincoln) spunky son Carl (Chandler Riggs), it was the midseason finale and he admitted to having hidden a zombie bite that would inevitably lead to his death. To add salt to the wound, but to also ramp up excitement for season eight to return to AMC, Entertainment Weekly has rolled out an exclusive batch of Walking Dead midseason premiere photos that preview Carl's tragic and untimely demise. 
Released via the outlet's official Instagram account, the new photos indicate that The Walking Dead won't take it easy on Carl, as his health will deteriorate right from the get-go. "We've got exclusive new photos from the midseason premiere," EW wrote in the post's caption. "The episode begins with a bombed-out Alexandria in tatters and Carl clinging to life. And things will get worse before they get better." 
The first image of Carl shows him scrawling something in a notebook, while the second features him looking off to the side, visibly unwell. A third sees him resting on a stretcher with Michonne (Danai Gurira) looking over him, and a fourth shows Rick and Michonne carrying him out of a burning house following Negan's scorched earth mania. 
As for the rest of the series' heroes, things aren't looking too great either. Rick and his band of fighters were shaken up by the opposition's ferocity, forced into hiding after Negan (Jeffrey Dean Morgan) and the Saviors got a second wind. King Ezekiel (Khary Payton) has risen and the Kingdom has been left behind as Alexandria burns to the ground and the Hilltop prepares for an all-out, no-holds-barred battle that will determine everyone's fate. 
The other images EW unveiled tease at the tense upcoming chapter, showing Maggie (Lauren Cohan) caring for the rescued baby Grace, Carol (Melissa McBride) and Morgan (Lennie James) readying themselves for war, and Norman Reedus (Daryl Dixon) wading through thigh-high waters. 
Take a look at the full batch of photos below. 
Actor Riggs recently spoke about Carl's upcoming death, explaining that the character's passing will cause a huge ripple effect both in season eight with Alexandria's battle against Negan and in the show as a whole. "He's definitely leaving behind a really long-lasting legacy," he told EW. "[That] was the coolest part about playing those final moments–knowing that Carl was going to have such a lasting impact on the story."
Lincoln added that without Carl in Rick's life, the rugged leader will have difficulty moving forward in the war. "The back half [of the season] is [Rick] trying to live through the unbelievable pain, in the middle of a war, and trying to reconcile this loss with what he's fighting for," the actor said. "This is his worst nightmare being realized."
Riggs confirmed his Walking Dead exit in December of 2017 following the jaw-dropping midseason finale. "Carl is going to die. There's no way he can get back from that. His story is definitely coming to an end," the 18-year-old star stated. "It was quite the shocker for me, [Andrew Lincoln], and everyone because I don't think anyone saw it coming. It's definitely not a bad thing because it has been awesome being on the show, but now I get to go and do a lot of other stuff that I haven't gotten to do before."
Shortly after, Lincoln also revealed his feelings about Riggs departing the series and Carl no longer appearing on screen–at least in the present day. "This was the hardest... I didn't see it coming," he admitted. "This is bigger than any other death that we've ever had and we realize that as it plays out in the back eight. The back eight is completely different from the front eight. This episode happens and everything changes. We spin off into a completely different new world."
The Walking Dead returns Sunday, February 25 on AMC.