Andrew Lincoln Reacts To Shocking Walking Dead Death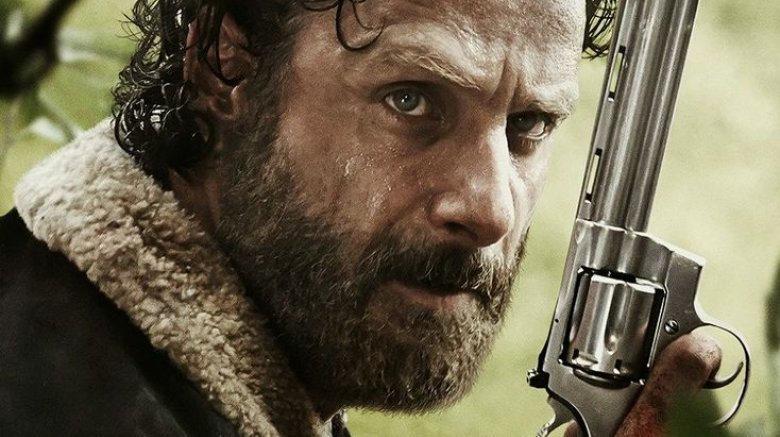 Warning: This article contains spoilers for the December 10 midseason finale of The Walking Dead.
The Walking Dead fans' jaws collectively dropped on Sunday when the show revealed that a walker had bitten Carl Grimes (Chandler Riggs). A second shock came when the actor himself confirmed that Carl won't pull through, and is indeed heading for the grave. 
Speaking in an exclusive interview with ComicBook.com, The Walking Dead lead actor Andrew Lincoln, who plays Riggs' on-screen father Rick Grimes, opened up about the unexpected death, which left him just as shell-shocked as viewers watching at home. 
"I had no idea," Lincoln said. "[The Walking Dead showrunner] Scott [M. Gimple] called me up and said, 'You're gonna hate this one. I want to just forewarn you.' Even then, I was waiting to say, 'This is a really cool way of telling me that I'm off the show, you know that?' That's what I thought he was about to say. He said, 'It's the kid.' I couldn't even say, 'No.' I was silent for a minute. He said, twice, 'Are you still there?' I just didn't see it coming."
The actor added that the death of Carl was even harder for him to wrap his head around than the death of Glenn Rhee (Steven Yeun), whom Negan (Jeffrey Dean Morgan) killed with his trusty baseball bat of doom during the show's seventh season. "This was the hardest," said Lincoln. "The thought of the journey without Steven in the cast was unbearable, but this is... I didn't see it coming."
Lincoln continued, commenting on how Carl's passing represents a changing of tides in The Walking Dead season eight. Without Rick's son in tow, the war with Negan could shift direction. "This is bigger than any other death that we've ever had and we realize that as it plays out in the back eight. The back eight is completely different from the front eight. This episode happens and everything changes. We spin off into a completely different new world," he explained.
Lincoln then concluded that Rick has "lost the things that he's fighting this war for," and that "has a huge effect on him and it changes him irrevocably." He added, "All of the back eight is this terrible death. This emotion is unending throughout the whole cast and, I think, it's palpable. The cost of this battle is much more full because of what happened."
Actor Riggs previously spoke about his character's death with The Hollywood Reporter, stating that he found out that Carl was going to be killed off back in June and "didn't know what to do" for a while after. "It was quite the shocker for me, [Andrew Lincoln], and everyone because I don't think anyone saw it coming," the 18-year-old star said. "It's definitely not a bad thing because it has been awesome being on the show, but now I get to go and do a lot of other stuff that I haven't gotten to do before."
One person who was seriously not happy about Carl's death was Riggs' own father, who lashed out at showrunner Gimple and AMC as a whole, claiming that Riggs was wrongfully "fired." William Riggs wrote in Facebook post that has since been deleted, "Watching Gimple fire my son two weeks before his 18th birthday after telling him they wanted him for the next three years was disappointing. I never trusted Gimple or AMC but Chandler did. I know how much it hurt him. But we do absolutely know how lucky we have been to be a part of it all and appreciate all the love from fans all these years!" 
It's not all doom and gloom, though; Riggs confirmed to THR that fans will see "bits and pieces and memories" of Carl throughout the remainder of season eight. "Although Carl's story is coming to an end, it's not over yet," he noted before adding, "Thank you to all the fans for giving me a job for eight years and for giving me this amazing experience and blessing me with this career and this chance at having so much opportunity."
The Walking Dead will return to AMC for the second half of season eight on February 25, 2018.