Are Hanako Greensmith And Jimmy Nicholas From Chicago Fire Friends In Real Life?
Spoilers follow for "Chicago Fire." 
Before Season 10 of NBC's "Chicago Fire," kind but straightforward Firehouse 51 member Violet Mikami (Hanako Greensmith) dates her coworker, Blake Gallo (Alberto Rosende). But the relationship ends after their differences — and a botched marriage proposal — prove too much for them.
In the most recent season of the series, Mikami begins dating Evan Hawkins (Jimmy Nicholas), an EMS paramedic new to the firehouse. However, Hawkins is tragically killed during a triage fire while trying to rescue a victim in the Season 11 episode "Completely Shattered." Greensmith even tweeted a "heartbreak" emoji in reaction to the devastating end of Hawkins and Mikami's burgeoning relationship. As the actress mentioned in NBC Insider, her character will now have to "navigate some totally new emotional terrain and professional terrain."
Greensmith and Nicholas play lovers in the series, but this has made fans wonder: what's their relationship like when the cameras are off?

Nicholas and Greensmith are good, goofy friends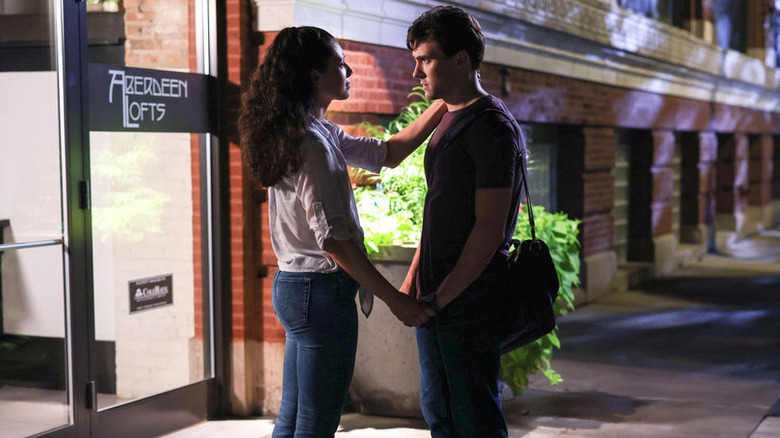 Adrian S Burrows Sr/NBC
Despite the romantic chemistry between their characters on "Chicago Fire," actors Hanako Greensmith and Jimmy Nicholas are just friends in real life.
Both actors' Instagram pages have photos of the two hanging out together during their downtime on the "Chicago Fire" set, including one post featuring Nicholas and Greensmith doing a very silly pose alongside co-star Caitlin Carver. Greensmith and Nicholas also appear to hang out during their off hours, based on Greensmith's post featuring the two of them at a party.
The last post Nicholas made before "Completely Shattered" aired was of "Hawkami date shots" from the set and a video featuring Nicholas teasing Greensmith as they worked with the hair and makeup crew. Sadly, with the death of Hawkins, they might not get to make photos like this anymore. Hopefully, Hawkins will make another appearance on the show sometime soon, even if it's only in a flashback.