Why T.J. Miller Won't Return As Weasel In Deadpool 3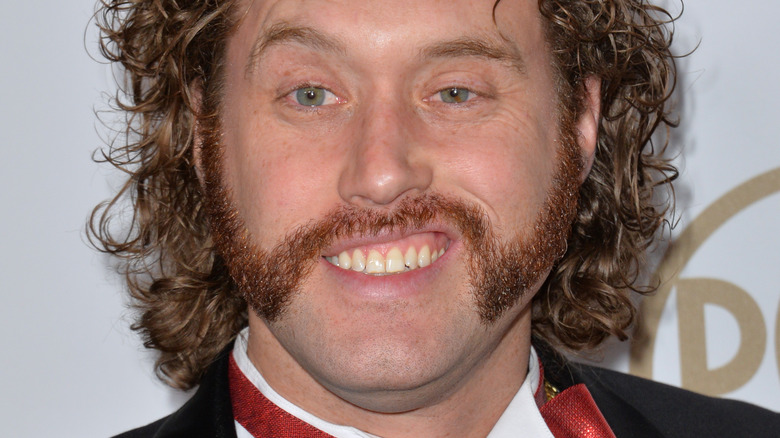 Jaguar PS/Shutterstock
Actor Ryan Reynolds snagged the social spotlight recently with the unprompted announcement that the third "Deadpool" film, which will be the Merc with a Mouth's first foray into the Marvel Cinematic Universe, will not only arrive in 2024 but will also unite his portrayal of Wade Wilson, aka Deadpool, with Hugh Jackman's portrayal of Logan, aka Wolverine. Unsurprisingly, the announcement spurred a little bit of excitement. Reynolds and Jackman are friends, and the two have been joking about a full-fledged crossover with their respective superheroes for as long as Reynolds has been a part of the genre (we'll just not count "X-Men Origins: Wolverine" for obvious reasons). 
Now, as the dust settles and fans hope to move onward with what we can only assume will be rampant speculation, an actor who appeared in the first two "Deadpool" films is coming forward with a statement that is seemingly intent on wrenching his history with the franchise back into the spotlight. T. J. Miller, who portrays Weasel, an odd bar man who accidentally helps Wade Wilson find his superhero name, stated — in very uncertain terms that will make more sense later — that he is not going to return for "Deadpool 3." 
T. J. Miller accused Reynolds of being cruel to him
As noted by Entertainment Weekly, during an interview with "The Adam Corolla Show," T. J. Miller claimed that he had no active intention to return for the third installment of "Deadpool" because Ryan Reynolds allegedly used his character persona to harass him on set. "As the character, he was, like, horrifically mean to me. But to me," he said. "As if I'm Weasel. He was like, 'You know what's great about you, Weasel? You're not the star, but you do just enough exposition that it's funny, and then we can leave and get back to the real movie.'"
Miller went on imply that Reynolds' alleged actions stemmed from jealousy of both Miller's comedic skill and filmography, and suggested no one who was confident in their own work would say the things that Reynolds' allegedly said. "Would I work with him again?" asked Miller. "No. I would not work with him again. I sorta wish him well because he's so good at 'Deadpool,' and I think it's weird that he hates me." 
Throughout these lengthy comments, Miller emphasized that he believed Reynolds to be a fine comedian who should continue to make movies. He also stipulated that he once had similar feelings toward Michael Bay, before in fact working with the director again — though he couldn't resist also implying that Bay, like Miller, had negative feelings about Reynolds. That said, there's some pretty huge reasons why, for many, Miller's thoughts on this matter should be looked at skeptically — namely, Miller's own history.
T. J. Miller has zero credibility in the public eye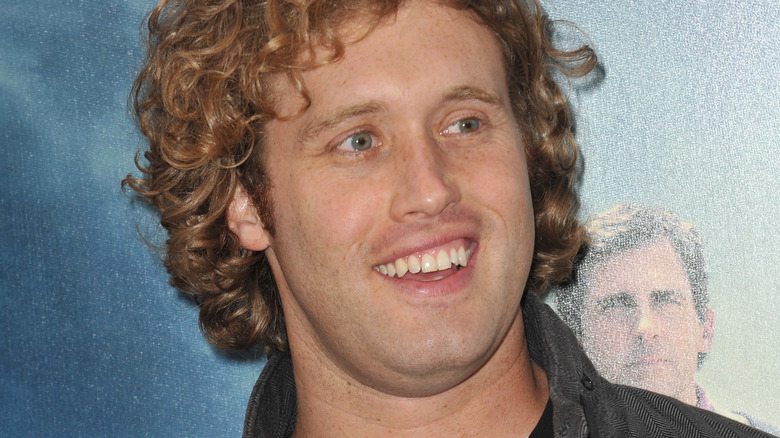 Featureflash Photo Agency/Shutterstock
According to T. J. Miller's interview with "The Adam Corolla Show" (which can be found in its entirety on YouTube), the rest of the "Deadpool" cast and crew observed this alleged behavior from Ryan Reynolds, as well. Should this be true, it's possible that a corroborating source will appear to lend some credence to Miller's claims. As it stands, without further evidence, it's likely that nothing more will come of this public accusation. 
It's worth mentioning that there are other reasons that Miller's claims might fall on deaf ears: The actor has a long list of accusations tied to his name. In 2017, he was accused of assaulting an Uber Driver (via Business Insider) — for this, a settlement was reached in 2018. Also in 2017, he was accused of sexual assault (via Indie Wire), though the claim was never substantiated. Shortly thereafter, in 2018, Miller was written off "Silicone Valley" — when asked for details, his fellow cast mates were vague, but described Miller as a man with "demons" (via The Hollywood Reporter) and indicated possible substance abuse. Also in 2018, he was arrested for allegedly inciting a fake bomb scare (via People) — the charges were later dropped after his defense cited a previous brain surgery.
With this in mind, Miller lacks the track record and social currency to be taken at his word. Should his account be verified by another source, well, that would shift things ... but not by a lot. By Miller's own account, he's not accusing Reynolds of much. Nonetheless, for now, do not anticipate the controversial comedian to appear in any further entries into the "Deadpool" franchise. 

If you or anyone you know has been a victim of sexual assault, help is available. Visit the Rape, Abuse & Incest National Network website or contact RAINN's National Helpline at 1-800-656-HOPE (4673).