The Rise Of T.J. Miller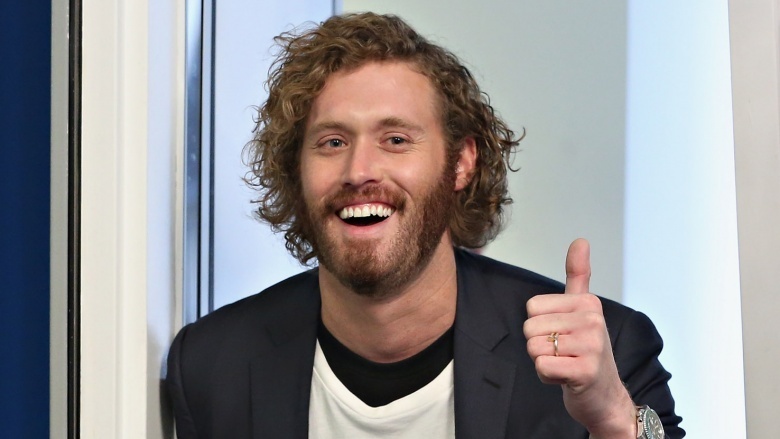 Getty Images
T.J. Miller is the breakout star of HBO's tech satire Silicon Valley, stealing scenes as the obnoxiously aggressive (and aggressively obnoxious) Erlich Bachman. He's hitting big at the movies, too, with a major role as Weasel in the blockbuster Deadpool. Here's a look back at where you might have seen Miller before.
Carpoolers (2007)
Miller's first major role came via this short-lived ABC single-camera comedy. Created by The Kids in the Hall's Bruce McCulloch, it followed the home lives of four guys connected only by their daily carpool. Miller played the sons of one of carpoolers, a literally gigantic but soft-spoken man-baby named Marmaduke who still lives at home, doesn't work, and spends most of his time in his underwear entertaining his own flights of whimsy.
Cloverfield (2008)
Very little was known about Cloverfield before it hit theaters—including the cast. This J.J. Abrams-produced, found-footage style science-fiction thriller is about a group of college-age friends having a party in New York City before they all go their separate ways...until they're terrorized by a Godzilla-type monster creature. Miller plays a bro named Hud, the funny one in the group.
Chelsea Lately (2009)
With a network sitcom and a hit movie on his résumé, Miller's career was on the rise—but he wasn't quite a household name yet, because Carpoolers was cancelled after 13 low-rated episodes and the star of Cloverfield was the monster (and the new genre of "found footage horror"). Undaunted, Miller turned to his stand-up comedy and improv training and made more than three dozen appearances on Chelsea Lately, Chelsea Handler's E! talk show. Miller riled up his fellow comedians during the show's signature "Round Table" segment while also appearing in sketches. He even guest-hosted the show a few times.
Extract (2009)
This comedy was written and directed by Mike Judge (Office Space, Idiocracy) and is built around the owner of a flavor extract company (Jason Bateman) desperately trying to cheat on his wife. Miller plays Rory, a dim worker at the extract plant. It's a bit part, but it introduced Miller to Judge, who would later cast him on Silicon Valley.
Yogi Bear (2010)
A hybrid of live-action and animation, the 2010 big screen version of Yogi Bear was meant to appeal to kids largely ignorant of the more than 50-year-old cartoon character. The movie is likely most notable for Miller's unhinged portrayal of Ranger Jones, a role he secured with an equally unhinged audition video. Miller sent Warner Bros. a video of himself dressed up like a ranger and running lines against Bam Bam—an actual bear he rented for the day.
Mucinex commercials
Miller has a unique voice—deep but crisp and super articulate. He's found a lot of work in voiceovers and commercials, most notably for Mucinex, an allergy medication. That's his voice giving life to an anthropomorphic blob of evil, allergy-related mucus.
The Goodwin Games (2013)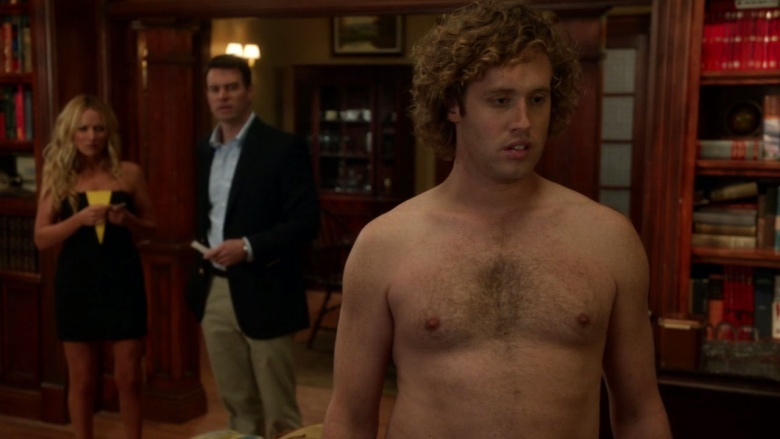 Miller's last big stop before Silicon Valley: this gentle family sitcom on Fox. Through a series of videos left by their late father, three estranged adult siblings return to their small town thinking they're competing in a series of challenges to inherit their father's millions...but it's really just a plot to bring them closer together. Created by Carter Bays and Craig Thomas (who also created How I Met Your Mother), The Goodwin Games suffered a quick reversal of fortune after Fox changed its mind and cut its order down to six episodes, which aired in the summer of 2013. Had the show gone longer and Miller stayed tied down to the role of lovelorn slacker Jimmy Goodwin, he couldn't have gone on to Silicon Valley.
The Crunchies (2015)
Also called the "Oscars of Silicon Valley," the tech industry gets all dressed up and hands out awards to itself at each year's "Crunchies." Because of his connection to Silicon Valley, Miller was asked to host, and organizers thought he'd bring some genuine fun and humor to the proceedings. He did, but he also spent a lot of his time on stage making fun of Gabi Holzwarth, a violinist who plays tech industry parties...who is also the girlfriend of Silicon Valley power nerd Travis Kalanick, the founder of Uber. Holzwarth and Miller got into a shouting match, and Miller made some ill-advised comments before moving on to mock the many venture capitalists in the audience. Hosting the Crunchies again is probably not in the cards.