Tom Welling Explains The Major Contract He Signed That Impacted Smallville's Trajectory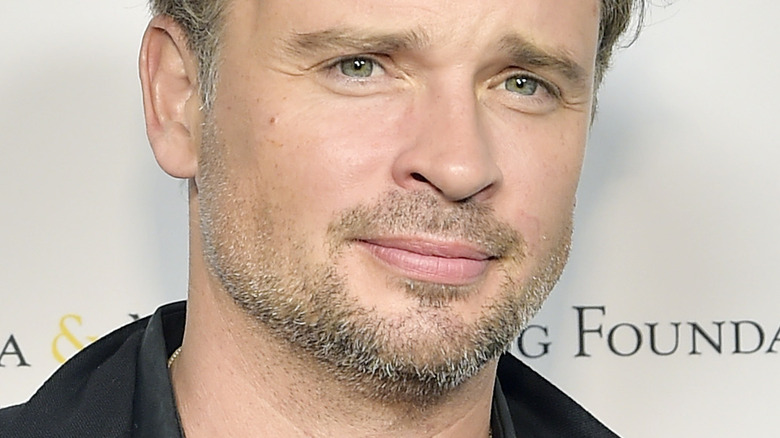 Stefanie Keenan/Getty Images
Over the years, the character of Superman, the alter-ego of reporter Clark Kent, has seen many incarnations, from live-action to animation, and from film to television.
Two notable entries in the latter category were "Adventures of Superman," which ran for six seasons from 1952 to 1958, with George Reeves playing the titular character, and the ABC series "Lois & Clark: The New Adventures of Superman," which ran for four seasons, from 1993 to 1997, with Dean Cain as Superman alongside Teri Hatcher as Lois Lane.
Neither show, however, delved into what Clark Kent's life was like growing up, which was the area that "Smallville" decided to explore over the course of its ten seasons. Beginning in 2001, the show began on WB before making the jump to the newly created The CW. This version saw Tom Welling take on the role of the superhero's early years, and in a recent panel, Welling spoke about a key clause he put in his contract that affected the show as a whole. Here's the major contract Welling signed that impacted the trajectory of "Smallville."
Welling made sure the show never put him in the suit
During a panel at the 2022 New York Comic Con, Tom Welling said that he put a clause in his original contract that he would not put on the tights or the suit and cape most commonly associated with Superman.
Welling brought it up in response to a question from the moderator of the panel bringing up that the hook of the series had been "no flights, no tights." Welling expanded that the reason for that was because "Smallville," to him, was more of a character study "about people trying to figure out their identities and their places in the world," and he felt that having Clark immediately become Superman would detract from that.
Welling added that his fears weren't unfounded, as he saw a script for the fifth episode of the first season that had his character in the suit. He reiterated that the matter was not up for debate, immediately nixing the idea because it violated his contract. He concluded by saying that the show wouldn't have lasted as long as it did if Clark had simply put on the suit at the start.
Co-star Kristin Kreuk supported Welling's position, noting that he had the right idea to put that clause in his contract, saying that "it's so tempting to jump to that at any moment," and Welling barring them from doing that kept the show's focus on the characters, where it was meant to be.