The DC Hero Tom Welling Always Wanted To Appear In Smallville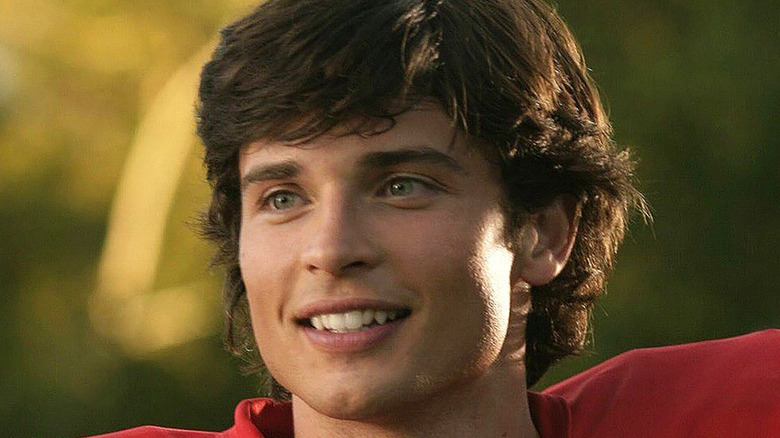 Warner Bros. Television
Before the Arrowverse dominated DC's television offerings, "Smallville" paved the way for superheroes on TV. Actor Tom Welling's version of Clark Kent struggled to find his place in the world while learning to control his alien powers before eventually becoming Superman. During DC FanDome, Welling reunited with his co-star Michael Rosenbaum (Lex Luther) to celebrate the show's 20th anniversary. Welling, who had little acting experience before "Smallville," admitted he had no idea when he took the part that the show would last 10 seasons or have such impact. "One thing to remember, it was never about being Superman," Welling said. "It was about not knowing what the future is. "
Other actors from the series appeared via video messages to pay tribute. Michael Cassidy, James Marsters, John Glover, Kristin Kreuk, Cassidy Freeman, Justin Hartley, Laura Vandervoort, and Sam Witwer shared memories from the set. Additionally, Welling discussed some of the things he wished had happened on the show that unfortunately never worked out.
Tom Welling always wanted Bruce Wayne to appear
"Smallville" saw many heroes join Clark Kent to fight villains and save the day. While Barry Allen (The Flash), Oliver Queen (Green Arrow), and Arthur Curry (Aquaman) topped the list of notable heroes to appear on the series, there was one DC superhero who never swooped in for a team-up.
During FanDome, Tom Welling revealed he wished Batman had made an appearance on "Smallville." "I always thought we should have seen a Bruce Wayne," the actor said. "Could you imagine Clark barging into your mansion, and like, you're talking to somebody and [someone says] 'I'd like you to meet Mr. Wayne.'" Welling said it would have been a cool thing, and Michael Rosenbaum agreed. This isn't the first time the actor has said this either.
According to Comic Book, Welling told an audience at Fan Expo Canada that he wished Bruce Wayne had been a part of "Smallville" at some point. "I can tell you what I wish we would have seen, was some version of a Bruce Wayne that fit in with what we were doing. I think that would have been cool," he said.