The Hellraiser Reboot Producers Are Already Thinking About A Sequel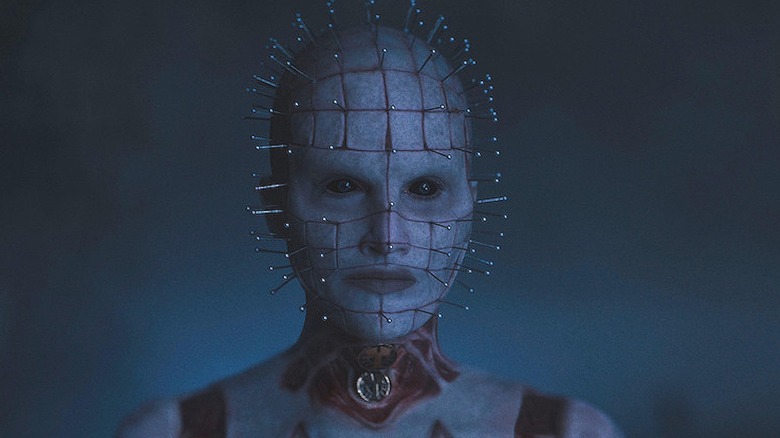 20th Century Studios
Hulu's "Hellraiser" has, so far, been exceeding the expectations of horror fans and reviewers everywhere, with a solid 68% critic rating and 67% audience score on Rotten Tomatoes. And as we all know with horror franchises, with success ultimately comes sequels, which is exactly the route that "Hellraiser" could now take, according to its creators. 
For those who don't know, David Bruckner's new take on Clive Barker's 1987 cult classic is the perfect example of a Hollywood franchise actually benefiting from a reboot, with it being praised for not just evolving the story of the Cenobites and Barker's Hell Priest, Pinhead (Jamie Clayton), but also adding to its legend and cinematic mythos. The film, which came out on October 8, is said to have plenty of gore and awesome interpretations of Barker's infamous characters, like Pinhead and the Chatterer (Jason Liles). One review, from The Hollywood Reporter, explained that "fans would be relieved to know that this 'Hellraiser' definitely doesn't skimp on the gore." Others claimed that it was one of the best "Hellraiser" movies since the original. And while it may feel like a sequel, the creators who worked on the Hulu revival already believe that it could end up being a creative launching pad for other "Hellraiser" projects.
Hellraiser creator says the story is 'fungible' enough to spawn sequels
According to writer and story creator David S. Goyer, Hulu's "Hellraiser" ultimately laid the foundation for future movies and projects, with its story being palpable enough to play with for years to come, he said. "Story is fungible," Goyer explained to Variety. "Do we have notions (for more 'Hellraiser)?' Yes," he said. "But there wasn't a specific setup plan. We didn't beat out a trilogy."
When coming up with the movie's plot and overall feel, Goyer worked with director David Bruckner and writers Ben Collins and Luke Piotrowski to make a movie that wouldn't be just another sadomasochistic spoke in Clive Barker's world of "Hellraiser." They wanted to create something that stood on its own. 
"The case of 'Hellraiser' wasn't just, 'Oh my God let's remake Hellraiser,'" Goyer told Variety. "In this case it's an allegory for addiction and that seemed very relevant and very evergreen." Because of this, the rebooted horror franchise is able to leave its interdimensional doors wide open for other stories to possibly crop up — which is what many fans would like to see. 
"Never was a fan of the franchise, but [Hulu's Hellraiser] has me wanting a sequel if they up the ante a little in terms of horror," said Twitter user @Lambey332, who posed the idea, "What if the Lament Configuration has another solution that people haven't found?" User @TD28010120 tweeted, "I hope we're getting a sequel, there is so much more they can do with this new take on Hellraiser. I loved that it was is own thing but still honoring the original movies."