What Is The Song Playing On The Phonograph In Werewolf By Night?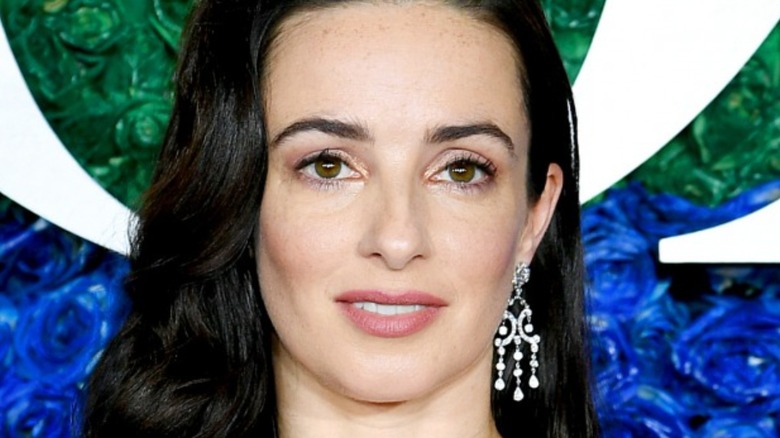 Dimitrios Kambouris/Getty Images
In the first Marvel Studios Special Presentation, "Werewolf by Night," director Michael Giacchino gives fans a treat by paying homage to classic horror films. Besides most of the special being in black and white, the opening credits sequence looks like it's straight out of an early Hollywood blockbuster.
Laura Donnelly, who plays Elsa Bloodstone, told Collider that the vintage aesthetic was a big part of what drew her to the project. "I knew that it was going to be a Halloween special and that's all," Donnelly recalled. "And then [Giacchino] told me about what the piece was going to be, and the tribute that he wanted to pay to the old movies ... So I mean, at that point, I was extra thrilled because I kind of would've done anything that the MCU wanted me to do, but to know that there was something that was so in my wheelhouse was very exciting." In fact, Donnelly grew up watching classic horror films and was easily able to converse with the director about them.
However, the special is pretty vague about when the story actually takes place. Presumably, it's the present day because most properties in the Marvel Cinematic Universe are, but then there are movies like "Captain America: The First Avenger" and "Captain Marvel," which are both set in past eras. There aren't any overt references to modern technology in "Werewolf by Night." On the contrary, there's a good bit of old-fashioned technology, like the old-timey phonograph at Bloodstone Manor complete with a song straight out of World War II.
Wishing (Will Make It So) by Vera Lynn
The song playing on that phonograph is "Wishing (Will Make It So)" by Dame Vera Lynn, which appeared on the soundtrack for the 1939 film "Love Affair," starring Irene Dunne and Charles Boyer. According to her BBC obituary, Lynn was voted favorite entertainer among British troops in World War II, and her song "We'll Meet Again" became more associated with the war than any other. She never retired, which is remarkable considering that she died in 2020 at the age of 103. She was considered a national treasure in the United Kingdom, so much so that even rock band Pink Floyd referenced her in the song "Vera" on their famous 1979 album "The Wall," demonstrating a legacy that lasted through multiple generations (via Rolling Stone).
So once again, director Michael Giacchino harkens back to the classic era of horror movies with a song that places the mood of the special, at least, somewhere around the late 1930s to early 1940s. It's also likely not a coincidence that the song appeared on a classic movie soundtrack, giving the whole special one big early Hollywood vibe.