What Only Marvel Comics Fans Know About Man-Thing And Werewolf By Night's Friendship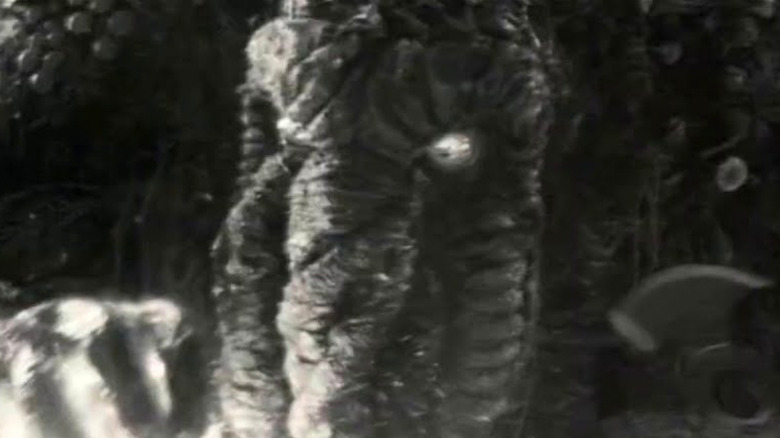 Marvel Studios/Disney+
Contains spoilers for "Werewolf by Night"
Marvel's first special presentation, "Werewolf by Night," focuses on Gael García Bernal as Jack Russell, a wolf in man's clothing that attends an evening with monster hunters and becomes a target himself. The TV movie marks the third directorial effort of composer Michael Giacchino and one of the wildest endeavors to come out of Marvel Studios in years.
Spilling blood and gore under a black-and-white lens, "Werewolf by Night" also marks the big debut of the fearsome, foilage-infused Man-Thing, who debuted in Marvel Comics in 1971 (via Marvel Database). An empathetic creature that has proven to be a powerful force against impending threats over the years, it's understandable why he's seen as such a terrifying presence here initially in a perfectly suited playground for him to run around in. The question is, why do Jack and Man-Thing have such a close bond? And might there be a chance to explore it further in future areas of the Marvel Cinematic Universe?
Werewolf by Night and Man-Thing's history goes back to the Legion of Monsters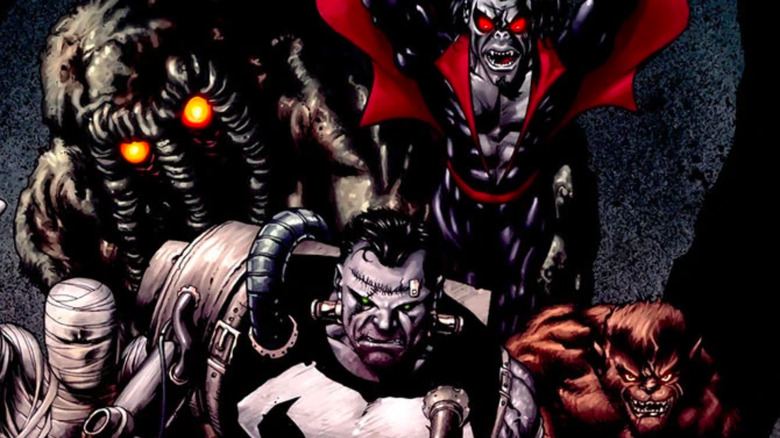 Marvel Comics
It only takes a surprise hug from an old friend in "Werewolf by Night" to assure those uninitiated in Marvel monsters that Jack and Man-Thing go way back. The hug from this blooming green gorilla-like being suggests a lot of love between the two, which Jack only discreetly refers to in the film. In the comics, though, this pair of horrors with hearts of gold spend time together on the supernatural superteam the Legion of Monsters.
Debuting in 1975 (via Marvel Database), the Legion of Monsters consisted of a collection of nightmarish creatures that fought for the fanged, ferocious, and feared by humanity. Besides Man-Thing and Werewolf, its ranks also included Morbius the Living Vampire and Ghost Rider the Spirit of Vengeance. In the years that passed, the Legion also enlisted the help of the Living Mummy, Manphibian (think "Creature of the Black Lagoon"), and an undead Frank Castle, aka the Punisher (Jon Bernthal), who briefly became FrankenCastle (which sounds as cool as it was). And the events of "Werewolf by Night" suggest some of this could come to fruition, albeit with one slight adjustment.
Is Werewolf by Night setting up the Midnight Sons?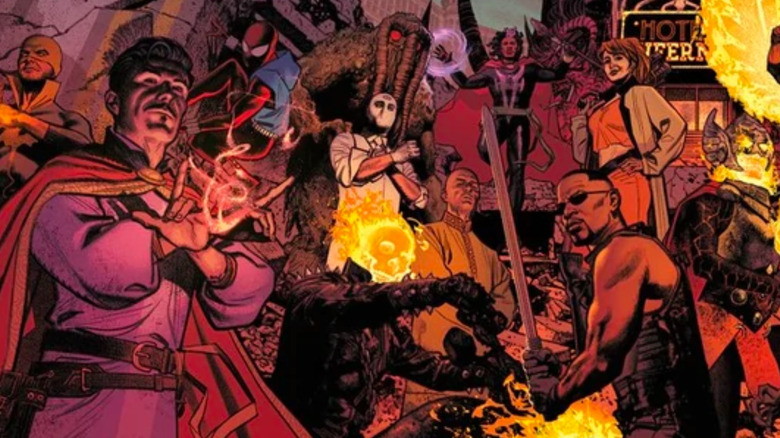 Marvel Comics
In addition to the Legion of Monsters, Man-Thing, for all his grumbling, mumbling ways, has managed to be enlisted into several other superteams over the years, including the Midnight Sons, a team of supernatural heroes united to battle the dark and magical forces threatening our world (via Marvel Database). This team home(d) the now-familiar Jack Russell and Elsa Bloodstone (Laura Donnelly), as well as MCU veterans Doctor Strange (Benedict Cumberbatch), Wong (Benedict Wong), and Mr. Knight (Oscar Isaac).
Over the years, the Midnight Sons have also gotten help from the iconic vampire hunter Blade, who is scheduled to make his first on-screen appearance (not counting his voice role in the "Eternals" post-credits scene) in 2023's "Blade," starring Mahershala Ali. Add him to the potential guest list of defenders in a very gray area, and you've got a killer breed of heroes with whom Marvel could have some scarily good fun.