The Super Mario Bros. Movie Teaser Trailer Has Fans All Saying The Same Thing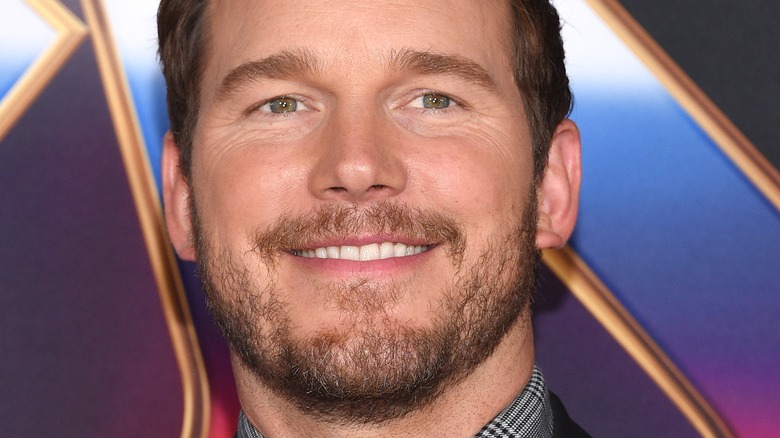 DFree/Shutterstock
The Internet has been bracing for the release of the teaser trailer for "The Super Mario Bros. Movie," which stars Chris Pratt as everyone's favorite red-clad plumber who fights giant lizards for some reason. Fans have been excited about the movie, but not so much about the prospect of Pratt as the voice of Mario. His reputation is still reeling after an Instagram post he made in November 2021 in which he wrote about his wife, Katherine Schwarzenegger, "​​She's given me an amazing life, a gorgeous healthy daughter ..."
Many fans took offense, feeling that this was a slight against his son Jack, who he had with his first wife, Anna Faris, as the child was born prematurely and underweight (per Us Weekly). In an interview with Men's Health, Pratt talked about how hurt he was that people took offense to what he intended as an innocent post. "My son's gonna read that one day," the "Guardians of the Galaxy" actor told the outlet. "He's nine. And it's etched in digital stone. It really ... bothered me, dude. I cried about it."
That's on top of his previous controversy in the aftermath of his "Late Show with Stephen Colbert" appearance when Elliot Page tweeted in 2019 that Pratt's church was "infamously anti-lgbtq." Pratt defended his church, posting, "I go to a church that opens their doors to absolutely everyone." 
As illustrated above, resentment against the once popular actor, known for playing a laid-back "bro" type, has been building over the last few years. That might be part of the reason why fans were disappointed to hear Pratt would be voicing Mario, but it certainly wasn't the only reason.
Everybody hates Chris
Well, they hate his voice, anyway. With the trailer here, almost all fans on social media agree that the movie looks and sounds great, except for one thing: Chris Pratt. Fans' hopes were not high leading up to the release of the trailer, with many predicting that his voice would end up just sounding silly coming out of Mario's mouth. "[T]he second chris pratt mario opens his mouth in the trailer being on here is going to be a combination of the day the queen died and the day the cats trailer dropped," tweeted io9 and Gizmodo's James Whitbrook. Pratt defended his performance before anyone heard it, telling Variety that his voice for the character would be "unlike anything you've heard in the Mario world before."
Well, it may be unlike what anyone's heard before, but not necessarily in a good way for fans. "Animation is beautiful and *most* of the casting is perfect," tweeted @Daniel_Stephan_ in response to Illumination's tweet of the new trailer. "But still, WHY is Chris Pratt Mario...lmao." Similar sentiments were expressed on Reddit in the r/entertainment subreddit where u/GyrKestrel wrote, "Jack Black as Bowser sounded great. Chris Pratt sounds like Chris Pratt and not Mario."
With the reaction to Pratt being so negative, could Universal and Illumination make some last-minute changes to the film? It's not as farfetched as it might sound.
The Ugly Sonic effect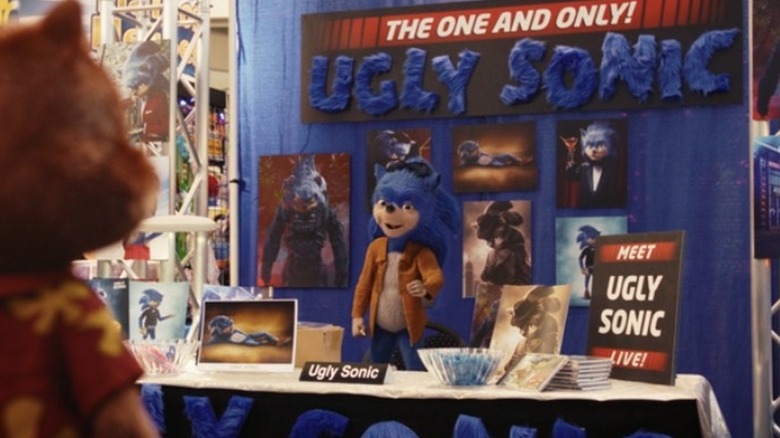 Disney+
Filmmakers could arguably learn a lesson from Mario's Sega counterpart. When the original trailer for "Sonic the Hedgehog" (which the studio seems to have since removed from YouTube) was released, fan response to the original Sonic design left many fans disappointed, to put it lightly. "Good morning to absolutely everyone and everything other than live action Sonic the Hedgehog's creepy human teeth xx," tweeted one such fan, @Charalanahzard. 
The film's director, Jeff Fowler, tweeted a thank you for the fan support and for the critique, vowing to make the changes that fans asked for. And thus, Sonic was redesigned, which most fans seem to be happy with. In Lonely Island's "Chip 'n Dale: Rescue Rangers" movie, the original character design for Sonic appears as a character named "Ugly Sonic," a fellow dejected and rejected cartoon star who could frequently be found working the same convention circuit as Dale.
Similar fan reactions may have triggered a redesign for She-Hulk after fans reacted poorly to the design for the character in the first trailer. "Live action Shrek looks cool," tweeted @puggapillar, mocking the original design. An interview published in Empire with Tatiana Maslany in May 2022 shared the first new images, which were clearly different from the original trailer, and they better match the design eventually used on the show.
So there's precedent for Illumination and Universal to make some tweaks to the movie, especially with the release date not being until April 7 of next year. It's probably unlikely that the studio would fire its lead voice actor, but they could possibly work with him to try to find a voice that sounds a little less like Chris Pratt playing Chris Pratt.