Family Secrets And Dark Powers Collide In The Trailer For Anne Rice's Mayfair Witches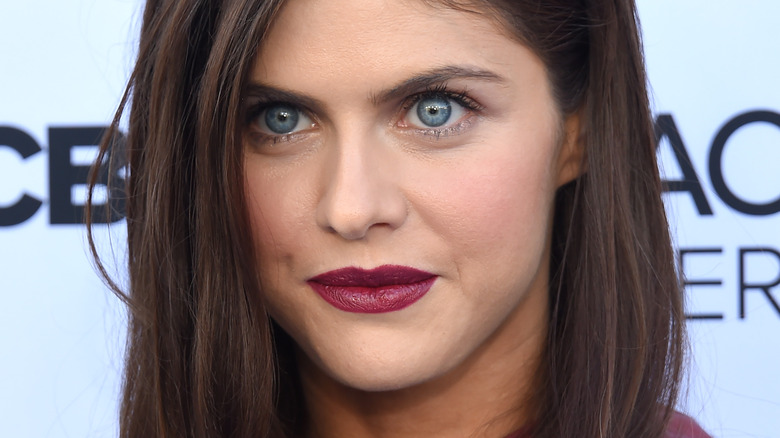 DFree/Shutterstock
The late novelist Anne Rice launched her "Lives of the Mayfair Witches" series in 1990 with the first book in the trilogy, "The Witching Hour." The book introduces readers to the Mayfair family, which has wielded incredibly powerful magic for decades and has been plagued by a mysterious entity known as Lasher. Dr. Rowan Mayfair, the estranged daughter of Deirdre Mayfair, slowly learns of her power and comes into a violent conflict with the malevolent spirit. With that, readers were hooked, so 1993's "Lasher" and 1994's "Taltos" came to fruition to keep the intriguing story going.
Though it took some time, Rice's writings eventually wound up in a position to be adapted for the small screen. In May 2020, AMC secured the rights to both "The Lives of the Mayfair Witches" and "The Vampire Chronicles," and by December 2021, production on a television take on the former was finally underway. Alexandra Daddario later landed the role of Rowan, with the likes of Harry Hamlin, Tongayi Chirisa, Beth Grant, and others joining her. With all of these dominos in place, fans only had one question: when will the first trailer arrive? Well, at long last, it's finally here.
The first teaser for "Anne Rice's Mayfair Witches" has hit the internet, and it's every bit as magical and mysterious as one would hope.
Mayfair Witches promises an appropriately supernatural viewing experience
On October 6, 2022, the debut trailer for "Anne Rice's Mayfair Witches" arrived on the official AMC YouTube channel. It opens with Alexandra Daddario's Rowan Mayfair, who seems to live a rather mundane life as a neurosurgeon. However, once she enters the worn-out gates of the Mayfair estate, things quickly go off the rails. Her psychic powers begin to awaken as it's implied she killed someone with them, leading her down a rabbit hole to figure out what's truly going on. It's also made clear that the Mayfairs have quite a reputation among the locals, and it's not exactly a good one.
As if her strange new powers and the negative connotations that come with the Mayfair name weren't enough, Rowan also has to contend with Lasher (Jack Huston). Ciprien Grieve (Chirisa) explains to her that he's haunted the Mayfairs for years, using magic and shapeshifting to make their lives miserable. He warns that he'll likely go after her, and if the trailer is any indicator, Lasher certainly does. To the tune of Halsey's "The Tradition," we see just how chaotic Rowan's life becomes as she attempts to unravel the secrets of her family that have been kept under lock and key for so long.
"Anne Rice's Mayfair Witches" premieres in January of 2023, and if you're a fan of mystery, family drama, and the supernatural, this is one show you won't want to miss.