The Scooby-Doo! Mystery Incorporated Character You Likely Forgot Linda Cardellini Once Played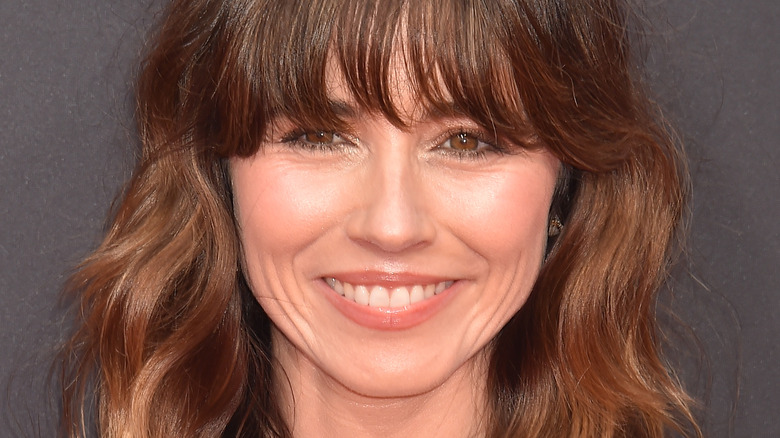 Featureflash Photo Agency/Shutterstock
"Trick or Treat Scooby-Doo!" has finally, at long last, given Velma Dinkley (voiced by Kate Micucci) the chance to embrace her identity as a lesbian. Fans have speculated for years but, for various reasons, it has never been confirmed until now, with even Google getting in on making Velma's queerness unmistakable (via Variety).
And to be clear, there have been countless opportunities to take this step. To date, there have been more than 30 iterations on the big and small screens of "Scooby-Doo!" Granted, the very first one was in 1969, when the modern LGBTQ+ movement was only just beginning to take shape (via History.com). Nonetheless, fans have found hints of Velma's true sexuality in countless other versions.
This includes the early-aughts live-action movies, in which Velma was famously played by Linda Cardellini of "Dead to Me" and "Freaks and Geeks." Cardellini's own portrayal of Velma in the first "Scooby-Doo!" live action movie was, according to James Gunn, also supposed to be openly queer. In 2020, Gunn tweeted as much, also pointing to incessant studio interference as the reason it never made it to the final cut.
This, however, isn't Cardellini's only foray into the world of the mystery-solving gang. Nor in fact is it the only role she's played in regards to Velma's sexual identity.
Linda Cardellini voiced Marcie in Scooby-Doo! Mystery Incorporated
In 2010, Cardellini was cast as the voice of Marcie Fleach in the animated series "Scooby-Doo! Mystery Incorporated." This project was notable for featuring villains that were actually ghosts and monsters, rather than a human with access to creepy costumes and practical effects (via the Guardian).
It was also, via the character of Marcie, the first deliberate admission on the part of showrunners that Velma is, indeed, gay. Marcie — nicknamed "Hot Dog Water" given that her father's amusement park job always has her smelling of the gross liquid — is first portrayed as a criminal and a rival to Velma (Mindy Cohn). Throughout the course of the show, however, she is given something of a redemption arc, and is even brought back to life after the gang finally defeat the series big bad, the Evil Entity. In the final episode, Marcie and Velma are shown to be dating.
Producer Tony Cervone confirmed as much in a 2020 Instagram post. "I don't think Marcie and Velma had time to act on their feelings during the main timeline," said producer Tony Cervone, "but post reset, they are a couple. You can not like it, but this was our intention" (via CBR.com).