Some Andor Fans Have A Sneaking Suspicion About Vel After Episode 5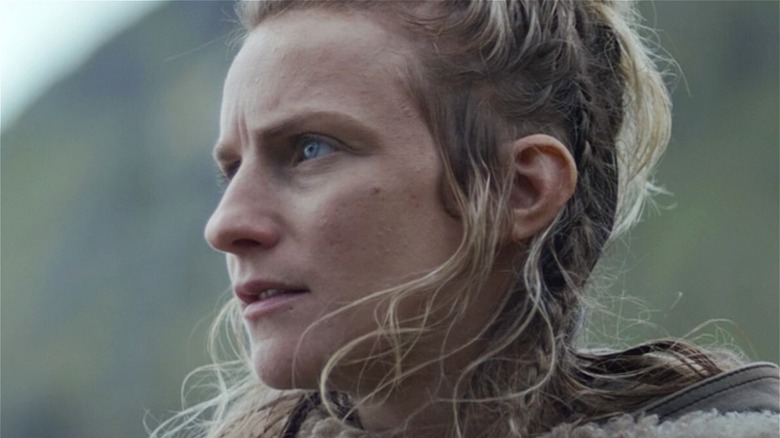 Lucasfilm/Disney+
Contains spoilers for "Andor" Season 1, Episode 5 — "The Axe Forgets"
"Andor" is the latest installment in the "Star Wars" universe, and it's off to a strong start. The series currently sits at 91% on Rotten Tomatoes, with fans and critics praising the spy thriller. Episode 5 premiered this week, and the "Andor" praise continues, with IGN calling it "the definition of a solid if not spectacular episode, with strong writing and performances doing a lot of the heavy lifting." 
Episode 5 of "Andor" continues the show's ongoing breakdown of the Rebellion, but this time it puts the intense action scenes on the back burner in favor of character development. Paranoia runs high in the episode, focusing on Cassian Andor (Diego Luna), Vel Sartha (Faye Marsay), and the rest of the rebel group completing final preparations for their heist. Cassian gets a lot of time to shine in Episode 5 as his strained relationship with his fellow rebels is further explored. Arvel Skeen (Ebon Moss-Bachrach) reaches a boiling point with Cassian, confronting him and taking his Kyber crystal while the group makes their way toward the Empire's base. Vel, being the leader she is, is forced to intervene to deter any violence, and Cassian reveals that he's receiving payment to be in the group. Cassian and Skeen put aside their differences, and the group finishes the hike to their destination. Once they arrive, Vel and Cinta Kaz (Varada Sethu) split off to continue their part of the plan, which the leader is oddly keeping a secret. 
Throughout the episode, Vel refuses to give Cassian any information regarding her role in the plan, leading fans to think that it could be a very dark responsibility.
Fans think that Vel's job is to take out Lieutenant Gorn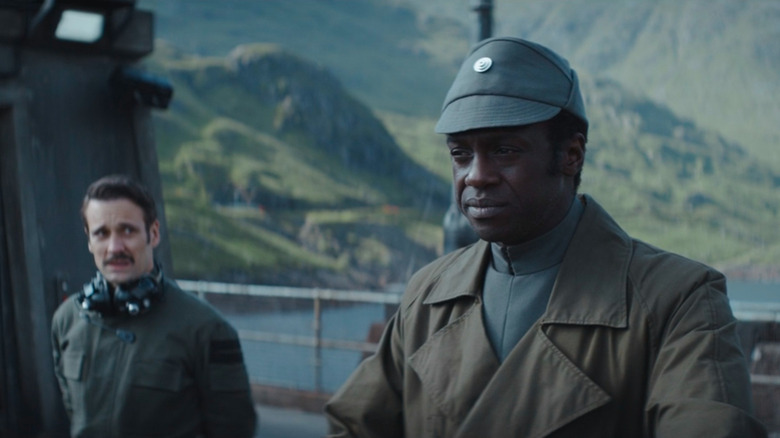 Lucasfilm/Disney+
The Rebels in "Andor" are plotting to steal from the Empire, so it's no surprise that the team members would be secretive — but Vel is acting oddly mysterious for someone who's supposed to be leading. She refuses to reveal any information about her job to the rest of the team, and some fans think it's because her role is to kill one of them: Lieutenant Gorn (Sule Rimi). Gorn is a lieutenant in the Galactic Empire's Aldhani division, secretly plotting against his employers. Episode 5 revealed that though he was once loyal to the Empire, Gorn's mindset changed after they murdered the Aldhani woman he loved. Afterward, he became a spy for Vel's team and a potential loose end.
The theory that Vel's set out to kill Gorn comes from Reddit, where user u/JamesFortier brought it to fans' attention. On the thread, fans discussed how the show doesn't reveal who you can and can't trust, building tension throughout the first five episodes. That's when u/JamesFortier suggested the idea that Vel and Cinta set off to kill Gorn, tying up any potential loose ends. The comment took over the thread, with many fans not considering that a possibility. User u/ILoveRegenHealth said, "Whoa, didn't think of that. But that also makes sense because Vel seemed to not want to talk about what her role was to Cassian. In fact I think he asked her twice and both times she wanted to change the subject."
Other users, like u/huskyoncaffeine, responded more explicitly, stating that it would be a dark turn but a welcome one. They also mentioned how it would serve as a callback to Cassian's introduction in "Rogue One," which "Andor" hinted at in Episode 1.