The Poetic Way Andor's Opening Mirrors Cassian's Rogue One Introduction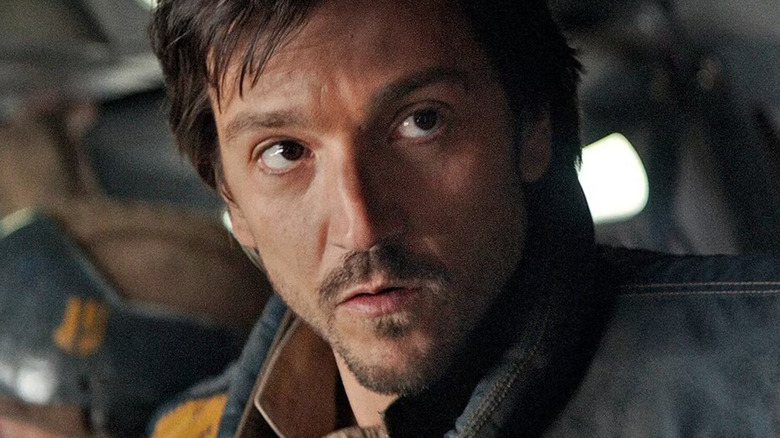 Disney/Lucasfilm
Contains spoilers for "Andor" Season 1, Episode 1

"Andor" hit Disney+ this week, and "Star Wars" fans are already loving the new spy thriller series.
The show takes place between the events of "Revenge of the Sith" and "A New Hope," five years before "Rogue One: A Star Wars Story." It follows Cassian Andor (Diego Luna) as he transitions from a small-time thief to a member of the early revolution against the Galactic Empire. The show will give "Star Wars" fans a better look at the early years of the Rebellion and more backstory on Luna's character.
Although only the first three episodes are currently streaming, "Andor" features plenty of Easter eggs and nods to previous "Star Wars" projects. "Andor" explores a period in the "Star Wars" timeline that Lucasfilm hasn't fleshed out as much as others, so it has the unique opportunity to include references to both the prequels and original trilogies. For example, during Episode 1 of "Andor," a GNK droid — better known as a gonk droid — gets in the way of Bix Caleen's (Adria Arjona) coworker while he's chasing her. The same episode also features an Imperial officer slurping down some glowblue noodles.
However, even eagle-eyed viewers may have missed one subtle reference to Cassian Andor's original introduction.
Andor's introduction is a callback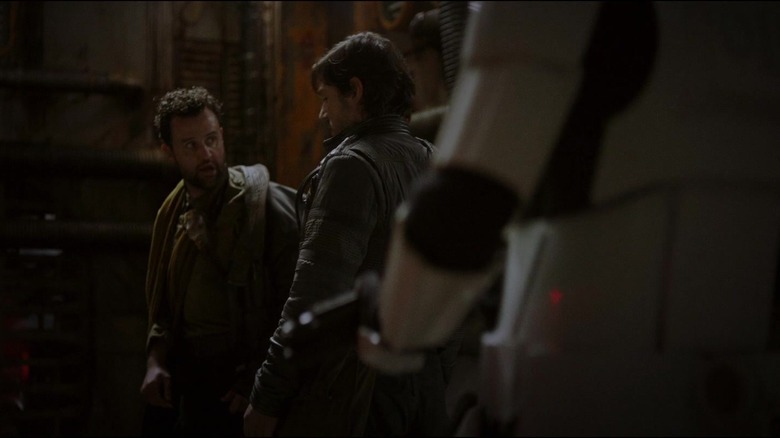 Disney/Lucasfilm
The subtle Easter egg comes from Episode 1 of "Andor." In the episode, Cassian Andor ends up killing two men. One was the result of an accident, and the other was out of fear and desperation. While the scene could easily be viewed as a normal conflict in a less-than-perfect "Star Wars" world, it directly references the character's introduction in "Rogue One: A Star Wars Story."
The "Rogue One" scene in question happens at the beginning of the film. Following Jyn Erso's (Felicity Jones) introduction, the movie transitions to Andor. He's doing some shady business with an associate who informs him that the Empire is stocking up on kyber crystals for their planet-killer weapon before two stormtroopers interrupt them. Andor kills them without hesitation and does the same to his associate before fleeing the scene. The "Rogue One" scene quickly shows who Andor is: someone who will stop at nothing to see the Rebellion succeed. The opening scene in "Andor" shows that the character has been this way for a long time. The subtle reference is a poetic nod to Andor's mindset, showing that he's not your typical "Star Wars" hero.
Diego Luna promised that "Andor" would show audiences Cassian's backstory and everything he did for the Rebellion leading up to "Rogue One." "We'll get to answer that and many other questions," Luna told ComicBook.com. "He talks about being part of this fight since he was six years old in 'Rogue One.' He talks about a very dark past. He talks about doing terrible stuff for the Rebellion. We're gonna get to know what he means, you know?"