Why Andor's Diego Luna Spent 15 Years Of His Life Thinking R2-D2's Name Was Little Arthur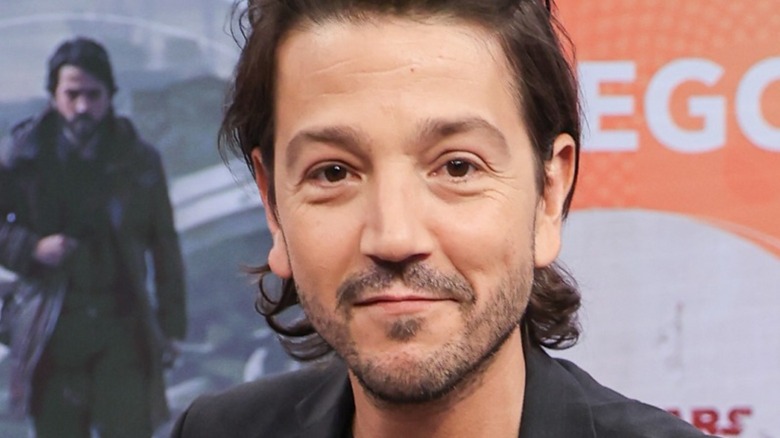 John Parra/Getty Images
Like most of us, "Andor" star Diego Luna is someone who grew up watching "Star Wars." But for a large portion of his life, the former "Narcos: Mexico" star was apparently pronouncing the name of one of his favorite characters — R2-D2 — totally wrong. And the reason why is endearing. 
Making his return to the galaxy far, far away after a five-year hiatus, Luna is once again portraying his "Rogue One" character Cassian Andor in the aforementioned Disney+ series. The 42-year-old native of Mexico has said that he never expected to come back to the "Star Wars" universe, especially after getting such a perfect ending in "Rogue One." 
"It was one film and I knew what the end was going to be," Luna explained to Vanity Fair, noting that the rumors of alternate "Rogue One" endings were false. "It's one of the things that excited me the most, you know, that Star Wars was going to do that, was going to show what sacrifice means, and was going to go for it." 
With Luna officially back in the "Star Wars" saddle, the actor has been making the media rounds as of late and offering up tidbits of information about his love for not just the franchise, but all of the characters within it. According to him, Luna spent more than a decade following the George Lucas films as a kid living in Mexico, which led to him calling R2-D2 "Little Arthur." He explained why in a recent interview.
Luna referred to R2-D2 as 'Ar-tu-ri-to' as a kid
Speaking in prior interviews, Diego Luna has recalled how he had initially misheard R2-D2s name when he was watching "Star Wars" as a kid and proceeded to spend the next 15 years or so saying "Ar-tu-ri-to" instead of the actual moniker. One explanation that he gave to IMDb was posted on TikTok and has since amassed more than 265,000 likes.
"I started watching 'Star Wars' in Spanish," Luna explained. "We in Mexico call it Arturito because it sounds close to R2-D2 and we call him Little Arthur. I grew up thinking he was called Little Arthur. You know, it took me awhile to find out it was [R2-D2]...I guess I was like 20 years old when I realized that." Speaking to Jimmy Kimmel during a "Jimmy Kimmel Live!" appearance, Luna recounted how nobody seemed to ask questions about the "Little Arthur" miscue on account of it actually making total sense. 
"He is tiny," Luna said, laughing.
As of this writing, seven episodes remain of "Andor" and Luna's second run as Cassian. The official plan is to put out 12 episodes for Season 1 — covering one full year of Cassian's life — followed by another dozen episodes for Season 2, which will focus on a span of four years. The events of the second season are currently slated to lead into the beginning of "Rogue One" (via Empire).