One Tree Hill's 7 Best And 7 Worst Episodes Ranked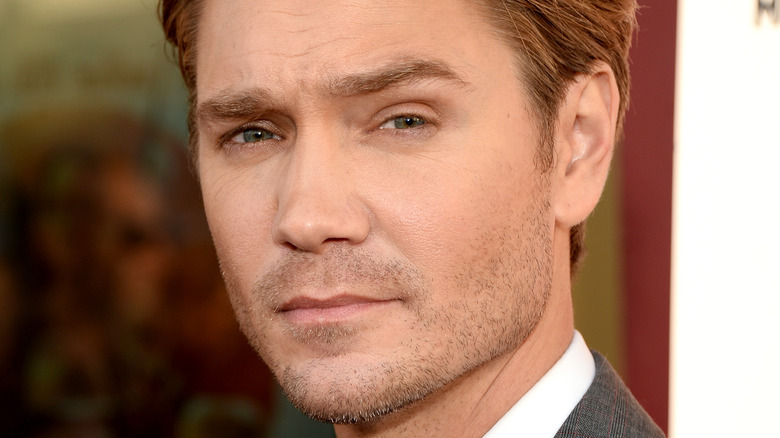 Matt Winkelmeyer/Getty Images
When "One Tree Hill" premiered in the fall of 2003, it quickly became one of television's most-popular teen dramas. Set in the fictional Tree Hill, North Carolina, the show follows the lives of half-brothers Nathan (James Lafferty) and Lucas Scott (Chad Michael Murray) as they navigate a life of basketball, romance, and tragedy.
Following the lives of almost a dozen North Carolina high schoolers, "One Tree Hill" almost always has too many characters to juggle at once, but it never totally loses its balance. As beloved characters make their exit, new and equally compelling protagonists enter. The chemistry among its cast is possibly one television's all-time best, and the show's stays on Hulu and HBO Max have helped introduce the world of Tree Hill to a brand-new generation.
After Season 6, lead stars Murray and Hilarie Burton were gone, and the show took a plunge into inescapable and over-saturated melodrama. The charm that made some of the early seasons great was not all lost, though, as later episodes made earnest attempts at navigating trauma and grief. With nine seasons and too many storylines to count, there's an almost never-ending bounty of great and underwhelming moments across the show's runtime. From school shootings to alternate realities to cliffhangers, here are the seven best and seven worst episodes of "One Tree Hill," ranked.
7. Worst: Lifetime Piling Up (Season 2, Episode 20)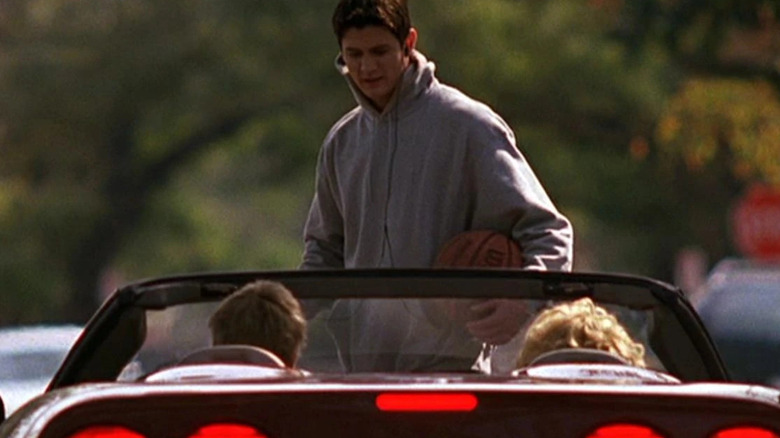 Warner Bros.
Alternate reality episodes can be pretty hit or miss. In the case of "Buffy the Vampire Slayer" and "Community," their episode-long departures from their standard timelines are all-time fan-favorite installments. Pretty much every episode of "Rick and Morty" could be considered an alternate reality episode, to some degree. But alternate realities don't always work out terrifically, as we've seen in "Friends," "Glee," "The Big Bang Theory," and sadly, "One Tree Hill."
In Season 2 of "One Tree Hill," after getting in a car accident, Nathan dreams that he and Lucas have switched lives and that, to get into the lucrative High Flyers basketball camp, the two half-siblings must face each other in a game of one-on-one.
In this timeline, Deb (Barbara Alyn Woods) is a single mother raising Nathan alone, Karen (Moira Kelly) is married to Dan Scott (Paul Johansson), and Lucas is the bully that Nathan was at the beginning of the show. It's supposed to be a humbling moment for Nathan to make him empathize more with his brother. But in the end, it's treated like some kind of nightmare for Nathan, as if Lucas' reality of growing up without a father was some kind of punishment. Up until that point, the show tries so hard to show that Lucas became a good guy without Dan in his life. In "Lifetime Piling Up," the writers erased all of that by making Lucas' life somehow a regrettable one.
7. Best: Pictures of You (Season 4, Episode 13)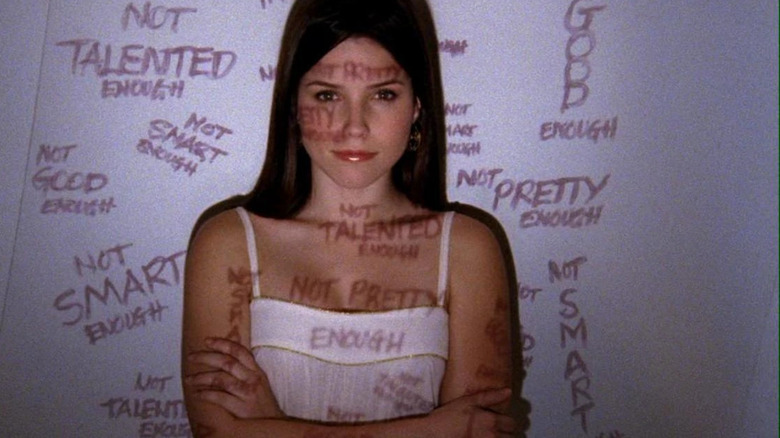 Warner Bros.
The time between Tree Hill's basketball state championship victory and graduation gave the showrunners ample time to add depth to the main characters. In "Pictures of You," a class assignment pairs up many of the seniors in an effort to give them a taste of the real world and see their peers as more than high school stereotypes. It's in this episode that we learn a lot about our protagonists' hopes and dreams.
Over the course of the episode, Brooke (Sophia Bush) tells Chase Adams (Stephen Colletti) that she cheated on her calculus exam; Skills (Antwon Tanner) admits to Haley (Bethany Joy Lenz) that he doesn't want to end up becoming a factory worker like his dad; Shelley (Elisabeth Harnois) tells Mouth (Lee Norris) she started her Clean Teens celibacy club because of a hard break-up; Nathan discloses to Peyton (Burton) that he momentarily believed that losing his mom to suicide might have been for the best, and Lucas tells Glenda Farrell (Amber Brooke) that he wants to be a novelist while she reveals that she has a bad relationship with her mom.
After spending a class period together, which takes up the same amount of time as one primetime television episode, the students return with a picture that best represents their partner. Highlights include Lucas in goth makeup, Skills holding his college acceptance letter, and Brooke with stereotype labels written over her whole body. "Pictures of You" isn't a traditional bottle episode, but it demonstrates that the characters are at their most compelling when tethered to one specific end goal.
6. Worst: What Are You Willing to Lose (Season 7, Episode 2)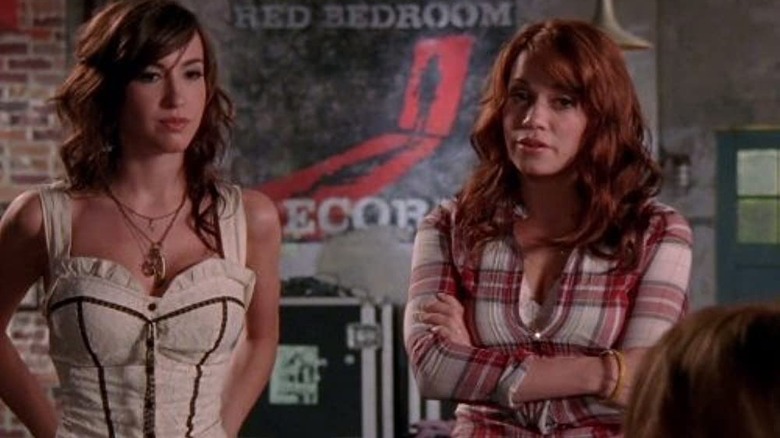 Warner Bros.
The Nathan-Renee (Kate French) cheating scandal is undoubtedly one of the show's worst plotlines. The fact that it lasts for almost 10 episodes is grossly unforgivable. "What Are You Willing to Lose" brings the scandal to the show's forefront after the season premiere teased us with it a week prior. It was obvious that the writers were looking for a surefire way to kick off their first season without Chad Michael Murray and Hilarie Burton, but they didn't stick the landing here.
Elsewhere in the episode, Haley and Mia (Kate Voegele) fight to save Peyton's Red Bedroom Records; Julian (Austin Nichols) and Brooke move in together, and Clay (Robert Buckley) defends Nathan as Renee's accusations are brought to light. When Dan reveals that his new wife is none other than Rachel (Danneel Ackles), who is nearly 20 years younger than him, it comes as somewhat of a shock, but absolutely falls into the type of off-the-wall melodrama that "One Tree Hill" thrives on. The rest of the episode gets unfortunately submerged beneath the cheating scandal.
6. Best: All of a Sudden I Miss Everyone (Season 4, Episode 21)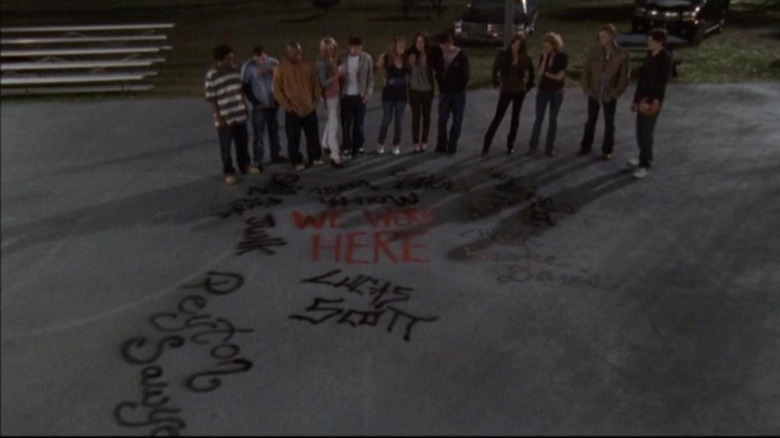 Warner Bros.
The Season 4 finale gives us a slice of everything: Haley gives birth to her and Nathan's son Jamie, Dan confesses to Keith's (Craig Sheffer) murder and goes to prison, Rachel hosts a graduation party, Karen nearly dies giving birth to her and Keith's daughter Lily (Mary Kate Englehardt), Lucas becomes Jamie's godfather, and the senior class says goodbye to each other and Tree Hill.
Of course, Dan finally admitting he killed his brother is the shoe-drop everyone waited two years for. Lucas and Nathan debate on whether to visit their father and decide against it. Soon after, Dan attempts suicide, but fails. The most poignant part of the episode, however, comes at its end, when we find Lucas and Nathan, once again, duking it out against each other one-on-one at the River Court. "One Tree Hill" could've, and probably should've, ended there. It would've made for an impeccable coda to one of the best teen dramas ever. Instead, it's just another chapter closed. But it's a really, really good one.
5. Worst: Things I Forgot at Birth (Season 4, Episode 2)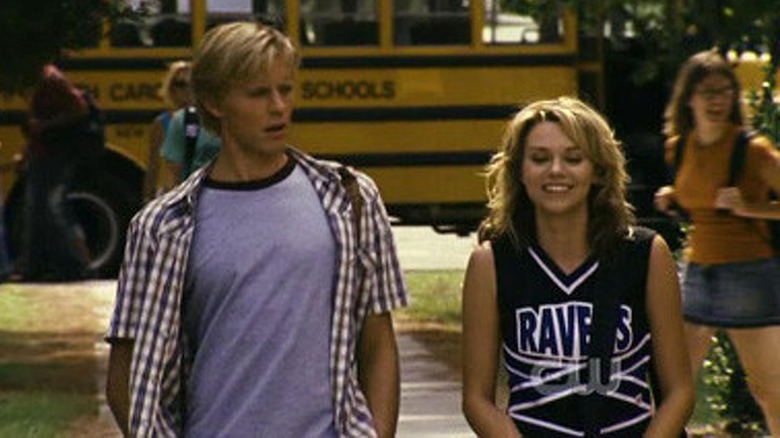 Warner Bros.
Once the dust from the show's best season-ending cliffhanger settled, "One Tree Hill" was left with a lot of new roads to go down. After saving Rachel and his Uncle Cooper (Michael Trucco), Nathan wrestles with whether or not he actually did a heroic thing, claiming that it was his own Uncle Keith who saved everyone. That and Dan's imagining people calling him a murderer for killing Keith are the high points of this episode, but Deb accidentally shooting a gun in Karen's Cafe and Peyton trying to patch things up with Brooke both fall flat.
But the entire storyline with Rachel and Cooper is one of the worst before the show's time-jump in Season 5. It's as if the writers didn't know how to give Rachel the depth she deserved as a character. Too often, it boiled down to sleeping around, and bringing Cooper into the fold worsened Rachel's arc even further. The best part of the episode is momentary, though, when we briefly meet Peyton's estranged brother Derek (Matt Barr) for the first time, setting up one of the show's more sinister storylines.
5. Best: The Show Must Go On (Season 3, Episode 22)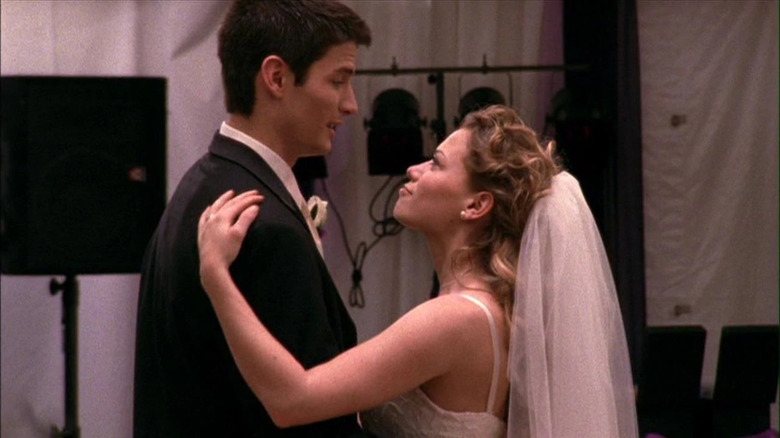 Warner Bros.
Season 3's cliffhanger, "The Show Must Go On," is not just one of the show's best, but it has one of the greatest, most-suspenseful final acts in all of 2000s television. With Led Zeppelin's anxiety-inducing "Babe I'm Gonna Leave You" playing in the soundtrack, Nathan dives into a river to rescue Cooper and Rachel who are both trapped in a limousine they stole and crashed. As Haley screams from the bridge above, we are left unsure of Nathan's fate, as well as Rachel and Cooper's.
Before the haunting climax, Haley and Nathan have a wedding ceremony to renew their vows. But the joy of their renowned love quickly fizzles into something much more sinister. At the ceremony, Dan learns that his dealership was set on fire by Deb, not Keith, leaving the Scott family patriarch in disbelief that one of his reasons for killing Keith was totally baseless. Rachel, who's been having a fling with the much older Cooper, gets publicly drunk, lures him into the limo that was supposed to be for Haley and Nathan, and lies about being pregnant.
"One Tree Hill" cemented its status as one of the most-enthralling series of its time with "The Show Must Go On," as it perfectly blends the romance and disaster that became the show's storied hallmark.
4. Worst: Valentine's Day is Over (Season 8, Episode 15)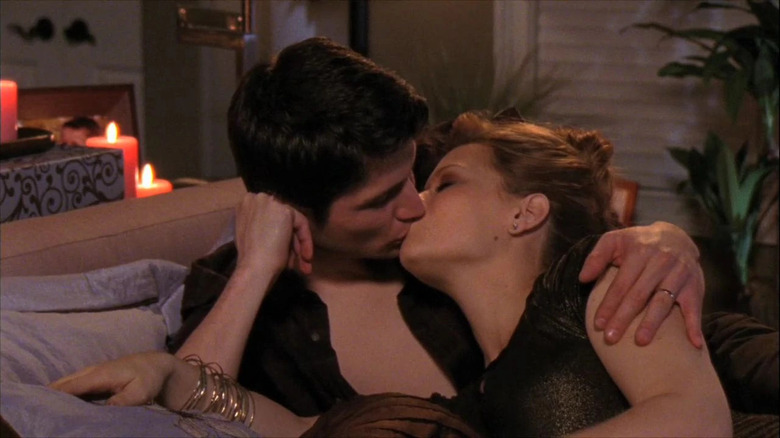 Warner Bros.
"Valentine's Day is Over" tries so hard to be Season 3's "The Wind That Blew My Heart Away." A situational episode that rotates between every "One Tree Hill" couple, "Valentine's Day" is a mundane, sex-filled checkpoint in the show's worst season. "One Tree Hill" never makes a habit out of holiday-centric episodes, so a Valentine's Day episode feels wildly out of place. The only thing that happens here to move any narrative forward is Mouth and Millicent deciding to live together again.
Audiences have to labor through Haley being upset over Nathan's gift, Quinn (Shantel VanSanten) and Clay get a personal concert from City and Colour at Tric, and Brooke and Julian do a bunch of uncomfortable roleplays across Tree Hill. It's weird. It's messy. It's forgettable. The best part of the episode thankfully comes when Chase tries to console Jamie's friend Chuck (Michael May), whose mom is an alcoholic. The bond between Chase and Chuck is a wholesome bright spot in an otherwise dreary season of the show.
4. Best: Get Cape. Wear Cape. Fly. (Season 6, Episode 3)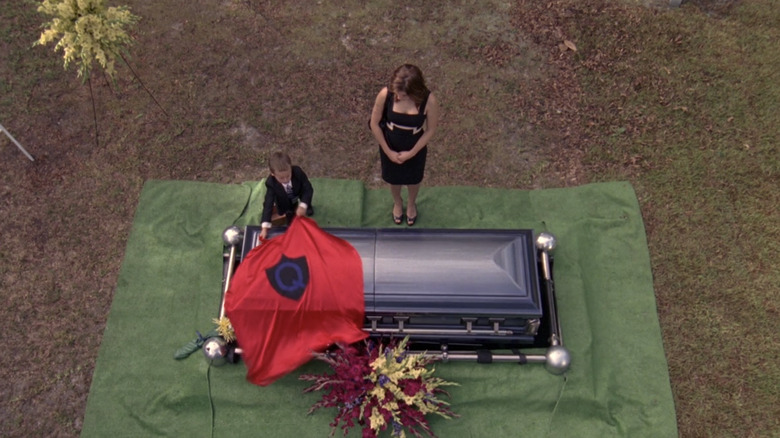 Warner Bros.
"Get Cape. Wear Cape. Fly." is the most emotional episode of "One Tree Hill" for one reason — the death of star basketball player Quentin Fields (Robbie Jones). Over the course of Season 5, we see Quentin blossom into a good student and a great mentor to Jamie, who looks up to him. But when Quentin stops at a gas station late at night, he walks in on a tragic crime scene and ends up murdered himself.
Brooke, who was recently gruesomely assaulted in her store, is also reckoning with trauma, as she tries getting back to normal but doesn't believe her friends can truly understand what she's going through. When she and Jamie hold hands at Quentin's funeral, it gives her the space to openly grieve. Brooke and Jamie's relationship is one of the few that remotely mirror his connection to Quentin, so it's a full-circle scene that symbolizes the community that "One Tree Hill" has so deftly created.
Quentin is a fan favorite and though his death means losing one of the show's great characters, "Get Cape. Wear Cape. Fly." honors him in the best way imaginable. By the episode's end, there isn't a dry eye in the house.
3. Worst: Your Cheatin' Heart (Season 7, Episode 5)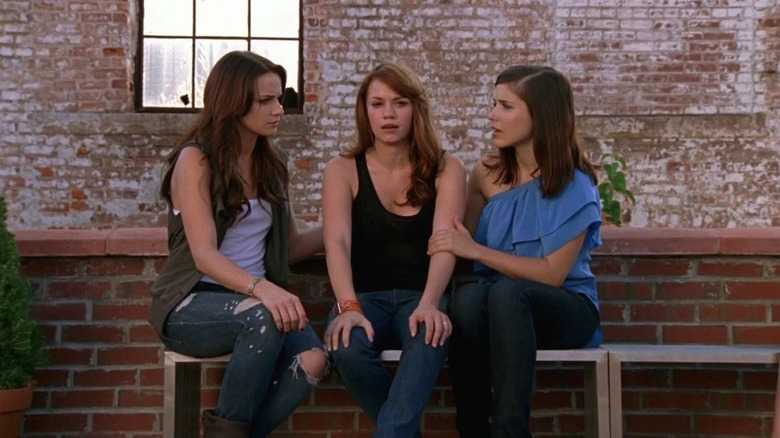 Warner Bros.
Episodes 6 and 7 in Season 7, "Deep Ocean Vast Sea" and "I and Love and You," in which the Nathan-Renee cheating scandal heats up and reaches its resolution, are great. "Your Cheatin' Heart," however, is not. It's an episode about romantic division as, at the center of it all, Haley and Nathan's marriage is put to the test. Footage of Haley punching Renee goes viral and she worries about how Jamie and Quinn will react if they ever see it.
On the other side of the friend group, Millicent (Lisa Goldstein Kirsch) becomes a model in Brooke's newest Clothes Over Bros fashion line, which is an idea Mouth isn't in love with. Clay and Quinn grow closer, but Nathan forbids him from seeing her. And then there's Julian, whose working relationship with Alex (Jana Kramer) provokes jealousy from Brooke.
The episode's most redeeming part is when Rachel gives Dan a copy of the National Inquisitor, which contains a headline about Renee's accusations against Nathan. It's a moment that sets up one of the best post-Season 6 storylines, but that's about the best thing "Your Cheatin' Heart" has to offer.
3. Best: Danny Boy (Season 9, Episode 11)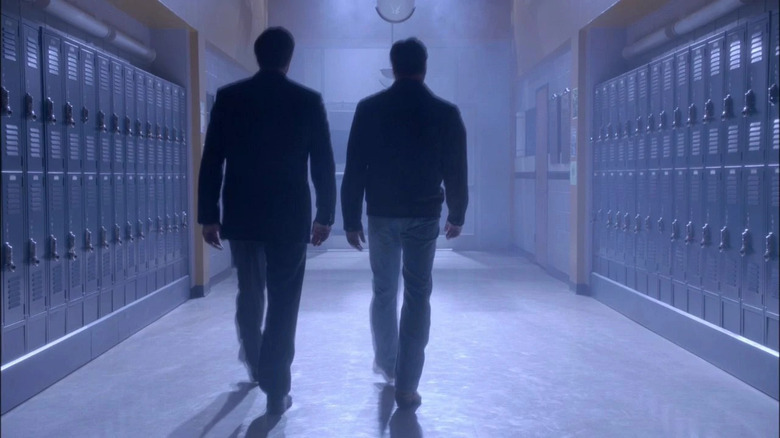 Warner Bros.
Season 9 of "One Tree Hill" is a farewell tour skewed by over-the-top, ludicrous storylines. Whether it was Clay somehow forgetting he had a son, or Nathan getting abducted by an assassin hired to kill him, the victory lap for The CW's beloved show was hardly a victory itself. But the antepenultimate episode of the show, "Danny Boy," is one of its all-time best.
After getting mortally wounded trying to save Nathan from his assassin, Dan is rushed to the hospital by his son, Chris Keller (Tyler Hilton), and Julian. En route, he reflects on all of the bad things he does throughout the show. When caught in the face of death, all he can do is reckon with his past, and the result is an emotional episode that provides good closure to the biggest antagonist of "One Tree Hill." Dan's character arc was one of monumental ups and downs, but through it all he never strayed too far from being a dad who loved Nathan more than anything else.
While Dan is on his deathbed, we get a great final scene between him and Jamie, as well as a tear-jerking game of pick-up basketball between him and Nathan while the former is unconscious, where Nathan finally seems to forgive his father for all of the failures and misgivings. It's an unforgettable and gut-wrenching episode all the way through, cemented by Dan finally passing away and walking into Heaven with Keith.
2. Worst: 4:30 AM (Apparently They Were Traveling Abroad) (Season 7, Episode 1)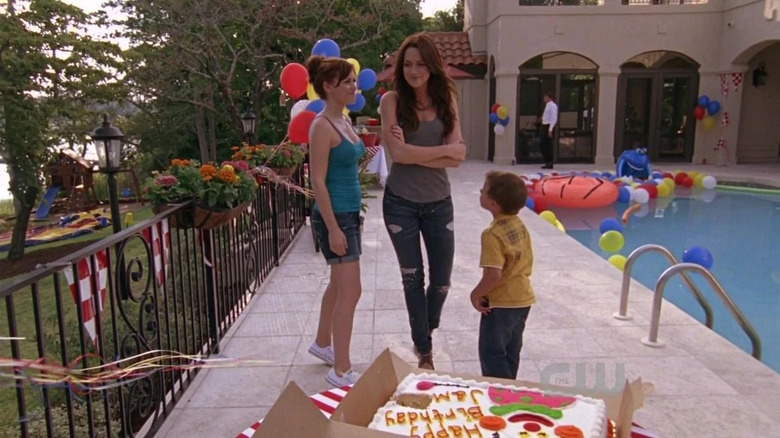 Warner Bros.
It's no secret that "One Tree Hill" got a lot worse after Chad Michael Murray and Hilarie Burton left before Season 7, and the show had a lot of convincing to do with Sophia Bush, James Lafferty, and Bethany Joy Lenz firmly in the spotlight. After making a 14-month time jump, we arrive on the day of Jamie's seventh birthday party and meet two new characters: Quinn, Haley's sister, and Clay, Nathan's sports agent. As most season premieres are, "4:30 AM" works to reintroduce us to our favorite characters.
Though the stakes are usually low in chapter one, "One Tree Hill" wants to get the mania started early by introducing a cheating scandal involving Nathan and a woman named Renee who claims the two slept together while Nathan was playing basketball on the road. The show goes on to milk the scandal for a few episodes too many and slips into a world of melodrama they'd only ever flirted with previously. The best part of the episode? When Jamie watches Dan's talk show about forgiveness, "Scott Free Redemption."
2. Best: Some You Give Away (Season 4, Episode 9)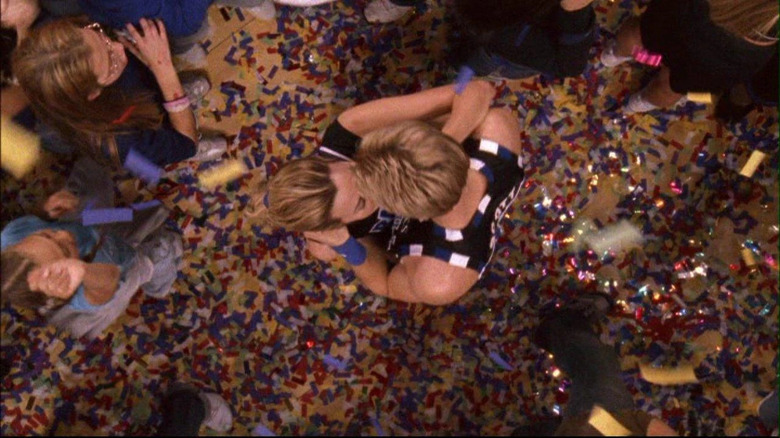 Warner Bros.
"One Tree Hill" hardly lacks for eventful episodes, and "Some You Give Away" is exhilarating from beginning to end. The centerpiece of the episode is the North Carolina State Championship game, which is also Coach Whitey Durham's (Barry Corbin) last game at Tree Hill. Smaller moments, like Karen taking Deb to rehab, Haley learning that she and Nathan are having a boy, and Peyton telling Lucas she has feelings for him are good scenes surrounding the one basketball game that the entire show has been building up to for three-and-a-half seasons.
After Nathan accepts money from the criminal Daunte (Rick Fox) to help pay his rent, he's then forced to reveal to Lucas that the Ravens can't win the game or Daunte will hurt them. Lucas opts to not take the heart medication keeping him safe so he can play with full energy during the game. But after halftime, when Haley tells Nathan they're having a son, he plays to win, and the Ravens secure their first-ever championship when Lucas hits the game-winning shot. Soon after, Peyton and Lucas finally embrace in a kiss after three seasons of will-they-won't-they.
Culminating in one of the most-nail-biting final scenes, Daunte takes revenge by hitting Haley with his car and Lucas has a heart attack right next to her. When Daunte's car crashes, he dies on impact. Nathan, distraught over his wife's injury, beats up Daunte's lifeless body. Thinking Nathan killed Daunte, Dan chooses to take the fall instead, as a way of atoning for his sin of killing Keith. "Some You Give Away" is the heart and soul of Season 4 and one of the show's best entries across its nine, long seasons.
1. Worst: We Three (My Echo, My Shadow and Me) (Season 6, Episode 11)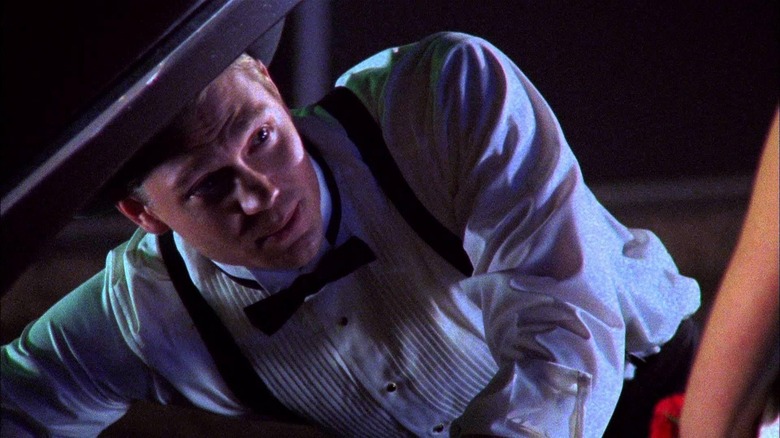 Warner Bros.
When stacked against Season 6's "We Three," Season 2's "Lifetime Piling Up" looks like a television masterpiece. The worst episode of the entire series, "We Three" finds a daydreaming Lucas envisioning Tree Hill in the 1940s. Nathan is Lucas' barman at Karen's Café, Mouth is a nosy journalist, Haley is a club singer, and Dan is a mobster running the neighboring Comet Club. The episode was co-written by Chad Michael Murray and is meant to pay homage to the films of the era, but it instead solidifies him as a much better actor than writer.
Season 6 should've been the Lucas and Peyton show, as audiences finally got the couple back after a long, arduous Season 5. Instead, the writers deemed it necessary to throw a standalone, inconsequential episode right in the middle of the season's momentum. Nothing in "We Three" contributes anything to the plot and the "Casablanca" routine had already grown long stale.
1. Best: With Tired Eyes, Tired Minds, Tired Souls, We Slept (Season 3, Episode 16)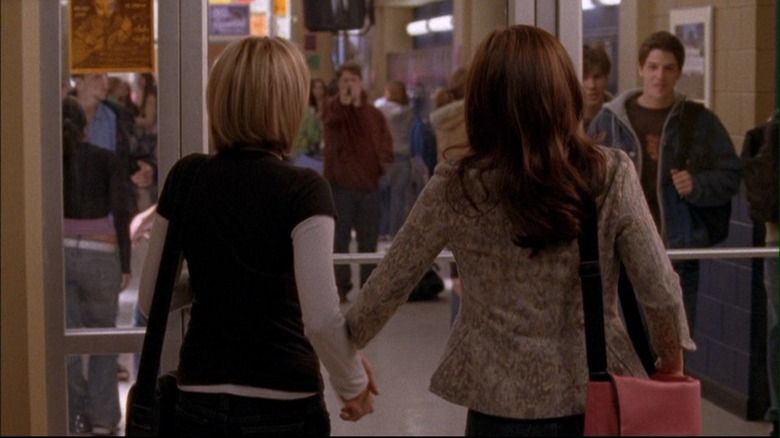 Warner Bros.
Even people who've never seen most of "One Tree Hill" know about "With Tired Eyes, Tired Minds, Tired Souls, We Slept," which has endured as the show's most famous and infamous episode. Released in 2006, it boldly tackles school shootings head on in the cultural shadow of 1999's massacre at Columbine High School. When Jimmy Edwards (Colin Fickes), once a friend of Lucas, Mouth, and Skills, grows despondent and withdraws from his academics, he brings a gun to school and starts shooting at people.
Peyton gets shot and is bleeding out in the library until Lucas goes back in to save her, while Nathan goes back into the school to find Haley, who is trapped in the tutor center with Skills, Mouth, Rachel, and other students, including Jimmy. When Keith decides to go into the school and talk to Jimmy, Karen doesn't approve, but she knows that his heart is too big for the boys who grew up with Lucas at the River Court. What happens next is a touching scene between Keith and Jimmy, in which Keith reveals that he once wanted to do the same thing but reassures Jimmy that it'll get better. Keith's guidance fails, though, as Jimmy kills himself instead of surrendering.
What happens at the end of the episode — Dan shooting Keith in cold blood as the latter tries to help Jimmy — instantly becomes one of the show's most-impactful moments. Keith's murder lingers across the entire show and rightfully so. It takes audiences by surprise and leaves them weeping, as Keith, one of the show's most-beloved protagonists, is suddenly gone. It's a near-perfect episode that offers a look into how people can be driven to commit such terrible acts. What this episode of "One Tree Hill" does so well is it doesn't demand sympathy for Jimmy. Rather, the show asks us to, at least for a moment, step into his worldview and see what he sees. How we respond after that is entirely up to us.