Why Rashida Jones Never Felt Comfortable During Her Time On The Office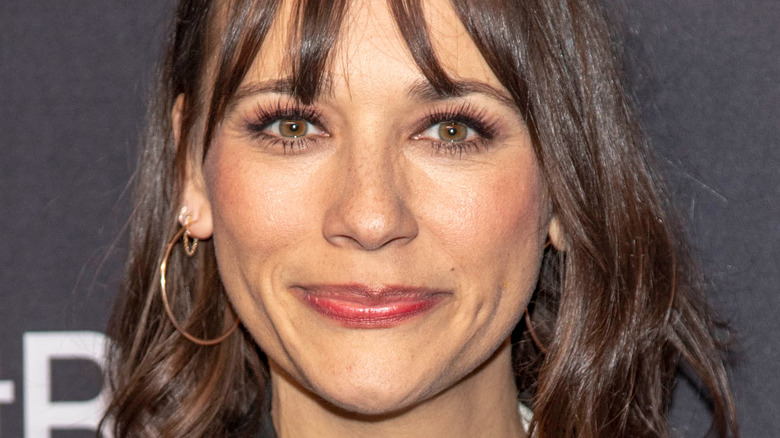 Eugene Powers/Shutterstock
Unquestionably, the biggest moment in "The Office's" Season 3 opener, "Gay Witch Hunt," was Michael Scott (Steve Carell) kissing a member of accounting — portrayed by Oscar Nuñez — during Oscar Martinez's impromptu outing in the conference room. However, Jim Halpert's (John Krasinski) decision to transfer to the Stamford branch opened the door for actress Rashida Jones to join the zany antics of the Dunder Mifflin paper family as Jim's new love interest, Karen Filippelli.
The star of the animated sitcom "Duncanville" had the advantage of being born the daughter of music mogul and producer Quincy Jones, but she worked her way up the ranks in Hollywood. Her resume includes roles in shows like David E. Kelley's "Boston Public," the miniseries "NY-LON" and the crime drama "Wanted."
While Jones is best known for playing the role of Ann Perkins on "Parks and Recreation," her character on "The Office" became a major stumbling block who stood between soulmates Jim Halpert and Pam Beesly's (Jenna Fischer) happily ever after. But do you know the reason why Jones just couldn't settle in while she starred on "The Office?"
Jones knew Karen's days were numbered on The Office
NBC
Jones reminisced about joining "The Office" in Season 3, but the actress felt as much out of place as Karen did in her uncomfortable love triangle with Jim and Pam. "I always felt like a guest star on 'The Office,'" Jones explained during an interview on "Off Camera with Sam Jones." "Everybody was so nice to me, but I always felt like a guest star, you know. I never felt comfortable. I knew because I was like the small point of a love triangle that I would eventually just ... I'd have to be sacrificed. And I remember that day." Season 4 began with Jim and Pam keeping their new romance a secret, and Karen wasn't even a third wheel anymore.
Karen's character only guest-starred in a couple of episodes after her departure in Season 4, but Jones still learned a lot from her brief stint on "The Office." She was particularly grateful for having the opportunity to watch Carell work at the top of his game. "What he did every day on that show, like I'll never forget it," Jones said during the same interview on "Off Camera." "He was so dedicated to the part. He tried something totally new and so weird on every take." Jones' part in "The Office" was certainly brief in the overall scheme of the series, but Karen remains a memorable and important part of the sitcom so many fans adore.